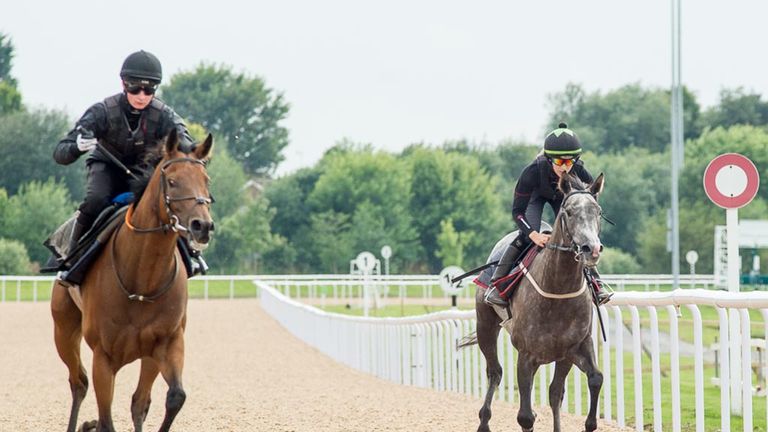 Leading jockeys James Doyle and Silvestre de Sousa were among those to praise the new surface at Wolverhampton as racing took place on Tapeta for the first time in Britain at Dunstall Park.
It was announced at the end of April that Wolverhampton was replacing Polytrack with the synthetic surface that is the brainchild of former Cheltenham Gold Cup-winning trainer Michael Dickinson.
Tapeta has been used at Meydan in Dubai and at various racecourses and training centres across the globe and there was a sense of intrigue in front of a healthy crowd in the Midlands.
It turned out to be a good afternoon for Doyle who completed a double with victories aboard the Charlie Hills-trained Angel Wings (4/1) in the British Stallion Studs EBF Maiden Fillies' Stakes and Kevin Ryan's Madame Mirasol (3/1 joint-favourite) in the Bet Now At 32RedSport.com Handicap.
Doyle said: "I used to ride around here quite a bit, so it's nice to come and have a couple of winners.
"It rode perfectly nice. It feels safe. It's funny as it doesn't strike me as a whole lot different. It still feels like Wolverhampton.
"I suppose only in extreme temperatures will we find out how the surface reacts, but certainly you couldn't fault it.
"There is a bit (of kickback), but it's very powdery and light. The horses seem to be facing it, so it's not a problem."
De Sousa was not among the winners, but has more experience than most of riding on the Tapeta at Meydan and won the Dubai World Cup on the surface aboard African Story in March.
The Brazilian-born jockey feels the freshly-laid track will only improve with racing.
"It's a nice surface. It's just riding a bit slow, but when the ground settles I think it will be nice," he told At The Races.
"There is plenty of give in it. Maybe a bit of rain will make it compact a bit more and it just needs proper racing.
"It's not exactly the same (as the surface at Meydan), but it's riding well and if I had a horse I would run it here. All the way round it's consistent."
The history-making first victor on the surface was the Ed Vaughan-trained 1/-8 favourite Primrose Valley in the 32Red Casino Median Auction Maiden Stakes, who kicked clear from the home turn in the hands of Freddy Tylicki to score by six lengths.
Tylicki said: "That was fantastic and I want to say very well done to Mr Dickinson and his team. It (the surface) rides today so much better than it used to. The last surface was a little bit tricky for all of us."
Dickinson was on hand to gauge the reaction of jockeys and trainers and was pleased with the general feedback he received.
He said: "First of all I asked all the jockeys if it was safe and all the jockeys to a man said it is safe. That's our number one.
"Some horses are winning wire to wire and some have been coming from out of it, so that's encouraging.
"It's a tiny little bit slow today, but it just needs a couple of weeks to bed in and it will be great.
"It will be great when it gets cold, too. We don't have to worry about it falling apart.
"The horses don't run for medals and cups. We've got to admire their courage and we've got to keep the jockeys safe.
"This isn't a Tapeta track, it's a Tapeta 10 track.
"I developed the original Tapeta track and used that on my farm in America which worked okay. My wife made this one, it's the 10th version of it, we've made 10 changes.
"We've spent a ridiculous amount of money on R & D (research and development), we have had some good ideas and they are all incorporated into this."
Wolverhampton's managing director Dave Roberts revealed the change of surface is only part of an upgrade of the major facilities on track.
He said: "It's unusual for us to be shut for three months, so we're renewing acquaintances with all our old friends and we've been able to relaunch our restaurants, change the menus and upgrade everything.
"We had a hard winter last year, which is no great secret, and the autumn wasn't easy at times. This has given everyone a lift, knowing and trusting the surface we now have.
"I think all-weather racing is going to get competitive on all sorts of levels. It's going to get competitive with entries for the different surfaces, we have different surfaces to offer different horses and prize-money is going to get more competitive.
"It's hugely exciting."
British Horseracing Authority course inspector Nicky Carlisle said: "They've put a lot of money and effort into trying to get this track back and so far it's proving to be successful.
"We're always trying to improve things. When you are moving this quantity of material it always takes a certain amount of time to settle in and a combination of rain and actually working it will improve it.
"It will tighten up slightly with time and be a better surface for it.
"I haven't heard a single negative comment as yet. Long may that last and let's hope it stands the test of time."