Joseph Parker insists he can outbox Anthony Joshua ahead of heavyweight title fight
By Joe Shread
Last Updated: 27/02/18 3:28pm
Joseph Parker has insisted he can outbox Anthony Joshua as he eyes victory in their heavyweight title fight on March 31, live on Sky Sports Box Office.
Parker, who holds the WBO belt, and Joshua, who holds the IBF and WBA 'super' belts, will put their titles on the line when they clash at the Principality Stadium in Cardiff next month.
Joshua is the clear favourite for the fight, but New Zealander Parker is confident he can upset the odds.
He said: "I can outbox Anthony Joshua. I think I have the skills to outbox him but I haven't really shown that. That's why I'm excited - this is a big stage to put on the best performance of my life.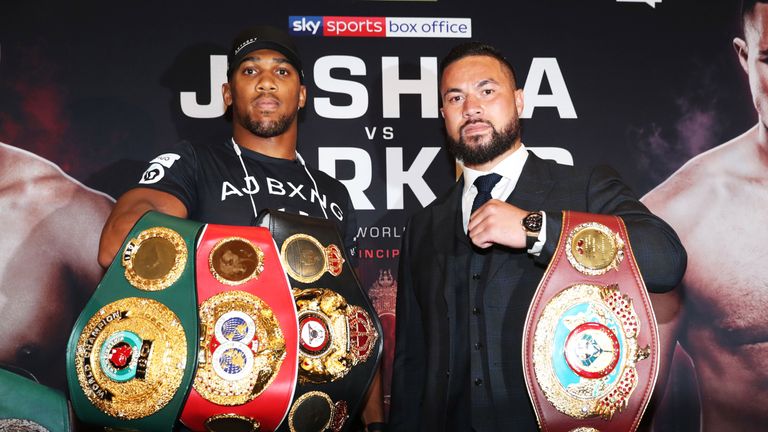 "I can knock him out. I can outbox him. Words can't explain how excited we are.
"We're fighting in his backyard and we're fighting another champion who's undefeated. That makes it a great fight.
"But also the opportunity to fight in front of 80,000 people. A lot of people say it's going to be overwhelming and I'm going to be nervous and scared. But I see it differently. I see it as us making the most of the occasion."
Parker's trainer Kevin Barry is equally confident his man can beat Joshua when the two boxers put their unbeaten records on the line.
He said: "It won't matter if there's 800, 8,000 or 80,000 people at this fight. It will be the same Joseph Parker that walks to the ring. I'm not one bit worried about the occasion getting to him.
"He wins the fight with speed and movement. He wins the fight with a higher level of skill. Parker has far better skill than Anthony Joshua. He has a far better selection of punches. He is very durable.
"If the best Joseph Parker turns up, we will leave the ring with all the belts."
Parker had one more message for Joshua before the pair meet again in Wales, warning: "I hope your training's going good. I want to fight the best Anthony Joshua there is. You're going to get the best Joseph Parker. Let's go to war."
Watch the Anthony Joshua vs Joseph Parker world heavyweight title unification fight, from Principality Stadium, Cardiff, on March 31, live and exclusive on Sky Sports Box Office.