Tim Tebow starts work as a member of baseball's New York Mets
By Andy Charles
Last Updated: 20/09/16 5:23pm
Former NFL quarterback Tim Tebow has kicked off his professional baseball career as he looks to make his way into MLB with the New York Mets.
Tebow has not played in an NFL game since 2012 when he was a member of the New York Jets, with his only appearances since coming in pre-season with the New England Patriots and Philadelphia Eagles before being released by both franchises.
Now 29, Tebow is trying his luck in America's chief summer sport and he is part of a 58-strong Mets squad taking part in a three-week instructional league in Port St Lucie, Florida.
Tebow took to the field for the first time on Monday, four years older than the next oldest player in the squad and playing alongside prospects as young as 17.
Hundreds of fans turned up to see Tebow in action, with Mets spokesman Paul Taglieri saying the usual attendance was "just crickets".
Tebow has a long way to go, but he is certain he can become a relevant figure in baseball despite having not played the sport since he was a junior in high school.
"I felt like such a kid. Totally like a kid," Tebow said. "The goal is definitely to play in the bigs.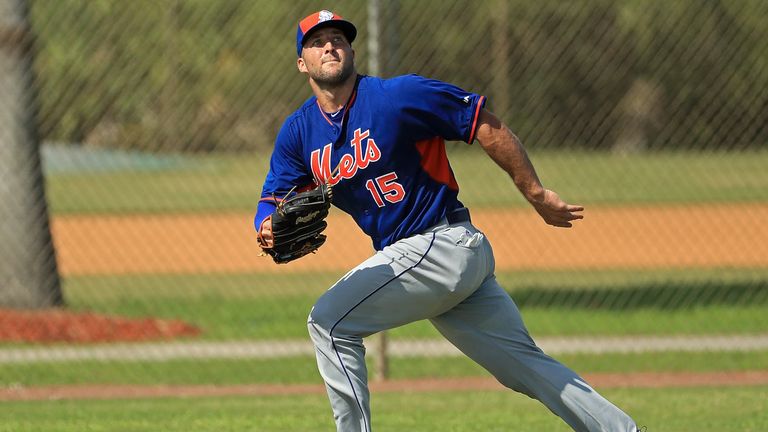 "It was definitely a dream of mine as a kid, ever since I was young and to be honest with you, I thought that I was probably going to play baseball for the majority of my life.
"I am humbled by the fans and the support from the fans, because it gives you a platform. It gives you an opportunity to walk into a hospital and make a kid smile."
Tebow also rejected talk of a football comeback, with a number of teams battling early injuries to their quarterbacks including his former employers the Patriots.
"I'm part of the Mets family," he added. "For me, success is going to be defined by giving it everything I have and being the best I can be."