Sir Bradley Wiggins creates new team called WIGGINS and announces attempt at hour record in June
By Matt Westby
Last Updated: 23/05/15 2:03pm
Sir Bradley Wiggins has created a new cycling team called WIGGINS and confirmed he will attempt to break the hour record in London in June.
The new all-British squad will race on the road, but its main function is to prepare Wiggins and a selection of his team-mates for a bid for team pursuit gold on the track at the 2016 Olympic Games in Rio.
Wiggins, 34, will officially join early in May, after leaving Team Sky on April 30. The other eight riders in the nine-man line-up are: Steven Burke, Mark Christian, Jon Dibben, Owain Doull, Iain Paton, Daniel Patten, Andy Tennant and Michael Thompson.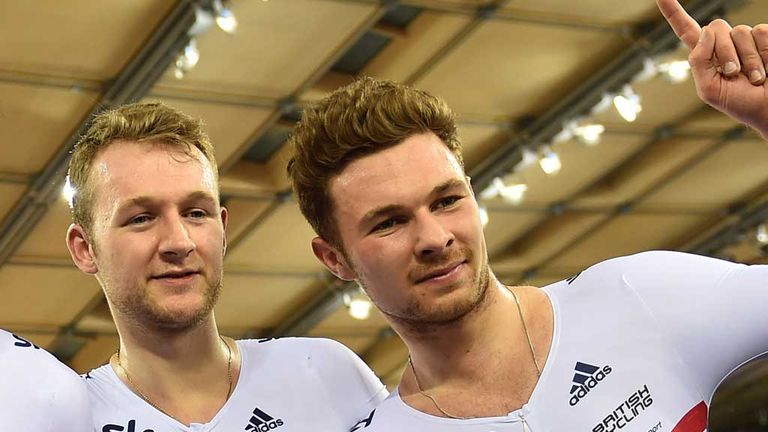 WIGGINS, which is sponsored by Sky and endorsed by British Cycling, has been registered on the UCI Continental tour, the third tier of professional cycling, and will race mainly in the UK at events such as the Tour of Britain. It will not appear at world-level races such as the Tour de France.
In between their road commitments, and particularly during the winter, Wiggins and the likes of Burke, Tennant, Doull and Dibben will also train and compete on the track as they build towards the Olympics.
Rio focus
Details of the team's jersey, equipment and race schedule will be unveiled in the spring.
Wiggins told Sky Sports News HQ: "The whole idea of the team was to facilitate our ambitions for Rio and winning gold there.
"It's track-based and we have got a lot of the guys from the track programme in there so that we can stay and race and train together all year round and get exactly what we need in terms of achieving the end goal, which is winning the team pursuit in Rio."
Wiggins' Olympic gold medals
2004: Individual pursuit
2008: Individual pursuit
2008: Team pursuit
2012: Road time trial
In a statement announcing the new team, Wiggins added: "Cycling has given me everything. Now I want to build something to inspire kids and to reach all those people who might be on the fringes of the sport. My message is simple: if I can do it, then so can you."
Sky support
Although sharing the same sponsor, WIGGINS will not be affiliated to Team Sky and will also operate independently of British Cycling.
Robert Tansey, brand director, Content & Cycling at Sky, said: "Sky is delighted to support WIGGINS and shares in Sir Bradley's goal to bring even more cycling success at the Rio Olympic Games.
"The partnership between Sky and WIGGINS strengthens our support of cycling and will build on the great success we have already had in encouraging grassroots participation and elite performance."
One of Wiggins' first engagements in WIGGINS colours will be an attempt on the hour record, which has recovered its past prestige and has been broken twice in recent months following changes to the rules governing permitted equipment.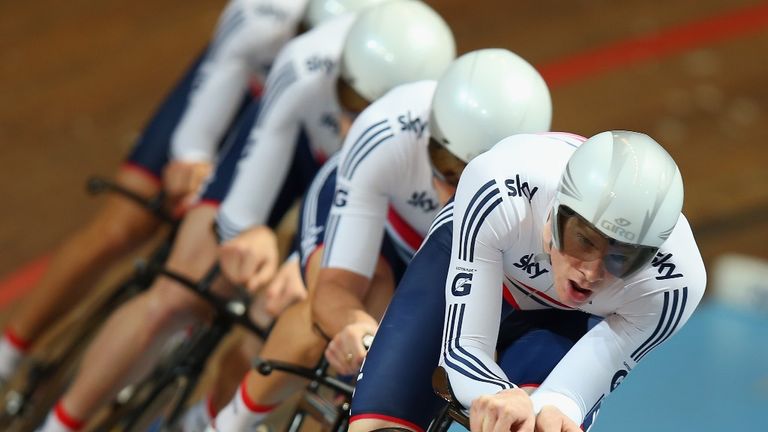 Hour attempt
Austria's Matthias Brandle set the current best mark of 51.852km in October, but as reigning national, world and Olympic time trial champion, Wiggins is heavily fancied to break the record and revealed there was only ever one venue he had in mind for his attempt.
He told Sky Sports News HQ: "It's great for cycling and to be able to do something like that, in London, on the Olympic velodrome, which is where I want to do it. It would have to be really.
"Again, the next 12-year-old might come along that may be inspired by watching the hour record like I was inspired watching Chris Boardman win the gold in Barcelona. It's a great opportunity.
"The plan is to do it in June. It has had a bit of a resurrection in the last couple of months with a few guys going for it, and the whole world is talking about it again now, and rightly so because it is such an historic record."