Freya Anderson and Max Litchfield set for European Swimming Championships in Glasgow
By Mark Ashenden
Last Updated: 30/07/18 10:52pm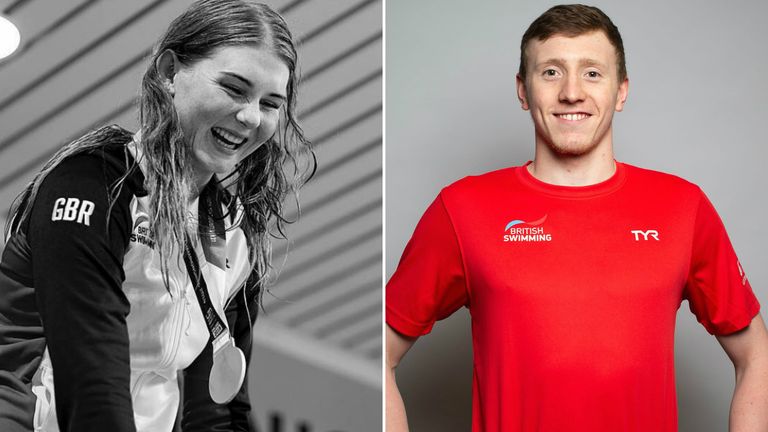 GB swimmers Freya Anderson and Max Litchfield have finally put their injury woe behind them and are now gunning for the European Championships.
Glasgow, along with Berlin (athletics), is hosting the inaugural event which should prove to be a thrilling multi-sport spectacle covering aquatics, cycling, golf, gymnastics, rowing and triathlon.
Anderson and Litchfield have struggled with long-term injury niggles but both have impressed in the pool over the last few months and Scotland's big stage between August 3-9 holds no fear for the Sky Sports Scholars.
The 17-year-old Anderson, who ended her junior career with a hat-trick of golds at the Europeans in Helsinki earlier in July, will swim in the 50m and 100m freestyle.
The Ellesmere Titans swimmer said: "I can't wait to race at Glasgow, especially after boosting my confidence at the European juniors after a really tough year.
"I'm definitely excited to start racing but haven't put any expectations on myself and I'm just going there to race and hopefully learn from the experienced athletes on the team."
Litchfield seems to have overcome his shoulder problems and is in good spirits having just competed in his first international competition in nearly a year at the Sette Colli Trophy in Rome.
The 23-year-old from Sheffield said: "I am so excited to be back racing on the international stage once more.
"After a year battling injury it has been a really positive last few months and I cannot wait to hit the water.
"There is really no pressure at this meet. I'm going to enjoy it and I just love being back racing again!
"I would love to bring home some silverware but for me it's all about a slingshot into the next few years and building momentum towards the 2020 Tokyo Olympics. That's when the fun stuff begins!
"This meet is just another stepping stone but one that I am so excited to be part of and cannot wait to get started."
---
SCHEDULE FOR EUROPEAN CHAMPIONSHIPS in GLASGOW:
August 3: Freya Anderson (50m Freestyle) - final on Aug 4
August 5: Max Litchfield (200m IM) - final on Aug 6
August 7: Freya Anderson (100m Freestyle) - final on Aug 8
August 9: Max Litchfield (400m IM) - heat and final