After five years of consecutive NBA Finals appearances to savour, there's not been much joy to be had for Golden State Warriors fans this year.
Although the team has moved into the space-age new Chase Center to play their games this year, there is indeed more chance of the Dubs actually playing basketball on the sun than making it back to the NBA Finals this year.
As well as the dreadful losing record, they have had to endure injuries to their two remaining key cast members and Klay Thompson has been sidelined recovering from knee surgery since Game 6 of the NBA Finals.
But the eccentric and inimitable 29-year-old is always capable of providing levity with his humorous antics - so it's no surprise his stint joining the broadcast team during Wednesday night's victory over the Chicago Bulls was one for the ages.
The Splash Brother served as a sideline reporter in the second quarter from a table off the end of Golden State's bench, a new gig for the All-Star guard.
General manager Bob Myers, using the foam roller on a mat in the weight room, inquired to Thompson when he entered the locker room.
"Hey Klay, you ready for sideline tonight?"
Thompson: "Yeah, I'm dropping knowledge."
And drop knowledge he did. Covering everything from the array of Klay bobbleheads which were released in his honour to engagement announcements on the jumbotron, Thompson seemed to be in his element. Before his stint began, he took time to sign a quick autograph, then sat down and settled in as if in his element - sporting a big grin.
As you might expect, he was not short of confidence. Speaking to former Warrior Kelenna Azubuike, who is a regular TV analyst, when talking about taking his job when he retires from playing, Klay quipped: "I'm like Tom Brady and you're like Drew Bledsoe."
Thompson's appearance on the telecast came in conjunction with the Warriors having a "Headband Klay" bobblehead giveaway to commemorate his record-setting 14 three-pointers in a win last October against the Bulls.
He praised Zach LaVine as he hit shots all over the floor, but noted he was happy the Bulls star did not break his record for most three-pointers in a game, after LaVine hit 13 in a win over the Charlotte Hornets recently.
"I know it's going to be broken soon," Thompson admitted of the record.
The most animated moment came when rookie Eric Paschall, who scored 25 points, flew to the rim for a dunk and Thompson rose out of his chair in celebration.
He also praised the contributions of the young players on the Warriors' roster frequently throughout his spell on the mic.
But even after his spell on the broadcast came to a close, Thompson still had time for one more feat of daring-do. He reprised his role as sideline reporter once more in the post-game, gatecrashing the interview with Omari Spellman and taking it over.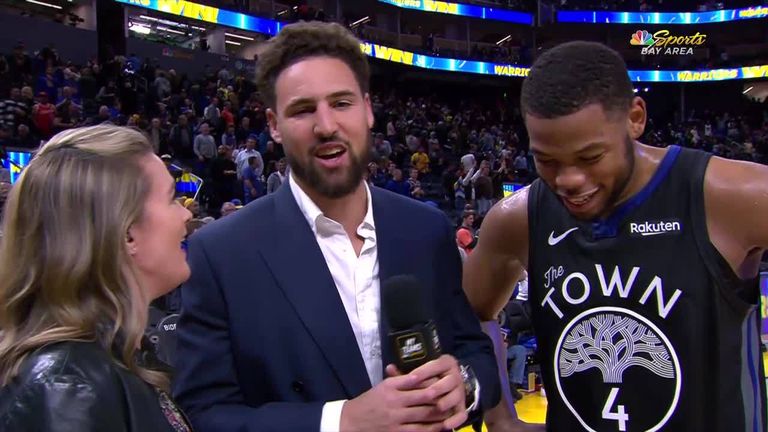 Spellman said: "It was hard not to laugh because you don't think of one of your team-mates like a sideline reporter, but it was fun. It was cool. I'm happy I got to be a part of that with him."
Fellow All-Star Draymond Green, who returned to the team as Golden State picked up just their fourth win of the season, was quite surprised by what he was seeing from his long-time team-mate.
He said: "Klay didn't even like doing interviews, now he likes interviewing people. What the hell's going on around here?
"It's crazy. I guess he's bored."
One thing's certain though, anyone watching certainly was not bored.
The sooner we see Thompson back on a basketball court, the better. But once he finishes playing, no doubt he could certainly provide value in the commentary booth.
Want to watch the NBA but don't have Sky Sports? Get the Sky Sports Action and Arena pack, click here.