George Fisher
Saracens Mavericks and England netballer
George Fisher's Netball Superleague diary: My final one of the season
Last Updated: 13/05/19 5:22pm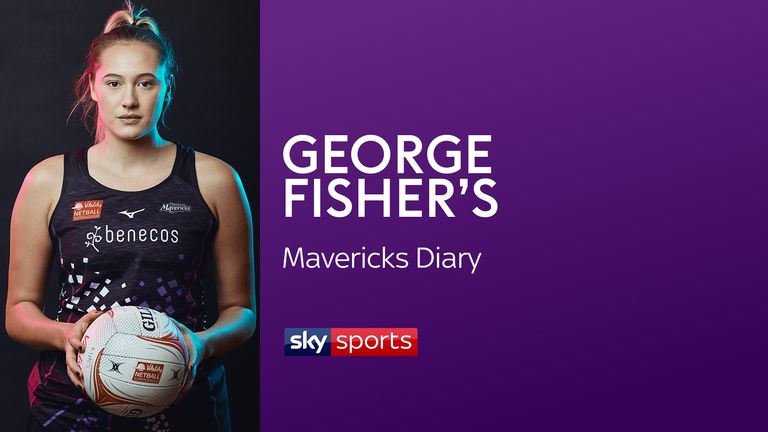 Mavs missing out on the semi-finals, leadership, and swapping trainers for heels for a few days are all part of George Fisher's Sky Sports Netball Superleague diary.
I'm truly gutted that our season has ended. It only seems like a couple of weeks ago that I was looking forward to our first game all the way back in January!
Well, it's certainly been an eventful season for us, there's been some amazing highs and some hideous lows - I think everyone knows when we have had our lows. We had a losing streak in the middle of the season that - although we got back to our winning ways in the last few games - cost us a top four spot and caused our season to end early.
Consistency is the name of the game, and we quite simply lacked it in some of those games. That said, it's been a great journey with an awesome bunch of girls.
Class of 2019 @SaracensMavs ....it defo wasnt where we wanted to finish but what a season it has been. The lows and the highs has made this team stronger. Thanks to all staff, volunteers and our amazing fans for everything, all your support throughout has been incredible. #repost pic.twitter.com/6m5MAdrt7L

— Kadeen Corbin (@Kadeen_Corbin) May 5, 2019
From a supporters' view, this must have been the best Superleague season ever. The competition levels were so high. And, as I've said many times through the season, any team could beat any other on a good day.
Looking at it from a personal perspective, I have learnt a lot about myself. It was a big decision to leave Wasps, where I was training and playing with some of the most experienced and capped players in England - players who were so important for my development and who were awesome role models, providing great leadership on and off court.
But, I felt that I needed to challenge myself personally. This season with Mavericks, I have taken on more of a leadership role, which I haven't had to do before. It's been challenging at times, but good to be able to see that I can step it up.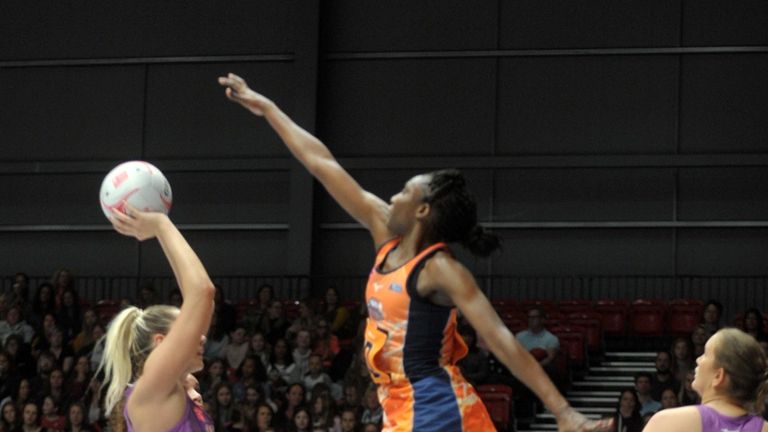 It's been a massive learning curve with both good and bad experiences, but overall I've totally enjoyed it and feel that it has helped me grow as a person and a player. There have been tears (mainly of frustration) and laughter, mostly laughter and I've experienced it all with a great bunch of girls.
George Fisher on her Superleague season
Our supporters have been on another level - thank you so much. It means everything to know that you're there, and that you've got our backs even when we didn't make the top four. Total loyalty from you.
So, all of a sudden, I have some free time! My last assignment has been handed in and my last exam completed. With my second year of uni finished, I've now got to find something to keep me busy over the next four weeks!
A few days in and I'm already bored, so I'll be doing some volunteering at my Mum's school while still training with Mavericks until I'm back in England camp for the first three weeks in June.
I have managed to book a cheeky week away while I'm on rest and regeneration, so I'm going to relax in Marrakesh, take in the sights, and yes, I will be packing my gym gear.
Also, I'm getting the chance to dress up a few times at the Saracens Rugby do, my Uni Summer Ball, and Mavericks' End of Season do, so it will be dresses, heels, and handbags without a trainer in sight!
Back on court, we've had the semi-finals; personally I would have rather been playing in them, but that was not to be. However, if the season is anything to go by, then the Grand Final should be an awesome game. I will be watching it on Sky, but I know it's available on YouTube too, so no excuse not to watch!
Well, that's me done now for this season. My Dad will be hanging up his hat until the next Superleague season starts. I hope you've enjoyed me waffling on about my crazy family, netball life, and fur babies.
Thank you for all of your support, it's much appreciated. Until next season… Take care and I'll see you all soon.
Watch the Vitality Netball Superleague Grand Final live on Sky Sports Mix and via our stream on the Sky Sports' YouTube page on Saturday, May 18 from 5.15pm. Also, Sky Sports will be showing every game of the 2019 Vitality Netball World Cup in July.