Sirens targeting top Vitality Superleague play-off place
By Paul Prenderville
Last Updated: 23/02/17 3:01pm
Having made quite an impression before the season, new Vitality Superleague franchise Sirens are now determined to deliver on the court.
The curtain comes up on Scotland's involvement in the UK Superleague this Tuesday, live on Sky Sports 2 and Sky Sports Mix, in front of a 5,000 sell-out at Glasgow's Emirates Arena.
'Changing the game' has been a phrase heard regularly throughout the off-season for the Sirens as the venue, the squad and even the kit unveiling made quite an impression.
It's captured the imagination north of the border and Netball Scotland Chief Executive Claire Nelson admits they have had to battle some initial scepticism.
Established franchise Yorkshire Jets missed out on a place in a new-look 10-team Superleague and there has been some criticism towards each of the new franchises - but Nelson feels the determination to make netball, and the Sirens, a household name shows they mean business.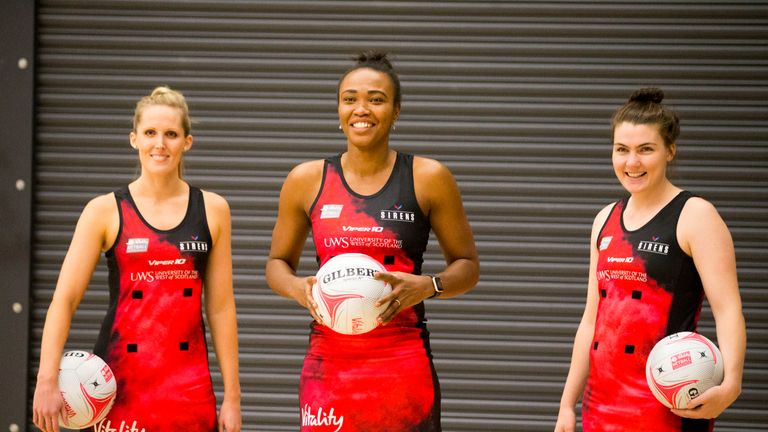 "When we were announced, and particularly after the removal of an English team, there was a little bit of apathy towards Scotland joining and maybe an underestimation of what we could do," Nelson told Sky Sports.
"Slowly but surely, with everything we've done, from announcing our brand, announcing our athletes and presenting a powerful package, people are now really excited and interested to see what we do.
"We have now built an expectation and I want us to challenge, I want us to be a leading women's sports brand and our athletes to be role models in Scotland for women's sport."
The top-four places are the target for all 10 teams, those claiming the spots will go forward to Finals weekend in June when the semi-finals and the Grand Final will take place over the same weekend, as the Superleague season reaches its climax.
Attention now switches to the court and head coach Gail Parata knows the players have to deliver on the court.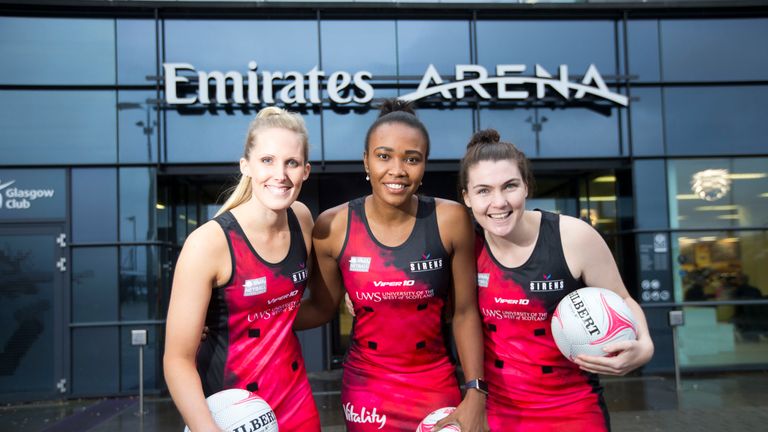 "In terms of what we set out to do we are ticking those boxes."These things are exciting and inspiring but success breeds success and ultimately we have to be able to go and deliver on the court - that is what we are working towards.
Claire Nelson, Netball Scotland Chief Executive
With Parata's national team background, Sirens have maintained a Scottish core, underpinned by the players voting Thistles mid-courter Claire Brownie as their captain.
Parata, who has been in charge of the Scotland national side since 2013, admits that building a team from scratch posed certain challenges, which they have addressed with world-class additions at both ends of the court.
As ever, the determination to make their mark stretched into recruitment where New Zealand's Ellen Halpenny and Jamaica's Carla Borrego give the Sirens a formidable cutting-edge
"When we looked at the team that we wanted to bring together our shooting circle was a priority and we have brought in some pretty world class shooters," Parata said.
"Then we wanted to look at the defensive end and to have experience which we have got with Nicole Aiken-Pinnock - she is a massive gain for us."
Next came building the team and a team-bonding get-together at Cameron House on Loch Lomond set the tone for a frantic pre-season that included training sessions and friendlies as individuals sought to become a team.
With Sky Sports News Sportswomen joining a host of media at the Sirens weekend of introductions, there was a chance to combine some training with the off-field media duties that come with top-level sport.
The players certainly enjoyed the experience but Parata's main objective has been to develop the spirit and mentality that can form the basis of a sustained challenge.
"We managed to get everyone together from the first week of January, so we have been on a six-week hectic schedule," she added.
"The players are adjusting to the play, the court, each other and the weather with the idea of everything coming together for our first match, against Wasps on Tuesday.
"We are aiming as high as we can. We have so much experience in our team, I think the average age is about 26 which is very high for a team but individually they all bring so much."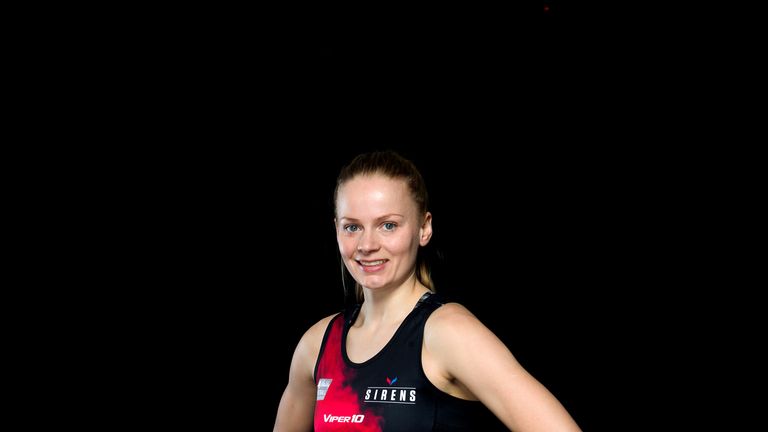 "Our imports add depth and quality to our team and will allow our the Thistles to develop by playing alongside them.
Claire Brownie, Sirens captain
Brownie maintains that experience can only benefit the younger players in the squad, with development as well as a desire to succeed underpinning on-court targets.
"We have a really good mix within the team as we have some strong imports providing experience alongside our talented group of younger Scottish Thistles," she said.
As Nelson admits, the attention now switches to the court as the Sirens look to deliver a standard that matches the ambition they have shown in the years of planning.
With that in mind, the final word goes to Brownie - whose excitement is obvious as she talked to Sky Sports at the Superleague launch day at the Oval.
"Pre-season has been good, it's been all about trying to get our connections right as we are a brand new team but everything has been going in the right direction as we step up ahead of our first games.
"It is super exciting and I think it is really going to raise the game in Scotland but I also think we are here to compete in Superleague - we are looking forward to the season ahead and I think we have a great team that can challenge."
2017 Sirens squad
| | |
| --- | --- |
| Nicole Aiken-Pinnock | GK, GD |
| Lauren Tait | GK, GD |
| Savannah Antoine | GD, WD |
| Rachel Forbes | GD, WD |
| Claire Brownie | C, WD (Captain) |
| Caroline O'Hanlon | C |
| Nicola McCleery | C, WA |
| Fiona Moore-McGrath | C, WA |
| Carla Borrego | GA, GS |
| Bethan Goodwin | GA, GS |
| Ellen Halpenny | GA, GS |
| Jo Pettitt | GA, GS |
Watch Sirens v Wasps on Sky Sports Mix and Sky Sports 2 on Tuesday from 7.15pm. You can follow all the Vitality Superleague action on Sky Sports Mix through the season and across our Sky Sports platforms. Follow us @SkyNetball