Tamsin Greenway on leaving Wasps and what is next for her in netball
'All I have ever done is hang out with a team so I'm not going cold turkey! It would be a real shock to not have that any more.'
By Paul Prenderville
Last Updated: 17/07/18 5:30pm
Six of the last seven Superleague Grand Finals have featured Tamsin Greenway, as a player, coach, or sometimes both. Her decision to step away from her role at Wasps took the netball world by surprise - but she tells Paul Prenderville it's been on the agenda for a couple of months.
"It's been well planned, the players knew and really I decided a few months ago that whatever happened this season I was going to take some time out.
I hope I will make a return at some point in the future, I am sure I will but right now to think that is not going to be my focus."
Tamsin Greenway
In the aftermath of Saturday's season showpiece at the Copper Box, Greenway was watching her daughter run among the streamers and celebrating with her team-mates after a second consecutive Superleague success.
Moments earlier she had told the Sky Sports live cameras that she was to step aside from her position. Watching her look on as players and families celebrated made the decision become a little clearer.
Travel to and from the Midlands from her home in the south had become a struggle, as anyone who has to contend with the M40 on a regular basis will tell you, while she also wants to spend more time with her five-year-old daughter, who as of yet does not quite have mum's competitive edge!
But the drains of professional sport, even for a winner like Greenway who has won the last four Grand Finals as a player and a coach, had taken its toll.
"Coaching is going to be there but this part of my life as a mum won't be and I don't think people can really understand how much top-level coaching can take out of you," she tells Sky Sports over a celebratory hot chocolate.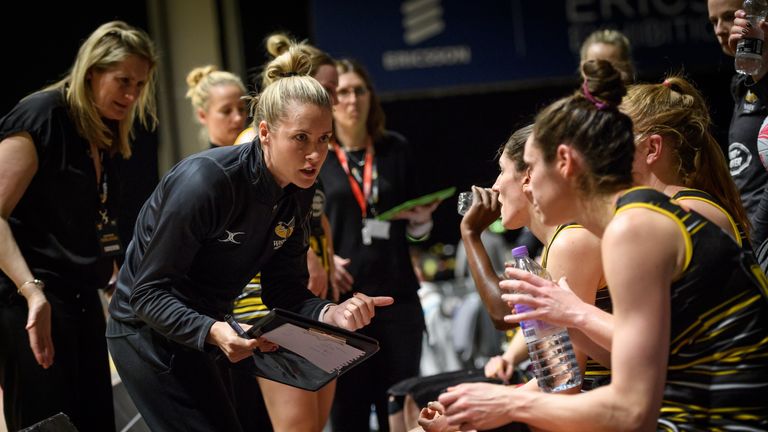 "My life has just been about winning for the last few years and, while I have loved the added pressure that has come with it, I wanted to refresh and regroup."
It's a remarkable admission from an international sports star with a fierce determination to win, and the medals in the cabinet to prove it, but it also underlines the toll that professional sport can take.
Greenway admits that almost two decades of her life have been a tale of netball, team environments and winning, whether as a player or a coach.
"I have been doing professional netball for so long, nearly 18 years, and it is a long time, mentally I need a break.
"If we had got to the end and not won what would that have looked like for me, would it have been failure? I got to the point where the only thing that was important was winning."
There have been rumours of other coaching roles, but that is plainly not the case after an hour in the company of Greenway, who steps away from Wasps in a full-time capacity. She will maintain a technical coaching as well as an ambassadorial role but her focus will be on spreading the netball word, perhaps even as netball's answer to Gary Neville.
"I know that this is definitely it as a player!
"I will still be involved around the club with some strategic stuff, some ambassadorial stuff and some technical coaching with players but no head coaching, no match days.
"My opinions are very vocal and when you are attached to a team that comes with a downside, but now I can push those opinions forward, I want to do more in the media, I'd like to get more involved in Sky's work and coach education is something that is important to me.
"We are seeing more English coaches coming into the game but there is still a void that we need to see filled at elite level, especially on the tactical stuff.
"It's an important time for netball, the World Cup is here in Liverpool, we've won a gold medal so if I can have even a small part in taking it to the wider world then I want to do that."
Having toiled away with England for years without a major medal, she sees the current Roses success as the ideal opportunity to grow the game. It has also helped her look beyond the relentless nature of winning that sport breeds.
"I needed to see there is a bigger picture," she adds.
"Technical and tactical stuff is what I am good at, the man management stuff is just as important, especially in a long season like we've had and it's draining, even more so when you are winning.
"I don't want to have to keep going through that, there is more to it. Watching George and Fran get picked into the England programme, Nat and Jade winning a gold medal, things like that have to be important."
Back-to-back titles with Wasps and a successful coaching career just beginning its journey mean it is a surprise to see Greenway step aside, but it's time to take stock. So what would 10-year-old Tamsin have made of her career so far?
"All I ever wanted to do from aged 10 was play netball for England, and I have done that. Coaching happened because I was in and around the sport and if you had told me at the start of my career that I would reach six Grand Finals in seven seasons and win four on the trot, who wouldn't sign up for that?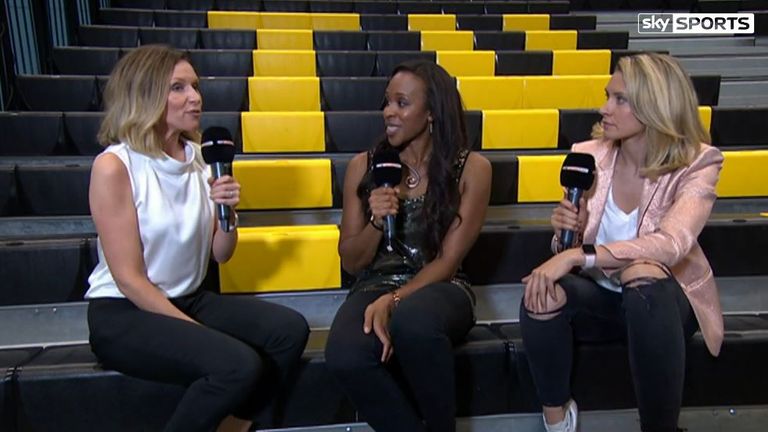 "I love this sport. Everything I have done in this sport has been about pushing it forward and wanting to try and make a difference, I done it as a player and as a coach, now I want to try and do it behind the scenes.
"I have to be proud and now it's time to reflect on that - it's been really good and I have enjoyed it and I am excited about what is next."
Whatever is next, Greenway's passion, enthusiasm and dedication will drive her on to the next step and that competitive edge will likely rear its head again. You get the impression she will almost certainly be back in the winner's circle.
Stick with us through the off-season as we reflect on the campaign, track the England internationals and the latest player movements ahead of a huge 2019 which will feature another thrilling Superleague season and the Netball World Cup.
You can now receive all the latest Vitality Superleague news and more on your personal devices. The Sky Sports mobile app will keep you up to date with the latest news from your favourite sports, including netball - here's how to receive the alerts you want.