Sky Sports will show exclusively live coverage of the 2015 Netball World Cup in Sydney, the sport's biggest competition.
The world's top teams, including defending champions Australia, will compete at Sydney's Olympic Park in August and Sky Sports will show all the key matches, including live coverage of England games, the semi-finals and final.
The agreement strengthens Sky Sports' unrivalled commitment to women's sport, which this year includes the Solheim Cup, England Women's rugby internationals and for the first time, every ball of the Women's Ashes.
Competition at the World Cup is expected to be fierce with Home Nations' interest being spearheaded by England. The team are ranked third in the world and defender Geva Mentor was recently voted the world's best netballer. They lost by one point against both Australia and New Zealand at the Commonwealth Games and will be looking for payback when they head down under.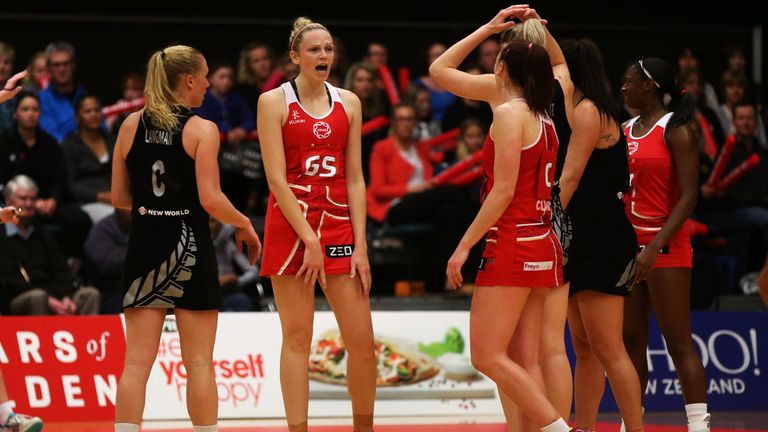 Barney Francis, Sky Sports Managing Director, commented: "There's never been a better time to be a netball fan with participation up and sell-out crowds at Superleague matches, so we're delighted to add the World Cup to the Sky Sports schedule.
"We're proud of our netball coverage and we can't wait to follow the Home Nations teams at the World Cup later this year. The competition strengthens our commitment to women's sport even further which this year alone includes the Solheim Cup, England Women's rugby and for the first time every ball of the Women's Ashes."
Pamela Cookey, England Netball captain said: "It is fantastic news that Sky Sports have secured the rights to show the Netball World Cup SYDNEY 2015. Sky Sports has always been an incredible supporter of netball and with the increase in coverage dedicated to the Netball Superleague this season, including Monday Night Netball, they have once again shown that they are willing to get behind women's sport.
"We know how important it is for our fans to be able to watch us take to the court and we look forward to making the country proud this August when we compete at the World Cup in Sydney. Knowing that our friends, family and fans back home will be joining Sky Sports in getting behind us this summer means so much to the team."
Marne Fechner, Chief Executive, 2015 Netball World Cup in Sydney said: "We are thrilled to have the 2015 Netball World Cup Sydney broadcast on Sky Sports. This is a significant moment for the event, being our first international broadcast announcement that will ensure netball fans across the world have the chance to watch the World Cup.
"With Netball England hosting the World Cup in 2019, we're looking forward to working with Sky Sports over the coming months to build the profile of the sport and this fantastic event. The Netball World Cup promises to be the most successful World Cup in history, setting new benchmarks for international netball, delivering a strong legacy for our sport and our broadcast coverage will be no exception. We're confident that our Australian and international broadcasters will again raise the bar, bringing our amazing athletes and the incredible spectacle they will create, into lounge rooms across the globe."
Joanna Adams, England Netball Chief Executive said: "We are delighted that Sky have once again shown their commitment to women's sport and netball by confirming this broadcast deal. Our fans have been treated to more live netball than ever before this year and will now be able to follow England all the way in Sydney this summer, which is fantastic news.
"Our members have voiced their desire for more netball to be broadcast and we really feel that England Netball and Sky Sports have delivered. Monday nights are now synonymous with the Netball Superleague and the World Cup is a wonderful way to cap the 2015 season."
Sky Sports will show more live women's sport in 2015 than ever before including the Women's Ashes, four out of the five Women's golf majors, the Solheim Cup, US Open tennis, the National Badminton League, England Women's rugby internationals and World Rugby Women's 7s.
There will also be live action from all 14 rounds, both semi-finals and the grand final of the Netball Superleague season. Tickets for the grand final went on sale last Monday March 2 via Sky Tickets and more were sold in an hour then were sold in total for last year's final. England Netball figures also reveal that at least one million women and girls play netball every week.
Netball news is covered on the weekly Sportswomen show, on SSNHQ and Sky Living, which is dedicated to women's sport. It features studio interviews with big name guests to help discuss the key issues, as well as investigations, debates and the latest news and results from the world of women's sport.