Lamar Jackson says NFL teams have not asked him to play wide receiver
By Zinny Boswell
Last Updated: 03/03/18 10:03am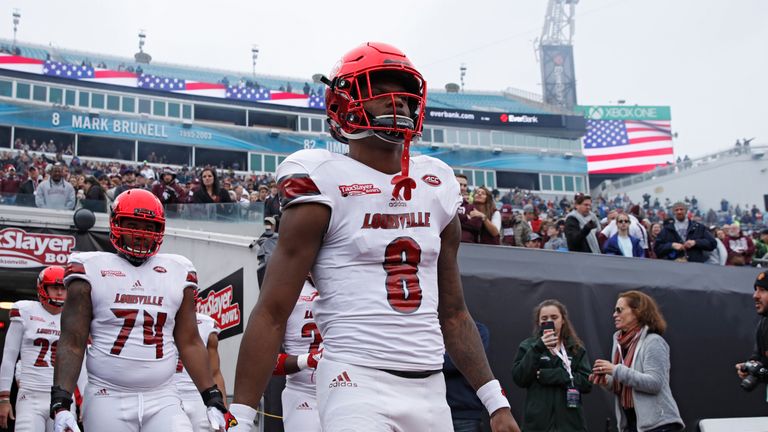 Louisville quarterback Lamar Jackson says no teams have asked him to play wide receiver and that he has no plans to alter his position.
The 2016 Heisman Trophy winner is at the NFL Scouting Combine, which is an annual week-long showcase of the league's next generation of talent at the Lucas Oil Stadium, Indianapolis, ahead of the draft in April.
Jackson, who had 7,203 passing yards over the past two seasons, was surprised by reports suggesting NFL teams would request him to work out with wide receivers due to his speed.
"No team has asked me to play wide receiver," Jackson said Friday at the Indianapolis Convention Center. "I don't even know where that came from. I'm strictly a quarterback.
"That's crazy. I thought I did a good job at quarterback. I thought I did. I'm here at the combine now. I've got to show it."
Seattle Seahawks general manager John Schneider says he could understand why teams may suggest the potential switch of position due to Jackson's "dynamic" ability.
However, Schneider also revealed the Seahawks' board views the 21-year-old as a quarterback, with Ravens general manager Ozzie Newsome in full agreement, saying Jackson is "definitely" a quarterback prospect.
Elsewhere, Cleveland Browns hold No 1 and No 4 picks of the draft and Oklahoma quarterback Baker Mayfield believes he could transform the franchise if he made the move, refuting claims his height could be a problem in the NFL.
"First things first, they'd [Cleveland Browns] get a winner," Mayfield said. "If there's anyone who would turn that franchise around, it'd be me," he said.
"They're close. They're very close. They've got the right pieces. I think they just need that one guy at quarterback.
"I've got three years of tape you can watch. Height doesn't matter at that point," he said. "I think I have less batted balls at the line of scrimmage than all the other guys here."