Inside the Huddle PODCAST: Rams and Patriots wins in Conference Championships
Watch Inside the Huddle at 9.30pm on Sky Sports USA, Wednesday
Last Updated: 22/01/19 11:37pm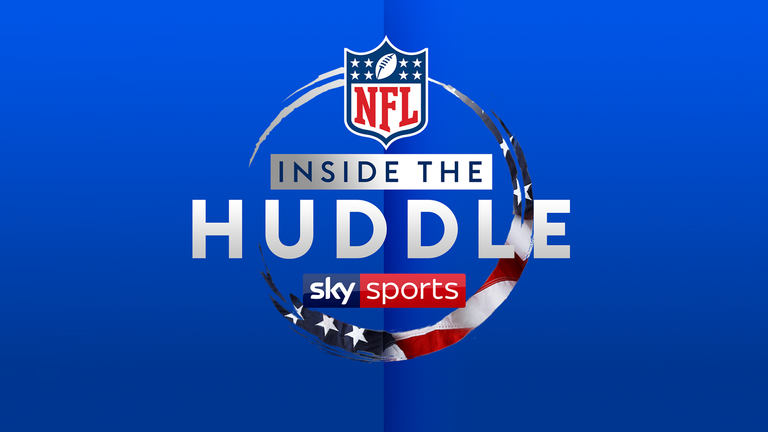 The latest Inside the Huddle podcast takes a look back on Conference Championship Sunday, with Ross Tucker joining Neil Reynolds and Jeff Reinebold.
Neil, Jeff and Ross discuss the dramatic events which saw the Los Angeles Rams and New England Patriots progress to Super Bowl LIII in Atlanta after overtime wins.
Rams reach Super Bowl with OT win
Patriots reach 11th Super Bowl
Up for discussion in particular is the controversial non-call by officials on a pass interference penalty late in the Rams game, which would have given the New Orleans Saints the chance to run out the clock and win the game themselves.
Ross says "it's a shame for all involved", feeling sorry for the referee who blew the call, the Saints for missing their Super Bowl opportunity, and the Rams, who's accomplishment has now somewhat been cheapened. He thinks it's now time all plays in the NFL are reviewable.
We also hear the Ross' take on the improved play of Rams quarterback Jared Goff. "I was thoroughly impressed, and a little surprised," he says. "Of the four quarterbacks involved on Sunday, I by far had the least faith in Goff, but he proved me wrong."
Also, what of Todd Gurley's mysterious lack of playing time for the Rams on Sunday? Was it due to injury, attitude or poor play early in the game? The guys have their say.
They also marvel at yet another AFC Championship crown for the Patriots, sending them to an 11th Super Bowl, ninth of the Bill Belichick and Tom Brady era, and fourth in five years.
Belichick drew up the "perfect" game plan for the Kansas City Chiefs and their No 1 offense, while Brady proved yet again he just plays better the more pressure there is, as several clutch third-down throws on the game-winning drive in overtime proved.
As well as all of that, the panel discuss the announcement of the teams playing in the International series fixtures in London in 2019 - the Carolina Panthers and Houston Texans taking part for the first time - and also answer your mailbag questions listed below.
Will Brady retire if he wins a sixth Super Bowl?
Which player will have the biggest impact on Super Bowl?
Which team will be the surprise package next season?
Where will Antonio Brown end up next season?
Which team will Joe Flacco end up signing for?
Follow the 2018-19 NFL season with us on Sky Sports and through skysports.com/NFL also our app for mobile devices and iPad, or follow our Twitter account @SkySportsNFL.