Green Bay Packers unsure if Aaron Rodgers will be fit to face Minnesota Vikings, admits Mike McCarthy
Last Updated: 13/09/18 12:54am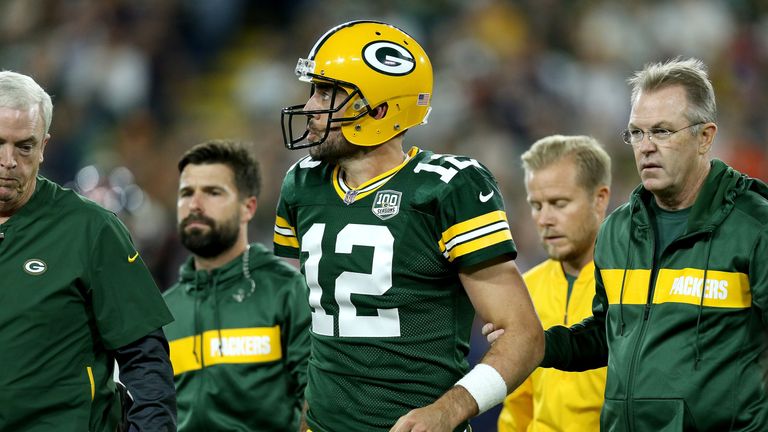 Green Bay Packers coach Mike McCarthy admits he is unsure if Aaron Rodgers, who injured his knee against Chicago, will be fit to face Minnesota next Sunday.
Rodgers was injured in the second quarter of the Packers' thrilling 24-23 win on Sunday night over the Chicago Bears and left the field.
The two-time NFL MVP returned after half-time to engineer a comeback from a 20-0 deficit early in the third quarter.
The Packers will return to the practice field on Wednesday, when the first injury report for Week 2 is due, and McCarthy admits he is unsure of Rodgers' status.
"We do have some information and no decision has been made. We're still collecting all the information," said McCarthy, who added he did not think it would take the whole week to determine Rodgers' availability.
"I don't think anybody's feeling great right now ... But yeah [Rodgers] is sore."
It was the first time in franchise history that the Packers won after trailing by 17 points or more entering the fourth quarter, according to the Elias Sports Bureau.
"It was going to have to take something really catastrophic injury-wise to keep me off the field in the second half," Rodgers said after the game.
Rodgers said he would undergo more tests on Monday, but that he was planning to play next week against the Minnesota Vikings.
"No, I plan on playing. Yeah," he said.
Back-up DeShone Kizer took over behind center while Rodgers was being evaluated in the locker room in the second quarter.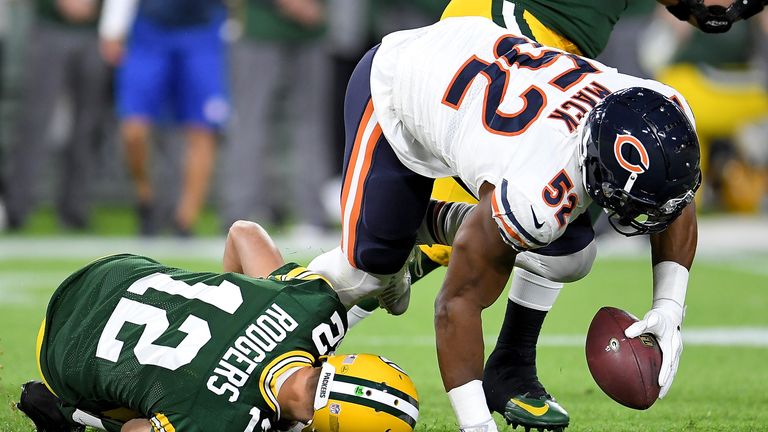 The second-year quarterback accounted for two turnovers to Khalil Mack, having been stripped of the ball by Mack on a sack, and throwing an interception returned 27 yards for a score by the star linebacker.
Kizer, who was acquired in the offseason in a trade with Cleveland, started 15 games last year for the winless Browns. It included a 33-16 loss to the Vikings on October 29 in London. Kizer was 18 of 34 for 179 yards that day, while also rushing for 18 yards and a touchdown on five carries.
Kizer won the back-up job in Green Bay after Brett Hundley was traded to the Seattle Seahawks after the preseason.
"You've got to prepare as if you're the starter every week," Kizer said Monday.
Asked if he planned to get Kizer more work this week, McCarthy said: "Well I mean DeShone will work, I don't think there's any question about that. He'll work a lot this week. Like I said, we're not that far."