Can anyone stop the Los Angeles Rams from going unbeaten?
Watch Rams @ Saints, live on Sky Sports Action from 9.25pm on Sunday
By Thomas Brooks
Last Updated: 04/11/18 9:28pm
We're now halfway through the NFL season and only one team remains unbeaten - the Los Angeles Rams.
The Rams boast a perfect 8-0 record and it's clear to see why. The Rams have multiple stars on both sides of the ball.
On offense there's superstar running back Todd Gurley, quarterback Jared Goff and speedy wide receiver Brandin Cooks to compliment the sure-handed Cooper Kupp and Robert Woods.
On defense they have current Defensive Player of the Year, the dominant Aaron Donald, former No 2 overall pick Ndamukong Suh and two-time Pro Bowler Marcus Peters, as well as the currently injured Aqib Talib.
For some teams, having just one of these players would make a world of difference, but for the Rams it's the every day. They added three of these big names - Cooks, Suh and Peters - this offseason. Yet, they weren't done there.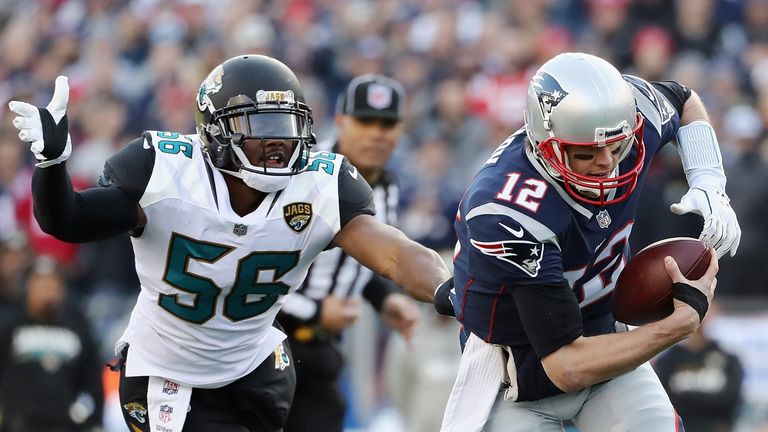 The Rams rounded off their spending spree this week when they acquired edge rusher Dante Fowler Jr. from the Jacksonville Jaguars in exchange for a third-round pick in next year's draft and a 2020 fifth-rounder.
Fowler potentially represents the missing link on this Rams team, if an 8-0 outfit can have one. A pass rush off the edge was one of few issues for the Rams as through the first eight games.
Donald has 10 sacks up the middle, but Michael Brockers leads the lads on the outside with one solitary sack. It's obvious that Donald needed some help and the pass rush needed improving.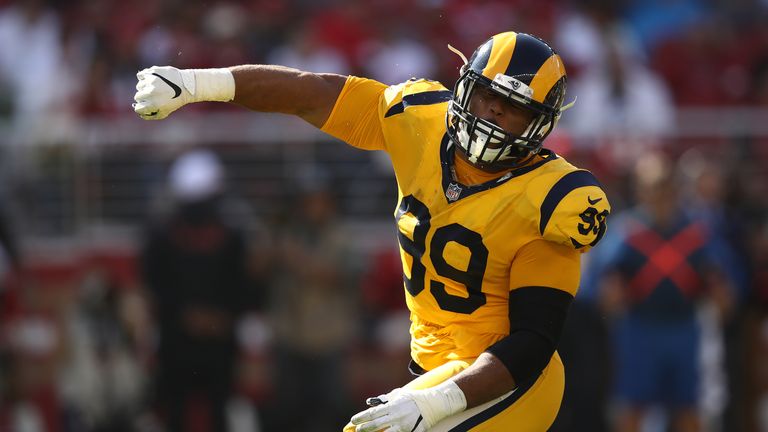 There are question marks surrounding Fowler, his on-field performances and off-field behaviour since being drafted No 3 overall in 2015. But he is joining a similarly strong defensive unit to the one he has left behind in Jacksonville - the Rams are only allowing an average of 19.4 points through their first eight games.
Donald is undoubtedly the game-changer in the group. Since being drafted 13th overall in 2014, he has 10 forced fumbles and 49 sacks and is on track for a whopping 20-sack season if he keeps this pace up. He leads a defense that now has seven former first-round draft picks in it - they are loaded with talent in Los Angeles!
And, if you thought that the Rams' defense was scary, it is nothing compared to their high-octane offense. Sean McVay has his guys operating on a different level to the rest of the league, replicating the feats of 'The Greatest Show on Turf' offense that made the Rams famous at the turn of the millennium and won them the Super Bowl in the 1999 season.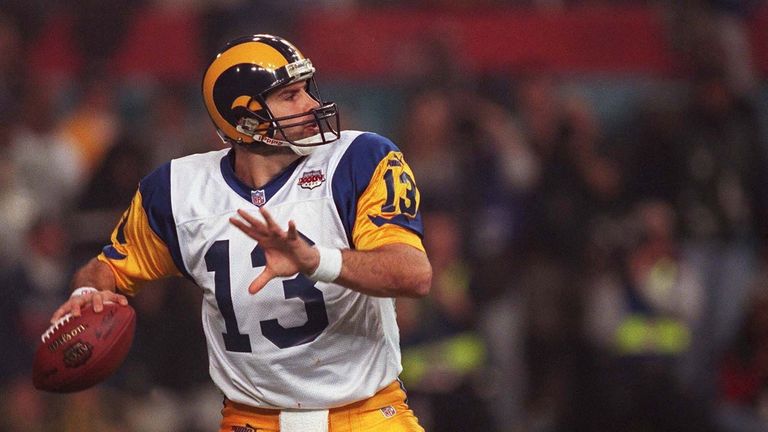 That offense put up over 500 points in each of the 1999, 2000 and 2001 seasons, and this Rams outfit is again on pace to top that mark with 264 through their first eight games - L.A. have only twice failed to score 33 points all year.
Quarterback Goff showed potential to be special last season when he passed for 3,804 yards and 28 touchdowns as the Rams finished with an 11-5 record. This year, the 23-year-old has taken it up a notch as he has already thrown for 2,425 yards and 17 TDs. He is ranked third in the league for passing yards per game, with an average of 303.1.
The Rams boast arguably the strongest receiving cordon in the NFL. Cooks, Woods and Kupp average 219 receiving yards a game, while there's no getting away from running back sensation Gurley, who has already scored 15 touchdowns this season - 11 on the ground and four in the air.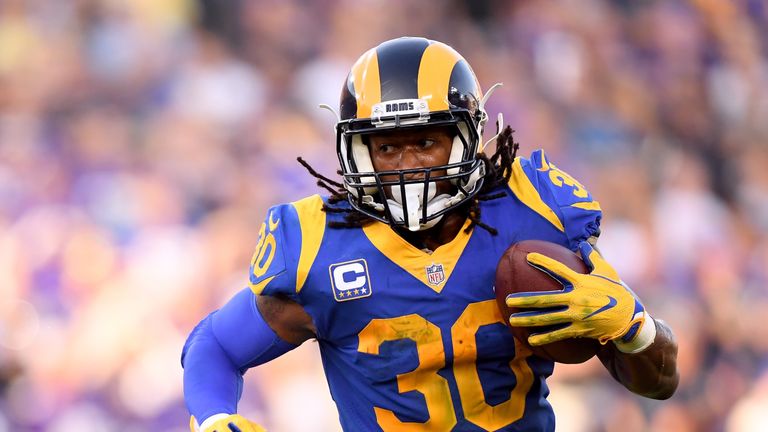 Incredibly, if you include his tally from last season, Gurley has scored 34 touchdowns - just one less than the entire Buffalo Bills offense has scored over the exact same period. Although you could argue that the Bills haven't got the greatest record so far this year (2-6), they were a playoff team last season with a 9-7 record.
Gurley is on track to score 30-plus touchdowns this season, which would see him up near the 31 LaDanian Thomlinson managed during his MVP-winning 2006 season. However, the main obstacle to Gurley topping that mark could be his own team. If the Rams keep up their winning ways, it's more than likely that they will sit him for the last couple of games, resting him for the playoffs.
And that's exactly where this team is heading. They're already streaking clear in the NFC West and could claim a real stranglehold on the NFC conference with a win over their biggest challengers, the New Orleans Saints, on Sunday - live on Sky Sports Action from 9.25pm.
The 6-1 Saints represent the Rams' biggest test to date, having won six-straight coming into Sunday's game. But, many said the same last week before the Green Bay Packers were edged out 29-27, thanks to a Ty Montgomery fumble late on which denied Aaron Rodgers the chance to lead a game-winning drive.
If the Rams leave the Bayou victorious, the talk of an undefeated 16-0 season will really gather pace. Can they be the first since the 2007 New England Patriots to do it? And, could they go one better than that team did and win the Super Bowl, like the undefeated 1972 Miami Dolphins?
There is a potential banana skin lying in wait when the ever-improving Seattle Seahawks - who gave them a scare in a closely-fought 33-31 win earlier in the season - come to town in Week 10. And then their schedule doesn't ease up in the slightest as they meet Patrick Mahomes and the Kansas City Chiefs in a potential Super Bowl LIII dress rehearsal in Mexico in Week 11. On top of that, there's a Week 15 match against the reigning champion Philadelphia Eagles.
While we can speculate, looking over their schedule, the Rams won't yet be looking that far ahead. An unbeaten season is just a distant dream. For now, it's all about the Saints on Sunday.
Follow the 2018-19 NFL season with us on Sky Sports and through our website skysports.com/NFL also our app for mobile devices and iPad, or follow our Twitter account @SkySportsNFL.