Washington Redskins' Alex Smith suffers broken leg in loss to Houston Texans
Washington coach Jay Gruden: "When you have an injury like that, it is more heartbreaking than it is physical. Just breaks your heart."
Last Updated: 19/11/18 6:33am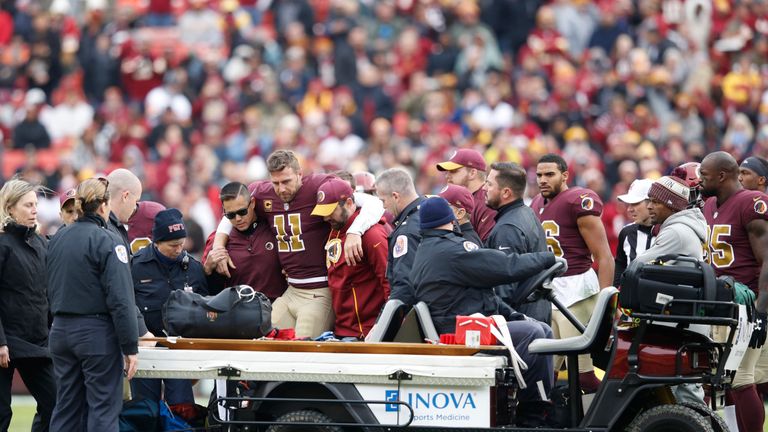 Washington Redskins quarterback Alex Smith was carted off the field with a broken leg during their defeat to the Houston Texans on Sunday.
Smith was sacked by J.J. Watt and Kareem Jackson in the third quarter of the Redskins' 23-21 defeat to the Texans, with his right foot caught underneath him and being bent awkwardly. He remained down on his back while getting medical attention before being carted off with his foot in a cast.
Thoughts are with Alex. Absolutely gutted about it. Never want to see that for anyone ever. Wishing you all the best brother.

— JJ Watt (@JJWatt) November 18, 2018
The team announced shortly afterwards that Smith would not return to the game, and it has since been confirmed that Smith has broken the tibia and fibula in his right leg.
The bad news the #Redskins were dreading: QB Alex Smith will have surgery right away on a broken tibia and fibula. A stellar season is over.

— Ian Rapoport (@RapSheet) November 18, 2018
"When you have an injury like that, it is more heartbreaking than it is physical," Washington coach Jay Gruden said. "Just breaks your heart. Its just hard to watch that happen to any athlete."
Redskins offensive lineman Chase Roullier added: "When we get to that [play in the game film], we'll speed past it, watching it hurts yourself. Horrible to see. Speed past that."
Colt McCoy replaced Smith at quarterback, throwing a touchdown to Jordan Reed on his first attempt to cut Washington's deficit to 17-14 late in the third quarter, but he could not lead the team back to victory.
The 34-year-old Smith arrived in Washington this offseason via a trade from the Kansas City Chiefs, where he started 76 games over five seasons. He signed a four-year, $94m contract with the Redskins shortly after the trade.
Entering Sunday, Smith had 2,045 passing yards, 10 TDs and three interceptions over the 2018 season for the Redskins. He was intercepted twice against the Texans before injury struck, with one returned 101 yards for a touchdown by Justin Reid.