Jacksonville Jaguars bench quarterback Blake Bortles
Leonard Fournette suspended by the NFL for one game
Last Updated: 27/11/18 10:38am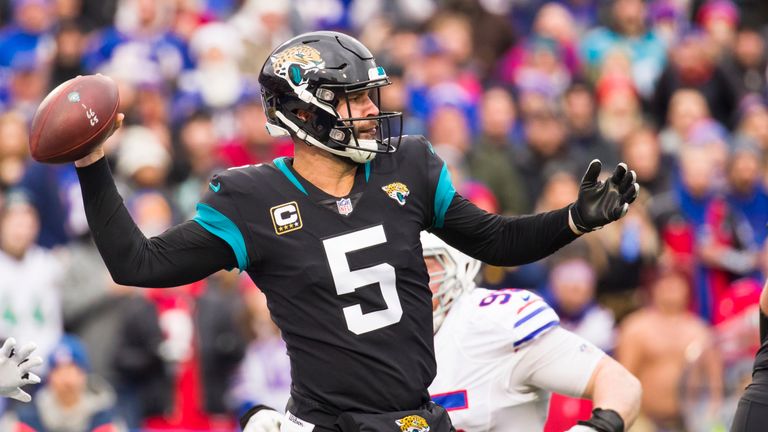 The Jacksonville Jaguars are making a change at quarterback, with head coach Doug Marrone announcing that Cody Kessler will start at quarterback over Blake Bortles against the Indianapolis Colts on Sunday.
"I'm making this change to give us an opportunity to win a football game," Marrone said on Monday. "We're just not getting the production or the consistency that we needed in the passing game."
The Jaguars lost their seventh straight game on Sunday to the Buffalo Bills, with Bortles throwing for 127 yards with a touchdown and two interceptions.
During the skid, Bortles has averaged 211 passing yards per game with six touchdowns, seven interceptions and six fumbles, with a rating of 73.9.
Asked if it will now be former Cleveland Browns QB Kessler's job for the season, Marrone added, "Hopefully he can stay healthy and win games for us. I'm planning for him to go in there and play."
The quarterback change was announced hours after the team fired offensive coordinator Nathaniel Hackett, promoting quarterbacks coach Scott Milanovich to call plays.
In a busy start to the week for the Jaguars, the NFL has suspended running back Leonard Fournette one game without pay for his role in a layer brawl during their defeat to the Bills on Sunday.
NFL vice president of football operations Jon Runyan handed down the punishment Monday, saying "sportsmanship is the cornerstone of the game and the league will not tolerate game-related misconduct that conveys a lack of respect for the game itself and those involved in it."
Fournette and Bills defender Shaq Lawson were ejected in the third quarter of Buffalo's 24-21 victory and continued going at each other as they exited the field and entered the tunnel to the locker rooms.
Fournette has three days to appeal the suspension.