Indianapolis Colts stampeding into playoffs behind Andrew Luck's remarkable season
Colts play Texans in Wild Card game - live on Sky Sports USA (channel 407), Saturday 9.35pm
By James Simpson
Last Updated: 05/01/19 7:27am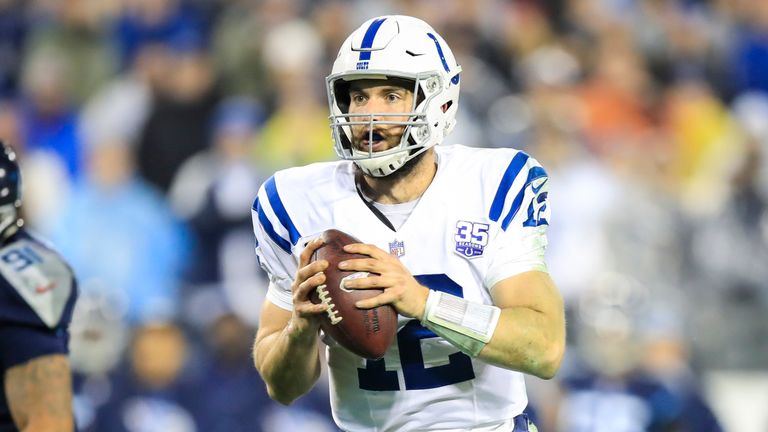 This time last season, we did not know if Andrew Luck was able to physically throw a football. Some questioned whether he'd even return to the NFL.
Now, ahead of Saturday's playoff clash with the Houston Texans - live on Sky Sports USA from 9pm - he is coming off a season in which he set career highs in attempts (639) and completions (430) while leading the Indianapolis Colts to a 10-6 record and a wild card berth.
It has been quite the turnaround.
The Colts won nine of their last 10 - including four division wins as they toppled the Jacksonville Jaguars once, Tennessee Titans twice, and Houston in Week 14 - and are coming in hot.
How did they go from quarterback-less, coach-less and missing the playoffs for three straight seasons to a roaring comeback?
A bit of good fortune
Just one day after last year's Super Bowl, the Colts announced their new head coach: New England Patriots offensive coordinator Josh McDaniels. Revered for his work with Tom Brady, McDaniels was a hot commodity, despite struggling in his first head coaching stint with the Denver Broncos from 2009-10.
However, the Colts were "surprised and disappointed" after McDaniels back-tracked on his decision and stayed in Massachusetts, leaving them to re-kindle their coaching search.
Four days later, on February 11, the man on the opposite sideline during the Philadelphia Eagles' Super Bowl defeat of New England - OC Frank Reich - took over.
Reich first entered the NFL as a quarterback in 1985, and through 14 seasons as a player, and now 10 as a coach - he coincidentally began as an assistant in Indianapolis - has become known as a fantastic offensive mind.
He was a career backup as a player but, amazingly, in starts at the University of Maryland and for the Buffalo Bills, Reich has at the same time held the records for orchestrating the largest comebacks in both college football and the NFL. Overcoming a 32-point deficit in the NFL - in a game now known as 'The Comeback' - has never been matched, but who comes in at second? Luck and the Colts in 2014, as they came back from 28 down to beat the Kansas City Chiefs, 45-44.
Is it any surprise the head coach and quarterback have hit it off?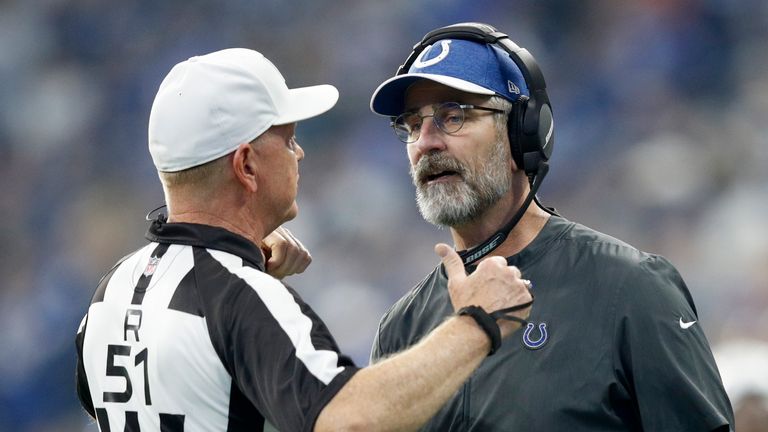 Staying aggressive
In Week Four against the Texans, after coming back from 28-10 and taking the game to overtime, the Colts were faced with a fourth-and-four at their own 43-yard-line with just 27 seconds left. The game was tied at 34-34, and the outside expectation was that Indy would punt and hold on to secure a tie.
Not Reich's Colts. They went for it.
But Luck's pass to Chester Rogers fell incomplete and, on the very next play, Deshaun Watson found his trusted target DeAndre Hopkins to take the Texans into field goal range and kicker Ka'imi Fairbairn secured a Houston win.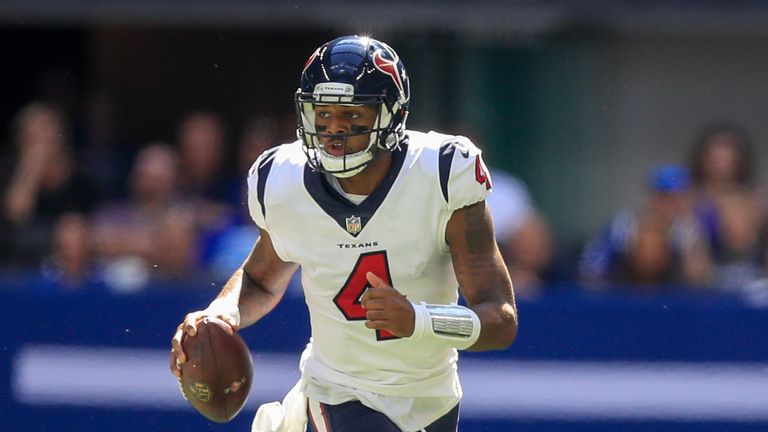 Despite being criticised, Reich stuck to his guns. He said: "I'll just address it now. We're not playing to tie. We're going for it 10 times out of 10."
His quarterback "loved it". Luck said "we're not playing for a tie. Everyone in that locker room frickin' loves it. That's an attitude we can get behind."
It took some time, but they did get behind it. The Colts started the season 1-5 and became just the third team in NFL history to make the playoffs after that start.
Dream draft
The team's turnaround is certainly not all Reich's doing. General manager Chris Ballard had to put on a brave face, explain McDaniels' turnaround, and keep the belief throughout the building. Not only did Ballard end up with a great coach, but he pulled off a masterclass at the 2018 NFL Draft.
First, they moved back from the third overall pick to the sixth, acquiring two more second-round picks in 2018 and one in 2019. They then got their man at No 6.
As soon as the Colts were on the clock, Ballard turned in the card for Notre Dame guard Quenton Nelson, and he has been the definition of a 'stud' pick.
Nelson has played like the Offensive Rookie of the Year - even though the votes will go to a quarterback (Baker Mayfield) or running back (Saquon Barkley) - and their No 36 selection, linebacker Darius Leonard, is one of two leading contenders for the defensive version of the award, along with Los Angeles Chargers safety Derwin James.
Leonard introduced himself to the NFL in Week Two with a monstrous performance against the Washington Redskins. That day, he tallied 18 tackles, one sack, a forced fumble, and a pass breakup. Then he went on to lead the league in tackles with 163 (he even missed a game) and added seven sacks and four forced fumbles. And to cap off the season, 'The Maniac' was named AFC Defensive Player of the Month in December. That's what is known as a 'value' pick.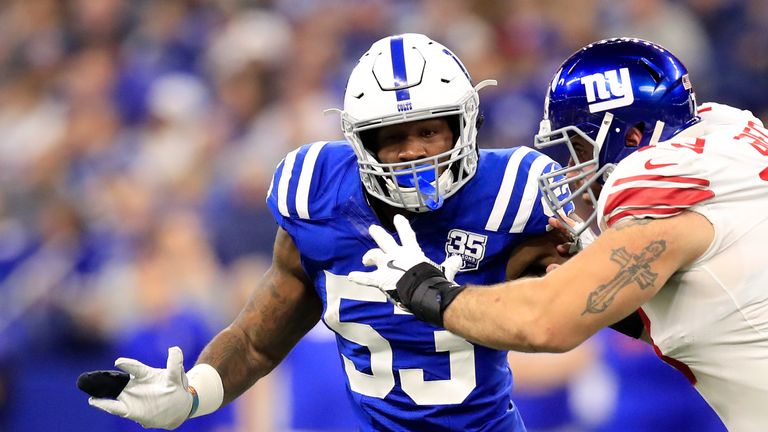 It didn't stop there, as the second of the team's four second-rounders - Braden Smith - has been a starter at right tackle all season. Defensive ends Kemoko Turay and Tyquan Lewis might not be full-timers, but they have contributed, as have fourth and fifth-round running backs, Nyheim Hines and Jordan Wilkins.
The new arrivals have been crucial in rejuvenating a team that was knocking on the Super Bowl door before a rough three-year stretch.
Luck is the key
When the Colts 'sucked for Luck' in the 2011 season, they had their sights set on the most polished and 'pro-ready' quarterback since Peyton Manning. With Luck, they expected wins, titles, and championships.
He started the turnaround immediately. After a 2-14 campaign, the Colts finished 2012 at 11-5 but were bounced from the playoffs in the Wild Card round. In 2013, they matched their regular season record, but this time managed one playoff win before their exit. The Patriots ended their season that time, and did it again in 2014 - after another 11-5 Indy season - this time in the AFC Championship game.
The progression was there, but, in 2015, Luck's shoulder problems started. He only played seven games that season and the team dropped to an 8-8 record. One year later, Luck was back, but was not at his best. Indy again finished 8-8, and immediately after the season Luck underwent surgery to repair the lingering issue. It forced him to miss the entire year in 2017.
Training camp outings this summer suggested he may well be 'back', as did a solid preseason, but it was hard to believe until he was out on the field for real. He's shut down any reservations by throwing for 4,593 yards and 39 touchdowns (both the second-highest totals of his career), with a career-best passer rating of 98.7.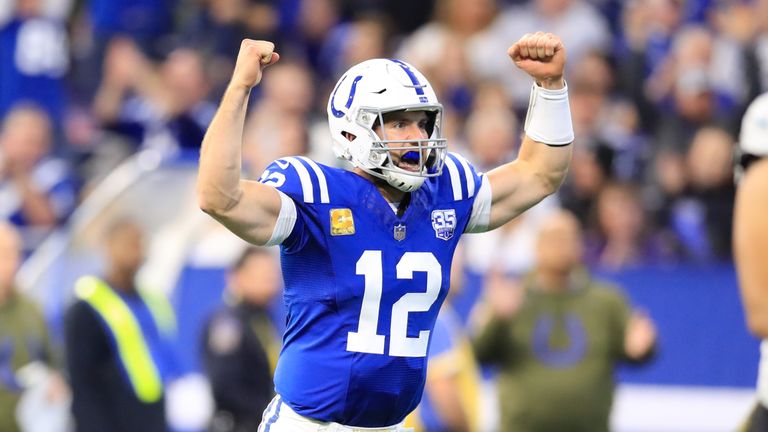 In his four seasons as a healthy starter, Luck has a 43-21 regular season record, but is 3-3 in the playoffs. This year, he is backed by arguably the best offensive line in football (allowing a league-low 18 sacks all season) and a difference-making defense (11th and 10th in yards allowed and points allowed, respectively, and 10th in takeaways).
The face of the Colts' franchise is the favourite to win the NFL Comeback Player of the Year, coincidentally over two Texans he is due to face on Saturday - Deshaun Watson and J.J. Watt.
Can Luck continue his fairytale turnaround by leading Indianapolis to their first playoff win in four years?
Follow the 2018-19 NFL playoffs with us on Sky Sports and through skysports.com/NFL also our app for mobile devices and iPad, or follow our Twitter account @SkySportsNFL.