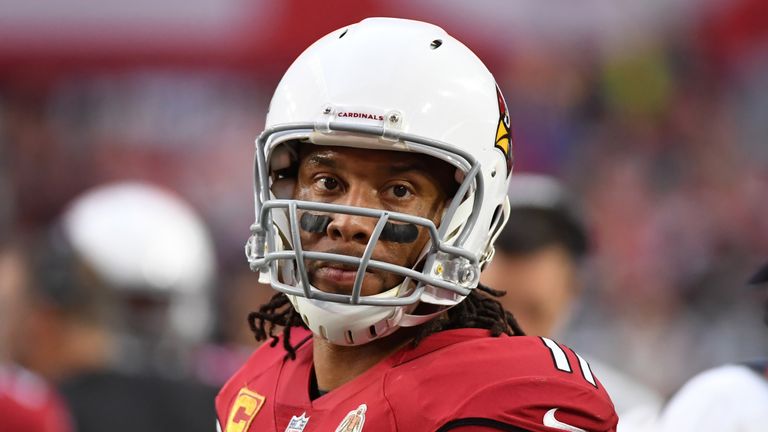 Arizona Cardinals wide receiver Larry Fitzgerald will play again for at least one more season, the franchise has announced.
Fitzgerald decided to return for a 16th year in the NFL by signing a one-year contract with the team this week.
In turn, this has ended speculation about his future, with reports suggesting he was set to retire at the end of the 2018 season.
Team president Michael Bidwill said in a statement: "No player has meant more to this franchise or this community than Larry Fitzgerald.
"In my discussions with him, it was clear that he is as driven and passionate as ever. We are thrilled he'll be back in 2019."
The 35-year-old comes back to a team with its third head coach in three years after the Cardinals hired Kliff Kingsbury following the sacking of Steve Wilks.
He remains the team's top receiver and had a record of six receiving touchdowns this season.
Fitzgerald previously stated he wanted to take time to make the decision as to whether he will play again for another year, a decision he has made the last two seasons.
Ahead of the season finale, which ended up as a 27-24 loss to NFC West division rivals the Seattle Seahawks, Fitzgerald said: "I've dedicated my life to it [football].
"I started playing tackle football when I was six years old on the eight-year-old team.
"This time of the year this is all I have done. When you dedicate your life to something, put in this much time and effort, I wouldn't say I need it, but I really enjoy it.
"To be able to roll out of bed every day, I don't have to set my alarm clock. My feet hit the ground and I know it's time to go to work. I'm excited about it and I understand this is something I've always wanted to do."
Prior to 2018, Fitzgerald had posted three straight 100-catch seasons. He also surpassed Terrell Owens for the second-most receiving yards in NFL history this year - he now sits at 16,249 yards in total.
Follow the 2018-19 NFL season with us on Sky Sports and through skysports.com/NFL also our app for mobile devices and iPad, or follow our Twitter account @SkySportsNFL.