NFL head coach carousel: Which coaching change could be next?
Five coaches feeling the pressure in the second half of the NFL season.
By James Simpson
Last Updated: 07/11/18 12:48pm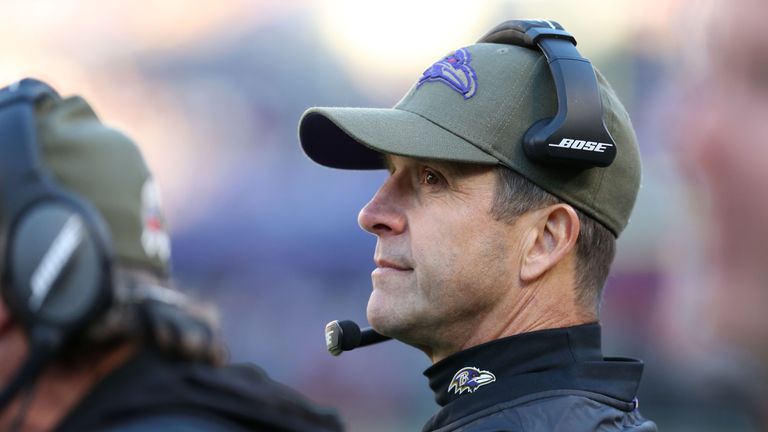 Hue Jackson of the Cleveland Browns became the first head coach fired last week, but who could be next?
This weekend, most of our attention was on the thrilling matchup between the Los Angeles Rams and New Orleans Saints followed by the battle between Aaron Rodgers and Tom Brady.
They did not disappoint - especially the offensive showdown featuring the two Seans - Payton and McVay - who put on an offensive clinic in the Mercedes-Benz Superdome in New Orleans.
However on the opposite end of the spectrum, the coaching - and talent - divide in the league was made even clearer with some of the performances by the NFL's worst outfits.
Let's take a look at some of the men on the hot seat...
Dirk Koetter, Tampa Bay Buccaneers (2018 record: 3-5, overall: 17-23)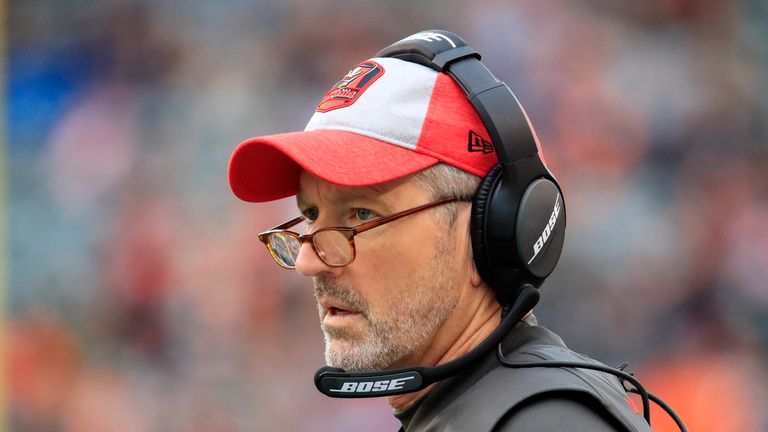 Through the first six weeks of the season, the Buccaneers had the worst defense in the NFL. They subsequently fired defensive coordinator Mike Smith, allowing Koetter a few more games to prove himself as the man for the job in Tampa after a 14-18 record in years one and two.
Despite the change, in the last two games, they've allowed 37 and 42 points, respectively, and against Carolina this Sunday, they couldn't tackle anyone.
Amazingly in contrast, they have still managed the NFL's second-best offense, racking up 446.8 yards per game (0.3 yards shy of the LA Rams). But it likely won't be enough.
In a division with two Super Bowl contenders (New Orleans and Carolina) and a possible Wild Card team (Atlanta), a second consecutive last-place finish could signal the end for Koetter.
John Harbaugh, Baltimore Ravens (4-5, 98-71)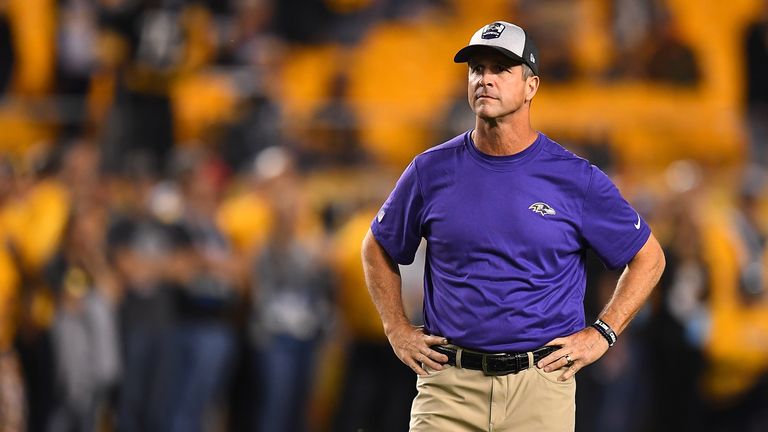 It may seem surprising that a man with six playoff appearances, 10 postseason wins, and a Super Bowl ring to his name could potentially be out of the door. But all of those accolades came in his first seven seasons in charge, and the last four have been underwhelming.
Since their 10-6 finish and AFC Division Game loss to the Patriots after the 2014 season, Baltimore have a 26-31 record, and no double-digit win seasons. Can they get back to winning ways? If not, they could begin a rebuild with the relationship between quarterbacks Joe Flacco and Lamar Jackson the first thing to address.
Harbaugh signed an extension that is due to keep him with the team through the 2019 season, but he might not last that long if results don't go their way for the rest of the year.
Jason Garrett, Dallas Cowboys (3-5, 70-58)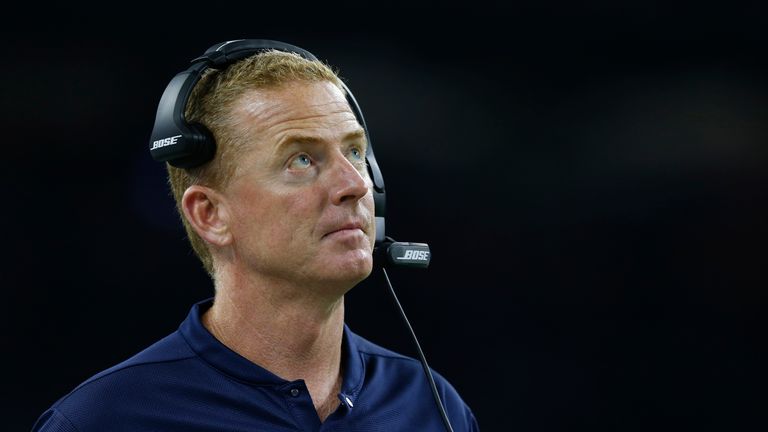 Cowboys owner Jerry Jones was extremely patient with Garrett early in his tenure, enduring three straight 8-8 seasons from 2011-13 before the team finally got over the hump and put together 12 and 13 win seasons in two of the next three. However, both ended in playoff defeats.
Dallas have talent on both sides of the ball, but quarterback Dak Prescott has regressed after a spectacular rookie year in 2016 and the team lacks the swagger that led the to the No 1 seed in the NFC that year.
Will Jones show the same patience again if the Cowboys don't make some noise this season?
Todd Bowles, New York Jets (3-6, 23-34)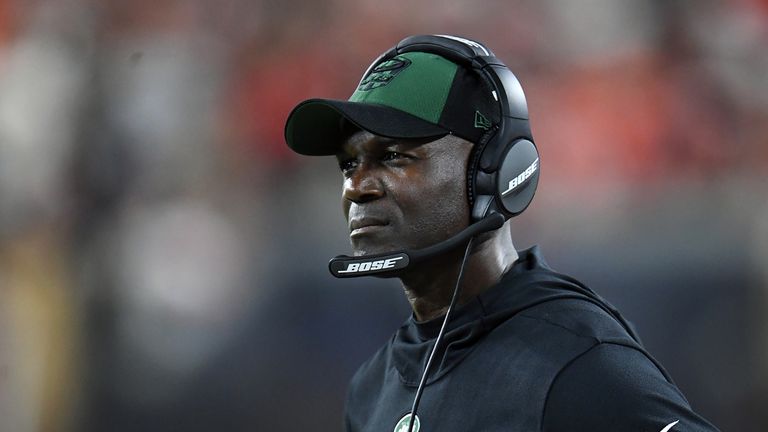 Rookie quarterbacks require time, patience and good coaching in order to develop. Just look at 2016 first and second overall picks Jared Goff and Carson Wentz, who made their fair share of mistakes in their debut seasons but went on to lead two of the best attacks in the league in their sophomore and third-year seasons.
On Sunday, No 3 overall pick Sam Darnold threw four interceptions - giving him the league lead with 14 - as the Jets slumped to a 13-6 loss to Miami. He has a miserable 68.3 passer rating, but also looks uncomfortable and under pressure in the pocket.
With two 5-11 seasons in his first two years in charge, it's hard to believe Bowles will be the man tasked with developing Darnold if the team continue on their way to a similar record this year.
Vance Joseph, Denver Broncos (3-6, 8-17)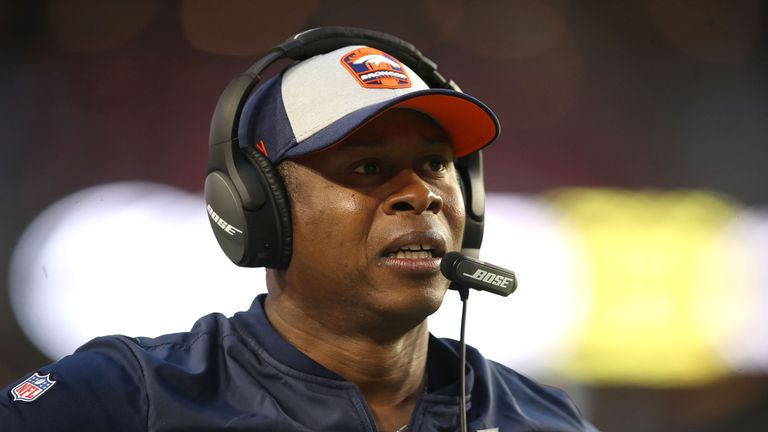 How long do you stick with a struggling coach? The Browns waited too long to fire Jackson - they endured 36 losses in his 40 games in charge - but Joseph is only midway into his second season in charge.
Not for the first time this season, Joseph came under fire for his coaching decisions in a loss, this time to the Houston Texans. A 62-yard field goal miss before the half left Houston with time to score, and a conservative approach on the team's final drive cost them a yard for a potential game-winning field goal. That was missed too.
General manager John Elway could move on from Joseph and look to revamp the franchise this summer.
Follow the 2018-19 NFL season with us on Sky Sports and through our website skysports.com/NFL also our app for mobile devices and iPad, or follow our Twitter account @SkySportsNFL.