Over the years, residents in Lambourn have been accustomed to welcoming back champions of the track, such has been the amount of equine talent the area known as the 'valley of the racehorse' has produced.
And those from the tranquil Berkshire village did not disappoint on Sunday, with hundreds turning out to give Many Clouds a hero's welcome following his magical victory in this year's Crabbie's Grand National.
While hordes gathered outside the box of the eight year-old at the yard of Oliver Sherwood to get a glimpse of Lambourn's latest star, many more converged in the village centre to greet the horse and trainer with a rousing reception at the end of his victory parade.
Reflecting on Saturday's success in the hands of Leighton Aspell, Sherwood said: "To be honest, I never saw him cross the line - he jumped the last out in front and I thought he was going to be in the first four and thought 'what a run'.
"I turned my back after the last and I thought he had got round, then these people around me, I don't know who they were, started saying 'he is going to do it, he is still in front' and when he passed the winning line I just lost it. I walked off in bits. This is the best win of my life.
"It has given Lambourn a huge boost. It is only a small village in which racing is its main thing, so it is huge for the area as well as me."
Image:

Image:

Image:

Image:

Image:

Image:

Image:

Image:

Image:

Image:

Image:

Image:

Image:
There are few better feelings for connections than when a well-hatched plan comes together, but in many respects the victory of Many Clouds in the world's greatest steeplechase was something that for Sherwood arrived earlier than expected.
The trainer said: "I've always thought he was a National horse, but I thought it was a year too soon as he disappointed in the Gold Cup .
"Having said that, he finished sixth in the Gold Cup, which was not a bad run. I was going into this race a little bit worried about what the hell happened in the Gold Cup, so I didn't know if he had gone over the top. I didn't do anything with him between Cheltenham and yesterday.
"The ground didn't bother me. I didn't want heavy ground like when Red Marauder won, especially over four and a half miles. If it was over three miles then, yes, I would have wanted soft ground.
"As soon as Leighton got on him in the paddock he said he felt different. I just think he had a bad day at the office in the Gold Cup."
As with every big-race success there is often more than one person behind the winning story.
Although Sherwood and Aspell will rightly take most of the headlines, the victory was very much a team effort. Among those playing a key role in readying the Trevor Hemmings-owned gelding for his moment of glory was his regular work rider Nathan Horrocks, who despite harbouring reservations about his participation, was pleased the team decided to go through with it.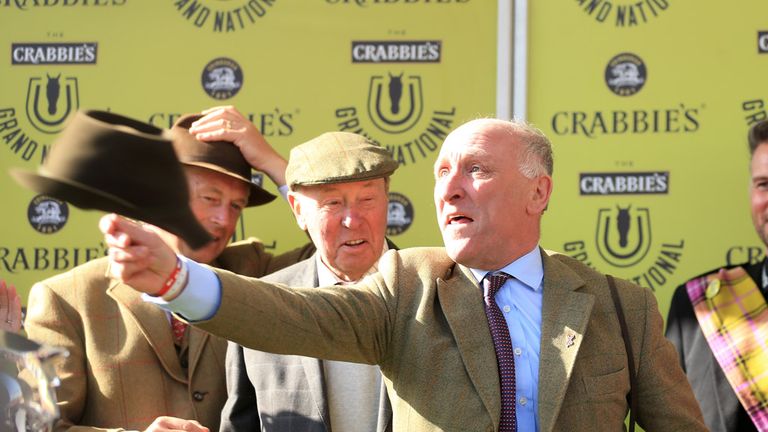 It is huge for Oliver. I was with him for 9 years as assistant and we are still great friends. He's the nicest guy you'll ever meet and really wears his heart on his sleeve. For Lambourn now to have a Grand National & Hennessy winner & a World Hurdle winner is fantastic.
Horrocks said: "It was very surreal for me. After his race at Cheltenham we were all disappointed with his run.
"He never travelled in the race and I thought he might be over the top. He has had a long season, while he had a hard race in the Hennessy, and for him to do that like he did yesterday was a massive surprise. I was shouting him from the fourth-last.
"I always saw him as a National horse, as he has a cruising speed of a two-and-a-half-mile horse, but he stays all day. It's just that eight-year-olds have a terrible record and I always thought it would have been next year.
"I would have been more keen to give him a rest and wait until next season. But thankfully Mr Hemmings didn't listen to any of us.
"It is amazing for the yard and more so for Oliver, as he is a true gent. We have had some dark days here. This horse has revitalised the yard."
It has not only been those that are currently connected to Sherwood and his team that have welcomed the win, with two well-known names that previously had long associations with the trainer celebrating the victory as if they were still part of the set-up at Rhonehurst.
Jamie Osborne, trainer and former stable jockey, said: "I was watching the race on a television in a horsebox with my daughter Saffie, who was pony riding, at the time. If we rocked it you lost the signal, so although we shouted we had to keep still.
"It's great for Oliver to win. I have spent a lot of time riding for him and he has always been a brilliant trainer.
"He has had to endure a few bad years, but this is just wonderful for his team here and this village. I don't think there would be anyone in racing who would feel anything other than happiness for Oliver winning, as he is universally liked by everyone.
"Nobody can say a bad word about him. If there was ever a trainer who deserved, it was him."
Trainer Warren Greatrex was former assistant to Sherwood and struck on the big stage himself with Cole Harden at Cheltenham.
He said: "It is huge for Oliver. I was with him for nine years as his assistant and we are still great friends. The win is brilliant, as Oliver is the nicest guy you will ever meet and really wears his heart on his sleeve.
"For Lambourn now to have a Grand National and Hennessy winner and a World Hurdle winner is fantastic."