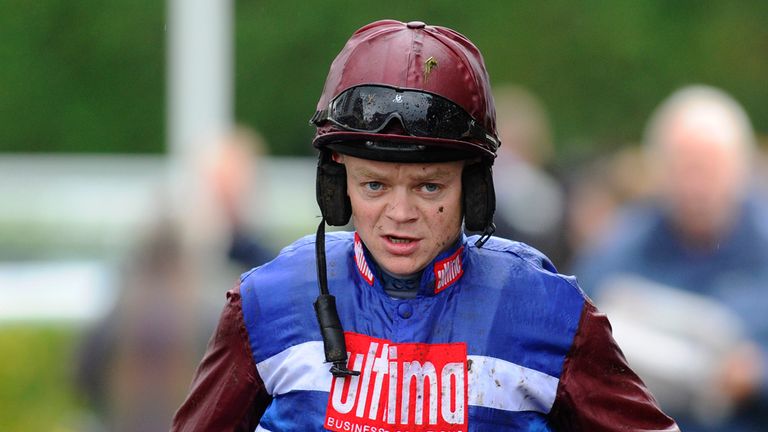 Alan King has paid tribute to the retiring Robert Thornton, highlighting the 2008 Albert Bartlett Novices' Hurdle victory of Nenuphar Collonges as the ride that best showcased his talents.
The 37-year-old has been forced to call time on his career after suffering fractured vertebrae in a fall from Say When at Chepstow in April 2014.
For most of his career he operated as King's stable jockey and the pair enjoyed a great run of success, winning the Champion Hurdle with Katchit, the Arkle and World Hurdle with My Way De Solzen and the Queen Mother Champion Chase with Voy Por Ustedes.
But it was the victory of Nenuphar Collonges, in another Grade One at Cheltenham, which King remembers fondly.
"We've been expecting the news for some time but it's still a sad day when it finally arrives," said King.
"I've known him for 25 years going back to our days with The Duke (David Nicholson) and we've been together for 14.
"He's been a great man to have around.
"We've obviously shared the highlights of our careers together. Voy Por Ustedes, My Way De Solzen and Katchit, their wins at Cheltenham were particularly sweet.
"But if I were to pick out one of his rides as special, that would be Nenuphar Collonges in the Albert Bartlett. He was under hard pressure basically from the off and he ended up winning cosily. It was a great ride, he just wouldn't give in and kept pushing.
"I'll still see a lot of him, he's acting as racing manager to one of my owners and I speak to him three or four times a week.
"Wayne (Hutchinson) will step in to his shoes now, just as he has done for the best part of two years."
The multiple Grade One-winning rider had been hoping to make a comeback after undergoing significant physiotherapy at Oaksey House, the Injured Jockeys Fund rehabilitation centre.
But British Horseracing Authority chief medical advisor Dr Jerry Hill confirmed the complications as a result of his injuries have forced Thornton into retirement with immediate effect.
The jockey said in a statement: "Whilst I've always hoped to return, following recent specialist reports and having met with Dr Hill from the BHA, due to ongoing issues with my neck and upper limbs I have no choice but to retire.
"I've missed the camaraderie of the weighing room and will continue to do so.
"I'm sad to be retiring, but I've had a career I can look back on with pride and have an exciting job with Paul Dunkley (racehorse owner and breeder) that I can look forward to. I also have a son I adore and am at least retiring in one piece.
"I will of course use JETS (Jockeys Employment & Training Scheme) as I develop my career out of the saddle.
"There are many people I'd like to thank, but I'd like to thank all the trainers and owners who have supported me over the years, in particular Alan King and his owners, who've been incredibly supportive, especially the last four or five years when I had a rotten run of luck with injuries.
"I'd also like to thank the team at Oaksey House, and in particular Daloni Lucas, as well as Jerry Hill at the BHA, who's been first class throughout."
Affectionately known as 'Choc', Thornton was crowned top rider at the Cheltenham Festival in 2007, steering My Way De Solzen to glory in the Arkle and Katchit to success in the Triumph Hurdle.
Voy Por Ustedes added a further keynote triumph in the Queen Mother Champion Chase, with Andreas making it a memorable few days for the Darlington-born rider in the Grand Annual.
Thornton enjoyed a tremendous relationship with the diminutive Katchit, winning at Aintree that same season before claiming the Champion Hurdle the following year.
He began life in the saddle attached to the late David Nicholson and was champion amateur in 1997 and champion conditional the following season.
After Nicholson retired in 1999, Thornton went on to form an enduring partnership with King.
Thornton joined the elite of jumps jockeys when reaching 1,000 winners on Araldur at Towcester in March 2011.
Allied to injury, big-race opportunities became scarce toward the end of his career, with Hutchinson sharing number one duties for King.
Hutchinson said: "He was a great mentor to me when I was coming through as a conditional and I learnt plenty from him all the way through.
"He was easy on the eye as a rider and had his own unique style. He had a remarkable record at Cheltenham.
"He's a top fellow and it's sad news he won't be riding. I wish him all the best for the future."