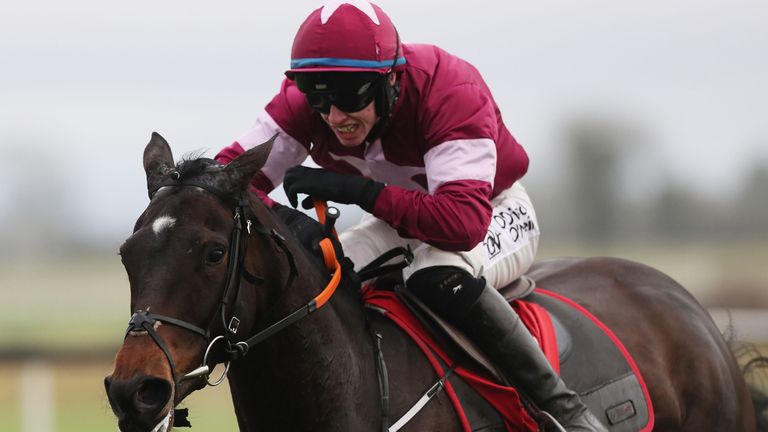 Who is going to start as the shortest-price favourite at the Cheltenham Festival? With his nose pressed against a train window, David Ord ponders long and hard.
When the 0802 Fitzwilliam to Leeds train limped into the station at 0804 (on time) my heart sank.
Two carriages instead of four meant standing room only so I found a quiet corner next to the emergency exit. Pandemonium broke out around me as the good folk of Sandal & Agbrig and Outwood fought the good fight to get on our vessel and I began to ask the questions that matter.
Where are the other two carriages? Why is the man next to me wearing one leather glove and one fingerless one? Why would anyone call the doctors for a blood test result when in the middle of a commuter crush? (it was good news, confirmed by a subsequent call to a worried wife who was at home with a thyroid issue) and what is going to be the shortest price favourite at the Cheltenham Festival?
Sky Bet would only price one of those markets up so here you go - including prices - what's going to be the shortest of the short at the Fez in March.
Who will be shortest-priced favourite at the Cheltenham Festival? Check out Sky Bet prices
APPLE'S JADE (7/4 to be the shortest price favourite at the Festival)
Hang on - we've found it already. She only has to turn up to win the OLBG Mares' Hurdle doesn't she? 8/13 non-runner/no bet and it must be perm any one of three from the next ones in the list (Benie Des Dieux, Let's Dance and Vroum Vroum Mag) in terms of who's going to line up against her.
And she definitely goes there. Gordon Elliott told us so immediately after the Christmas Hurdle at Leopardstown where she beat the boys over three miles. "She'll be against the girls next time in Cheltenham, the mares' race is the plan. She's just five years old and has now won seven Grade Ones," he vowed.
There you are. She'll roll up to Prestbury Park in eight weeks' time, take it up going to the last and those on course can get in the queues to be paid out. Those in offices should head to the vending machines for a celebratory Wispa and anyone unfortunate enough to be in a public house can order another pint of a session ale (no more than 3.6% Fez week - that's crucial) and toast the Apple's.
That's the end of this feature too. But wait. Hang on. If she's 100% certain to be running in the OLBG Mares' Hurdle why is she being given an entry in the Sun Bet Stayers' Hurdle too?
Michael O'Leary "imagines" Gordon prefers the mares' route. I've news for you Mike - he 100% does. But what about the owner? What motivates you? Do you like trophies? Do you like watching them being polished as the rain lashes down outside and the windows rattle amid howling gales? Well if that's a yes I say go with Gord and go Mares.
But is it wonga? It is loot? Bangers and mash? Reddies? Is that what turns you on?The pound's battle with the euro may be going about as well as my own with the scales but there's £190,000 more on offer in the Stayers' than the Mares' Mike. It's a bigger trophy too.
Tempted? You know I think he might be.
And if she does go down the Stayers' route she won't win this particular market. So will Gord get his way?
BUVEUR D'AIR (2/1)
We've seen him twice this season and those two runs have resulted in a three-and-a-half lengths defeat of Irving in the Newcastle mud and a two-and-a-quarter lengths verdict over The New One in the Christmas Hurdle. Not form to set the pulse racing but the reigning champion faces a field devoid of young pretenders to his throne.
We'll see him once again before the Fez where he'll face two or three rivals in the Contenders Hurdle at Sandown and win a hack canter.
The danger - if there is one - is a vanquished champ. Faugheen was back we thought when he posted a big time figure and a wide-margin success at Punchestown in November. Then the wheels came off at Leopardstown.
He's being aimed at the Irish Champion and redemption may follow there. Faugheen wins - makes it to Cheltenham - and Buveur D'Air is a bigger price than 8/13.
Faugheen goes by the wayside and ladies and gentlemen Buveur D'Air will be your shortest price favourite of the 2018 Cheltenham Festival.
FOOTPAD (4/1)
What's not to like here. Very useful over hurdles and already a Grade One winner over fences. Jumps for fun, has gears, in the right hands and has all the hallmarks of a top class two-mile chaser. Racing Post Arkle banker.
But wait. In the same two shades of green silks of Simon Munir and Isaac Souede we have Sceau Royal. What can I say of him? How about - Jumps for fun, has gears, in the right hands and has all the hallmarks of a top class two-mile chaser.
Surely they won't both run? Well god willing they will. There are no alternatives and the owners love a Fez winner. As racing manager Anthony Bromley said: "The owners have done it before (run two in one race at Cheltenham). They did it in the JLT, with Bristol De Mai and L'Ami Serge finishing second and third, and Peace And Co and Top Notch were first and second in the Triumph Hurdle."
How about Munir and Souede to win the Arkle as your banker bet for the week? Even the Racing Blogger may baulk at the price of that one.
If both run Footpad won't be the shortest fav at the Fez. As a Meerkat once said. Simples.
ALTIOR (11/2)
Oh Altior you've a lot to answer for. As I look out of the office window it's a bleak, wintry scene but nothing to compare to the icy blast the usually affable Nicky Henderson sent the way of the press room in the fall-out to the news his stable star was to miss the Tingle Creek.
He took exception to others taking exception to a perceived time lag between the horse showing potential signs of a wind issue (and let's be fair who can honestly say we haven't feared the same on many a Sunday morning) - to the statement confirming it.
I'm parking that here. It's all been said and done. Covered by bigger and better - well better - men and women than me. I'm just pleased Nicky has thawed, he continues to be great value on tv interviews and will be conducting his pre-Fez media day.
So what of Altior? Well he could make the Game Spirit - but in all honesty is in the "straight to the Fez" camp. Without a run all season? Fear not - Nicky was successfully doing this when it was unconventional with his remarkable handling of See You Then.
Then there's Binocular. His prognosis ahead of the 2010 Champion Hurdle was about the same as that of the guy who's up on his roof adjusting the Christmas lights at the start of the Casualty Festive special. But unlike Tony - who struck his head on the guttering and never stood a chance - Binocular rose from the canvas to deliver a knockout blow.
I like Altior. Who doesn't? But the problem here is Willie Mullins. He has three potential darts to throw at this one - and they're more PDC than BDO. Douvan himself was up on the roof at Christmas trying to replace a bulb but he's back down on Terre firma now. Will he make the Fez? Too early to say.
Min (it will be him) - was beaten by Simply Ned at Christmas. Not what you'd ideally like to see from a Champion Chaser-elect - but the sectional men and women tell you he went too fast - too hard - that day. Lesson learned. And Ruby Walsh might be back too.
Yorkhill is now being trained like a Champion Chaser. He was never thought of as a Gold Cup horse despite running over three miles in the Christmas Chase on his reappearance. People think he'd win anything from a Nunthorpe to a National and he was Tom Segal's Pricewise selection for the Champ Chase. Talented, both Tom and Yorkhill, but methinks he might end up in the Ryanair, Yorkhill not Tom, and methinks he'd be banker material there.
So in short - and that wasn't - Altior can't be banker material. No, nay, never. Not because he's without a run all season (admittedly of little concern) but because there are three legitimate and significant rivals currently looking over their stable doors in Closutton itching for a fight.
Even if only one turns up - they may lay a glove on our favourite - and keep him honest at the head of a more competitive market than some think.
SAMCRO (11/2)
At last. A novice hurdler. Where have they been? They're usually good banker material and here we have the best of them so far. Well it seems that way. But wait - Mike O'Leary wants a word again.
In December he was very unhappy with anyone who was talking about this horse - even in hushed tones.
"The hype with Samcro is rubbish. He's won his maiden hurdle, he won a graded hurdle reasonably well - Death Duty did the same last year, went to Cheltenham and blew up.
"He'd have to go to Cheltenham and actually win a race there, and the rest of it is just to delude ante-post punters betting at this time of the year. He is not as good as the hype would make out, he will never be as good as the hype will make out.
"If he turns out to be a reasonably good chaser in time, great, but he's not the next coming of Jesus Christ."
To be fair to Mike he's done his best to downplay expectations by giving the reasonably good future chaser an entry in the Irish Champion Hurdle. Gordon Elliott, it seems, has about as much intention of running him there as…Nicky Henderson does Buveur D'Air...but not the best way of lowering disciples expectations.
Depite playing a Festive scrooge Mike might be pleasantly surprised come Fez time. Samcro is favourite for everything from the Betbright Cup to the Foxhunters it seems but it's a straight shootout between the Sky Bet Supreme and the Ballymore.
I think he'll run in the Ballymore and despite Mike's reservations, on what we saw at Navan and Punchestown - I think he'll win. Yes. I am a believer. In the horse that is - not that he'll be the shortest price favourite of the week.
* Other prices are available on request.
VERDICT: Quite an interesting market - the top two look the most likely winners as you'd expect. There are two key questions. Will Apple's Jade run in the Mares? Will Faugheen turn up in the Champion? Answer yes to both and Apple's Jade goes off shorter than Buveur D'Air. I'll go with that.