Rugby League: Shannon McDonnell in Ireland's European Championship squad
Last Updated: 10/10/14 9:40am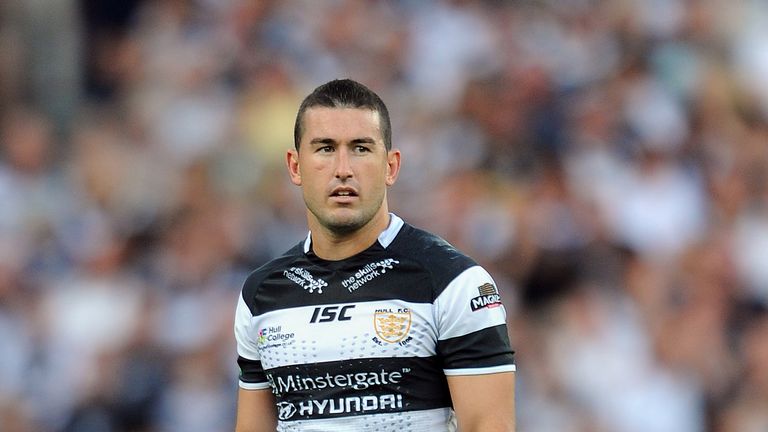 Former Hull and Hull KR full-back Shannon McDonnell has been named in Ireland's initial European Championship squad.
McDonnell is yet to make his Ireland debut because of injury, and a recent broken jaw suffered playing for St Helens means he faces a fitness test to take part in this tournament.
He missed out on the 2008 and 2013 World Cups because of injury but hopes his recent setback will not deny him the chance to pull on the green jersey.
The squad includes eight of members of coach Mark Aston's 2013 World Cup squad in Bob Beswick, Luke Ambler, Stuart Littler, Matty Hadden, Josh Toole, Colton Roche, Danny Bridge and Apirana Pewhairangi.
Leeds Rhinos prop Robbie Mulhern is one of 13 uncapped players in Aston's party, which also includes seven members of the Ireland Amateur team that won the Celtic Nations Cup in August.
Ireland open their campaign against France on October 18 before facing Scotland and Wales in the four-team tournament.
Aston said: "I am delighted that we have eight of the World Cup panel returning for 2014 and that we have been able to add a number of new players into the system.
"The fixtures against France, Scotland and Wales are always exciting and I am sure that, with the squads which have been announced, this will be no different in 2014."
Squad: Matty Hadden (Antrim Eels), Casey Dunne (Athboy Longhorns), Michael Russell (Barnhall Butchers), Sean Hesketh (Batley), Wayne Kelly (Belfast Met Scholars), Hayden Peacock (Carcassone), Jobe Murphy (Dewsbury), Luke Ambler, Callum Casey (both Halifax), Elliot Cosgrove (Keighley), Robbie Mulhern (Leeds), Stuart Littler, Michael Platt, Bob Beswick, Gregg McNally (all Leigh), Josh Toole (North Sydney), Graham O'Keeffe, Callum Mulkeen (both Oxford), Apirana Pewhairangi (Parramatta), Sean Casey (Rochdale), Shannon McDonnell (St Helens), Lemeki Vaipulu, Brendan Guilfoyle (both Treaty City Titans), James Toole (Tweed Heads Seagulls), Will Hope (unattached), Danny Bridge (Warrington), Brad Hargreaves (Wigan St Patricks), Pat Smith, Colton Roche (both York).