Huddersfield Giants' Simon Woolford is focused on 'one game at a time'
Last Updated: 17/08/18 11:20pm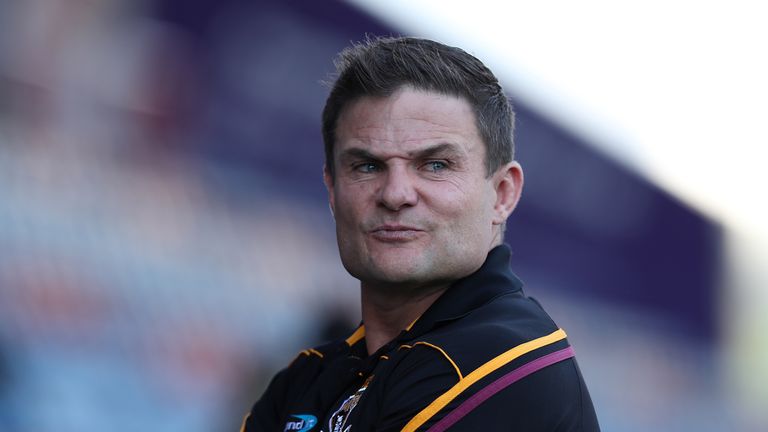 Huddersfield Giants head coach Simon Woolford is focused on "one game at a time" as his side's hot-streak continues.
The Giants made it 11 wins from their last 12 games and six on the trot with a 26-6 triumph over Hull at the John Smith's Stadium. It's a result which leaves them four points behind fourth-placed Warrington with five Super 8s matches remaining.
All the points came in the second half, with Huddersfield taking full control thanks to tries from Alex Mellor, Lee Gaskell, Ryan Hinchcliffe and Ukuma Ta'ai, as well as four goals from Danny Brough and one from Darnell McIntosh.
But even though Huddersfield are going into the final weeks of the season with some strong momentum behind them, Woolford isn't getting carried away.
"What this group of players is doing is fantastic. I couldn't be more delighted for them," said the Australian, who is confident playmaker Brough will be available for the rest of the Super 8s campaign after being forced off in the second half with an ankle injury.
"If we keep on winning our games, who knows where that might leave us at the end of the Super 8s? But right now we're not focusing on the end of the season, we're focusing on one game at a time.
"At the end of the day, whether we can get into the top four is out of our hands, so we've just got to concentrate on winning every game we play and see where that leaves us.
"This win over Hull was another that pleased with a great deal. We weren't good at all with the ball and a lot of passes went to the ground.
"But we fixed things up in the second half, became a lot more patient and eventually gained our reward."
Hull's one consolation try on the night came through a try and conversion from Bureta Faraimo as the injury-hit visitors slumped to a sixth successive defeat.
And their woes deepened following a knee injury to prop Chris Green and a hip complaint to half-back Jordan Abdull.
"This was another disappointing night all round," said head coach Lee Radford.
"I thought the way the players worked for each other in defence was a positive, but apart from that it was another tough defeat to take.
"In the end we ran out of steam, which is what happens when you keep dropping the ball and you run out of healthy players. It looks like we've now lost Chris Green and Jordan Abdull.
"To be honest, I've never known anything quite like this in terms of our durability, and it's something we have to look at very closely to see what we're doing wrong, because something clearly isn't right."