Five clubs to be relegated from the Rugby League Championship
Five clubs will be relegated from the 2014 Kingstone Press Championship under the new league structure.
Last Updated: 10/02/14 3:42pm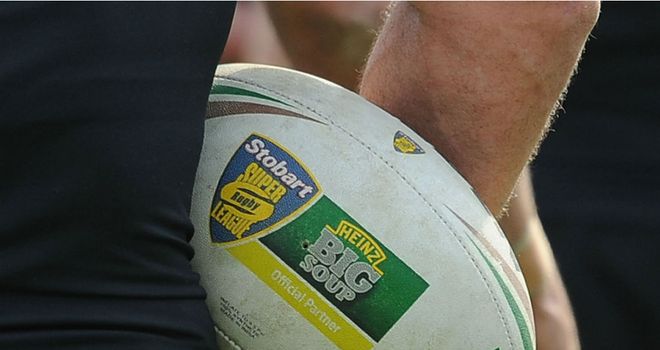 Only nine of the 14 clubs will keep their places at the end of the season as part of new structure designed to introduce incentives and excitement into the domestic game.
For the first time for eight years, clubs will have the chance to push for promotion to the Super League in 2015, although Mark Aston, coach and chief executive of back-to-back champions Sheffield Eagles, dismissed that prospect at the launch of the new Championships season at the MediaCityUK in Salford on Monday.
The nine survivors will be joined by the two clubs relegated from Super League and the winner of a five-team play-off in Championship One.
In 2015, two divisions of 12 will split into three of eight, with the middle tier playing off to determine the make-up of Super League in 2016.
"This is the gateway to a brave new world," Rugby Football League chief operating office Ralph Rimmer said.
"The return of promotion and relegation across the three top divisions from 2015 has been welcomed by everyone and the Championships clubs remain genuinely enthusiastic about the new structures that will deliver a fully integrated competition."
Central funding
The RFL is increasing the central funding to Championship clubs to enable them to compete with the teams from the Super League but Aston says the odds are stacked against the part-timers.
It is thought the top two clubs in this year's Championship will receive £500,000 and £450,000 respectively, with the pay-out dropping to £200,000 for the third and fourth-placed sides, £175,000 for fifth and sixth and £150,000 for the rest.
The clubs are currently on around £90,000 but will be worse off than the two relegated clubs, who will receive £780,000 "parachute payments", while Super League clubs are expected to receive around £.8m in 2016.
From next season the Championship salary cap will also go up from £300,000 to £1m, although to spend the maximum amount clubs would need to generate around £2.5m in revenue.
"It was near-on impossible before and it's not going to be any different," said Aston.
"The four teams that come down from Super League are going to be on £1.8m and the four from the top of the Championship will be on significantly less so how do you compete?
"There's no such thing as promotion and relegation. Stop kidding ourselves. What we will do is focus on how we make Sheffield Eagles that little bit better than we were last year."