Rugby League Experts & Columnists
Barrie v Terry: Pair go head-to-head with their Super League playoff predictions
Last Updated: 02/10/14 6:05pm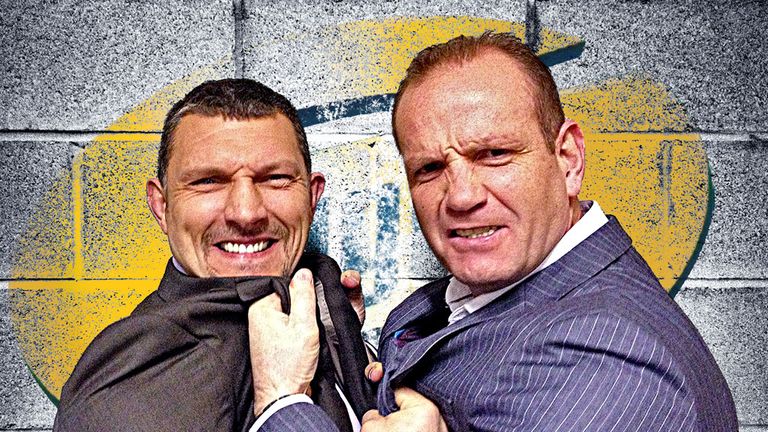 Barrie and Terry are back to tear into each other once more as they go head-to-head with their Super League predictions.
Last season Terry pipped Barrie to the post and proved to be the most successful tipster - but Barrie is determined to make amends in 2014!
Each week they will give their predictions for the Super League games - the boys will score one point for a win, while if they both pick a winner, then the pundit with the closest score gets an extra point.
CURRENT STANDINGS:
Barrie - 157
Terry - 157
St Helens v Catalans
Barrie says: Catalans play with a lot of Esprit de Corps or whatever the French equivalent is… Catalans have had to do more travel, more air miles and more hotel visits than anyone else in this play-off series. But they have used that to their advantage and they really do have a strong team spirit. The history of this fixture sees Catalans winning four of their six visits to Langtree Park, and recently they beat them 42-0 at the Stade Gilbert Brutus. So it is not beyond the realms of possibility that the Dragons can come away with a win. However, that is not taking into account the adversity that this Saints side have experienced. They have had horrendous injuries to key players, but players have stepped up to perform out of position and their youngsters have really developed, too.
Prediction: I think this game will be a battle of wills but I really cannot see past St Helens. I expect a thrilling, high-scoring game but St Helens to win by 10 points.
Terry says: I think everyone knew that St Helens would pick Catalans and leave Wigan and Warrington to battle it out. I am sure Catalans will be using it as motivation but you have to say that they are really in-form at the moment. They beat Leeds in Leeds and Huddersfield in Huddersfield and don't look like a side that have been struggling all year. They have come into the play-offs with a new attitude and a new focus. Saints have had a week off and will be raring to go – they have changed the way they play by going through the middle through James Roby. Roby is nominated for Man of Steel and he fully deserves his nomination and if Saints win this game it will be off the back of what Roby does.
Prediction: Can I see Catalans winning this game? They certainly can but I think Saints will win by 10 points.
Wigan v Warrington
Barrie says: Warrington are really struggling with injuries and would have loved to have had a week off like Wigan did when they beat Huddersfield. At this time of year you are in a strong place mentally but physically all players are carrying some bumps and bruises. Wigan look to have all their players available, but Warrington are struggling and have a whole hosts of injury doubts and question marks. Warrington are a great side, though, and have an excellent coach in Tony Smith. He is a master tactician and the Tony Smith factor is a fascinating part of this fixture. Smith and Wigan coach Shaun Wane have had a few verbal jousts over the years; Wane plays on emotion, he plays it rough and tough and asks his players to fight for every inch. Smith talks about process, about playing with an understanding of the process he wants and that is playing on the front foot, with speed and with great skill. If they turn up who is to say that they won't win, but I feel this game favours Wigan who have had a week off and are full of confidence.
Prediction: This should be a cracking contest but I think Wigan will win an extremely close game and will win by eight points.
Terry says: I remember after the Grand Final last year, Barrie and I were walking back and all the Warrington fans were fuming about what happened in the second half. Their side were up 16-6 at half-time but then the injury to Stefan Ratchford and the injury to Joel Monaghan swung the game. Warrington will have spoken about what happened a lot and will be eager to make amends. Wigan are coming off a week's break and are looking composed and confident. I think the odds are stacked in their favour.
Prediction: Warrington have the players to go and cause an upset at the DW Stadium but I am going to go for Wigan to win this game by 14 points.