World record signing Sam Tomkins will be released early from his New Zealand Warriors contract to allow him to return to Super League.
Tomkins asked the club to allow him to return to Super League because he is homesick, and has failed to settle in New Zealand.
Warriors managing director Jim Doyle said the club had reluctantly agreed and Tomkins - who is believed to have cost the Kiwis £700,000 when they signed him from Wigan Warriors - will return to England at the end of the NRL season.
Tomkins signed for the Auckland-based club in 2013, and had been due to stay until the end of the 2016 season.
Tomkins, whose former club Wigan have admitted they are interested in re-signing the full-back, told Sky Sports News HQ: "About a month ago I went to the coach and the chief executive and expressed that I ideally want to be back in England next season and we tried to think of ways that I could stay. But my mind had been made up by then and they were working to get a replacement, a one-to-one signed, and I could move on.
"And we've announced we've signed one of the Sydney Rooster players (Roger Tuivasa-Sheck) this morning and that means my release has been accepted.
"The Warriors are a great club and I've enjoyed every minute of being amongst that group but New Zealand's pretty far from Wigan, where all my family live, so I want to be back in England, around my family.
"It will be two years that I've been away and for me to be able to go back and be round family and friends is probably what I'd rather be doing next year.
"It was a really tough (decision). The Warriors over here gave me a lot of time and they gave me a really good chance, they invested a lot to get me over here, which I appreciate, and they handled it brilliantly when I was coming and equally so when I asked if I could leave.
"It was tough because I feel like I owe them something, which hopefully I can pay them back with by having a big year this year."
Tomkins admits a return to Wigan appeals, but he is not ruling out signing for one of their Super League rivals.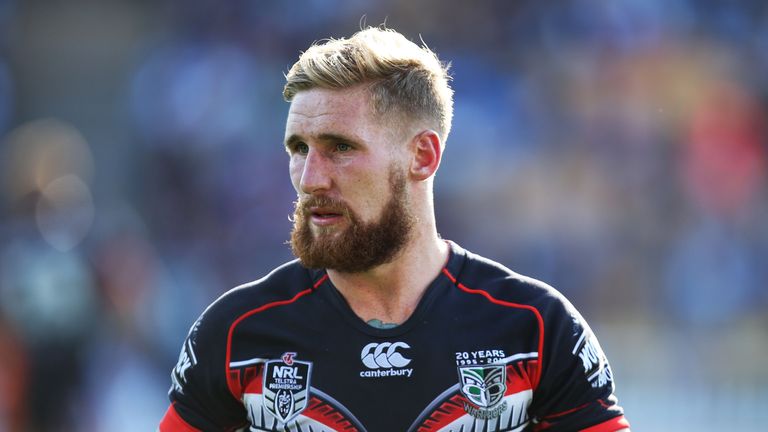 I love being with the lads and it's a brilliant country to live in but I can only be honest and say I miss home in ways I never thought I would.
Sam Tomkins
"I've not worked that out just yet," he said. "My first thing was to sort it out over here that I could go back but as far as who I'd be playing for. I'm not too sure just yet. Hopefully that will be sorted in the not too distant future.
"That's where my brothers play (Wigan) and that's where I'm from but I'm open to other places. As it's happening, I'm just figuring out what's going to be the best option for me.
"Wigan would be nice, but I know it' not the only team I can go to."
Asked how Super League compares to the NRL, Tomkins added: "I'd say the top sides in Super League are the same as the top sides here, but I'd say in Super League there's teams that aren't as consistent whereas over here in the NRL, each week you're in a tough game and I think the talent is a bit more evenly spread across the teams over here.
"Between the top teams there's hardly any difference (between Super League and NRL), but there's probably a few more good teams here than there are back in England."
Managing Director Doyle admitted he was disappointed that Tomkins will leave: "He came here excited about testing himself in the NRL and also experiencing living in a new country but, in the end, Sam has found it too much of a challenge being away from home.
"While we have talked with him and tried to work through it he has now come back to us to ask for a release at the end of the season.
"It's disappointing that it has come to this but reluctantly we have accepted there is no option but to allow Sam to return to England.
"For now, though, he is determined to finish his time with the Vodafone Warriors in the best way he can. He's working to recover from his knee injury as soon as possible so he can regain his spot in the team."
Warriors head coach Andrew McFadden added: "This has been hanging over Sam at different times and there's no doubt it has affected him.
"Now the way has been cleared and I'm sure he'll excel once again when he comes back from this injury.
"We've seen the quality he provides when he's in the side. He makes a huge difference to the way we play and I know how determined he'll be to contribute over the rest of the season."