Rugby League Experts & Columnists
Super League: Barrie McDermott and Terry O'Connor are back with their predictions
Last Updated: 03/07/15 11:02am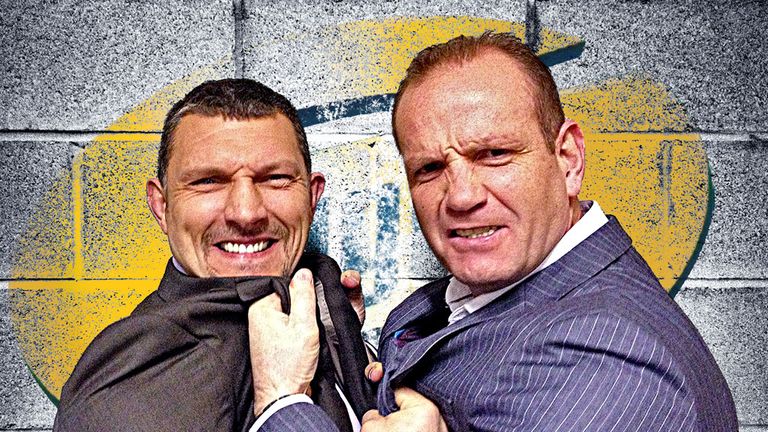 The boys tear into each other once more as they go head-to-head with their Super League predictions.
On the pitch, Barrie McDermott and Terry O'Connor liked nothing better than tearing into the opposition.
They may have hung up their boots but that competitive streak still runs strong and we have found a way to channel their energies.
Each week they will give their predictions for the Super League games; they will score one point for a win and if they both pick the winner, then the pundit with the closest score gets an extra point.
Last year, McDermott pipped O'Connor to the title, and although Terry demanded a recount, he finally conceded that Barrie was the rightful winner.
Let battle commence!
Current standings
BARRIE - 88
TERRY - 88
Warrington v Wigan: 7.30pm, Thurs, Sky Sports 1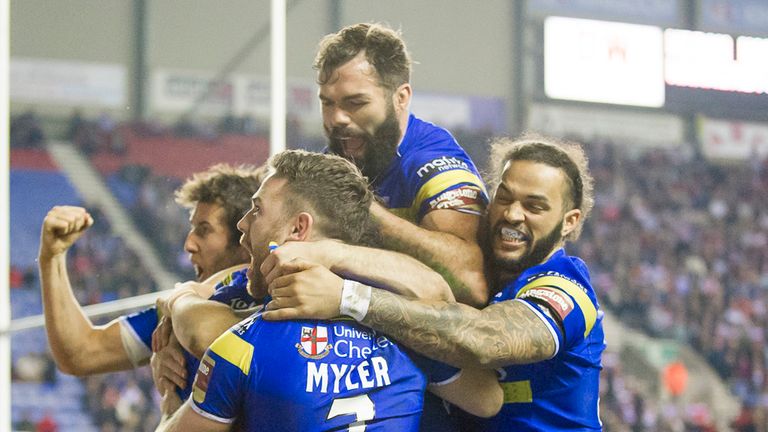 Terry says: Warrington have been dragged back into the race to gain a place in the top 8. This fixture is so important for the Wolves and it's getting very interesting in the battle for the top 8. Tony Smith knows that he has a tough run in over the next few weeks, with this as the start. The next three games are Wakefield and Castleford away with a home tie against Saints in between those games. The Wakefield game is interesting; Smith v Smith and a few new signings could be a banana skin.
It was a physical game last week against Leigh and this will be the same. The loss of Ben Currie will leave a huge hole. He will miss this game along with next week's, which will delight the cherry and whites - a big hammer blow for Warrington.
Wigan have had the extra week off and they are still pushing for top spot, waiting for Saints and Leeds to trip up. They were tested against Salford, a game which they won 19-12, though Iestyn Harris thought Wigan got a few calls. Both sides have points to prove along with looking for those valuable league points.
If you ask the Warrington fans who they think will win this game - not who they want to win - 95% would say Wigan. I have friends from Warrington who fear the worst in this game but as I say to them they're the only team in the league who have beaten the league leaders home and away in 2015.
Prediction: Wigan's aggressive line speed has caused teams problems all year long. They restrict yardage and go-forward against even the biggest of teams. Perhaps Warrington could beat them with skill, but that's going to be tough as they are not as fluent as they want to be this time of the year. I'm going with a Wigan win by 8 points.
Barrie says: I spoke to Tony Smith sometime after Warrington's cup tie with Leigh. He was respectful of his opposition but was honest in saying that his side wasn't where they wanted to be at this part of the season. True to the character of the club though, they're all working hard together to put things right.
As the saying goes Rome wasn't built in a day and in any event the key to winning Super League is to peak at the right time, but the danger for Warrington is that they don't get the plane built before they reach the end of the cliff. To not make the top 8 given their squad quality and ambition would be a disaster for them.
Wigan have been on a rollercoaster and are now coming out on the other side. I don't think Shaun Wane would be a particularly good poker player because what you see from him is what you get and he doesn't seem very happy with the way things have gone in recent times. I don't think they can blame injuries to personnel, it's just something they will need to sit down and fix as a squad.
As they say in boxing, styles make fights, and in this game you have two teams with very different styles. Warrington's, sharp, aggressive attack against Wigan's ethos of strong defence and a good set piece should make for a very enticing encounter at the Halliwell Jones Stadium. If you're a neutral you can be sure that you can sit back and enjoy an exciting game of rugby.
Prediction: I don't think either side knows exactly what is coming their way in terms of form, and it's a tough one to call, but I'm going with a Warrington win by 6 points.
Leeds v St Helens: 7.30pm, Fri, Sky Sports 1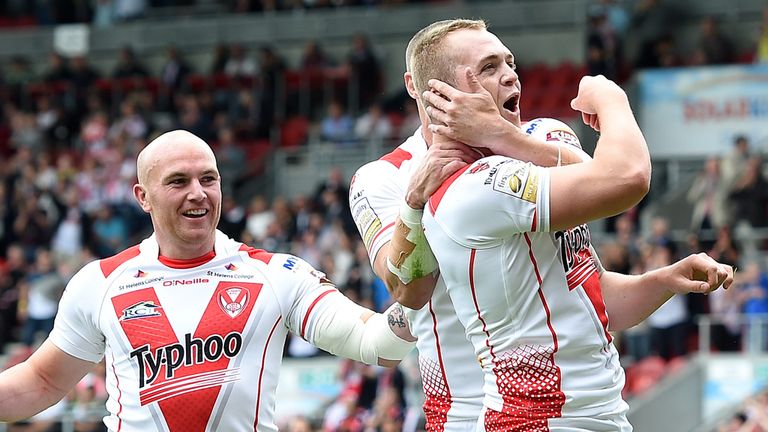 Terry says: Whoever wins this game will sit top of the table on Friday night, which makes it similar to a big final. Will either one crack under the spotlight and go for that big play on minute one by jumping the line, or will they just play the same game but at a different level, a level that most teams couldn't handle?
The reason they can is because every week they have to raise the bar as everyone wants to beat them. Shaun Edwards said to me many years ago that game day should be harder than any training session as you should push yourself to breaking point and leave the field with nothing left in the tank. If you don't feel like that then you've not tried. It was easy for him though, he was 10st sopping wet - try carrying 18st around!
Injuries to Sutcliffe and McGuire saw Burrow and Sinfield start in the halves last week and didn't they look fantastic. Rob Burrow is always a threat when he gets his hands on the ball and Kevin Sinfield showed once again that he's is a class act. His kicking game caused FC problems all night and his general game management was first class. Will we see new signing Mitch Garbutt make his debut alongside countryman Adam Cuthbertson?
The Leeds 19 looks formidable even with a few injuries. The business end of the year has arrived as we are now at round 20; the top teams rise to the top and play well in these high-pressure games. If you can't handle the pace or the sheer speed plus skill levels you'll come a cropper. Both of these sides over the last 20 years have proved time and again that they breed winners and this year has been no exception.
Saints got over Widnes and once again showed how dangerous they can be when written off and behind on the scoreboard. Keiron Cunningham has done a tremendous job in his first year as head coach and the respect he has from the team is evident for all to see with the side's performance. Only Huddersfield have a better defensive record than Saints, so they will be confident when they visit Headingley.
Prediction: Leeds demolished Saints earlier this year and young Ash Handley scored an amazing hat trick in just 40 minutes. Leeds did however lose this game last year in round 25, 13-12 in what was one of the games of the year. This time round I'm going with a Leeds win by 8 points.
Barrie says: These two teams are certainly deserving of their league standing as they have been the two sides that have consistently performed throughout the season. This season, as we have been hoping would happen for a while, every side can beat the others on any given day - as shown by Wakefield's win on Wednesday night against Hull FC. That should give these sides that much more satisfaction for occupying the top of the pile.
All of the difficulties in the lead up to this game have been suffered by Saints; they've had a few injuries and retirements that could potentially affect them. All of the intangible things that can go your team's way have gone with Leeds and against Saints. But in these fixtures over the years, time and time again we've seen the smart choice lose the game.
Watching Saints over the last few weeks I've often thought that they've been down and out, but they jump up off the canvas every time and deliver a knock-out blow of their own.
Leeds now have the new blood of Mitch Garbutt to call upon. That should be a fresh injection and give breathing space for the likes of Peacock, Singleton and Cuthbertson. He won't be replacing those three, but gives Brian McDermott options that will allow him to rest his big players.
This will be an incredibly captivating match up between two sides steeped in rugby league history and I'm expecting a high-scoring affair on the day.
Prediction: Rod Studd has an expression: in any fixture between two teams, any event or outcome - no matter how unlikely - is possible. Which makes my job of predicting the outcome that much harder! I'm going to go with a Leeds win though, by 8 points.
Castleford v Widnes
Terry: Castleford by 8
Barrie: Castleford by 10
Huddersfield v Hull KR
Terry: Huddersfield by 10
Barrie: Hull KR by 8
Hull FC v Wakefield
Terry: Hull FC by 18
Barrie: Hull FC by 10
Salford v Catalans
Terry: Salford by 10
Barrie: Salford by 8