Rugby League Experts & Columnists
Barrie McDermott and Terry O'Connor give their Super League predictions
Last Updated: 09/07/15 4:52pm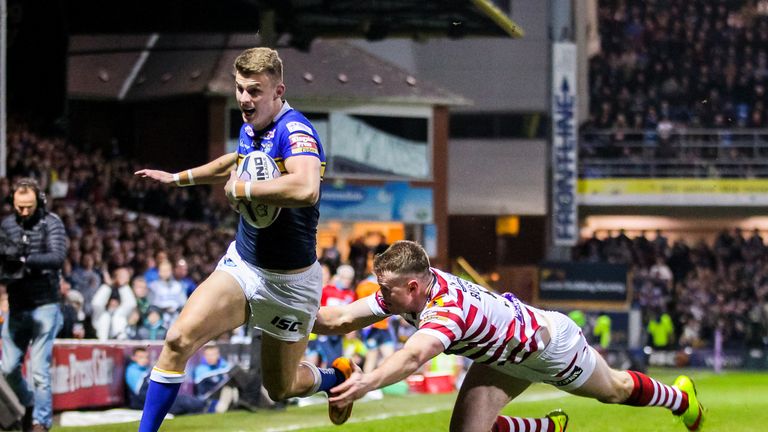 The boys tear into each other once more as they go head-to-head with their Super League predictions.
On the pitch, Barrie McDermott and Terry O'Connor liked nothing better than tearing into the opposition.
They may have hung up their boots but that competitive streak still runs strong and we have found a way to channel their energies.
Each week they will give their predictions for the Super League games; they will score one point for a win and if they both pick the winner, then the pundit with the closest score gets an extra point.
Last year, McDermott pipped O'Connor to the title, and although Terry demanded a recount, he finally conceded that Barrie was the rightful winner.
Let battle commence!
Current standings
BARRIE - 96
TERRY - 93
Wigan v Leeds: 7.30pm, Thurs, Sky Sports 1
Terry says: Could the loss of Hardaker hinder Leeds and help Wigan in the quest for two vital points? If Wigan win then they pull Leeds back to within striking distance, if Leeds win I can't see anyone catching them and they'll end up top of the tree. The league leaders will also be without second rower Stevie Ward, who could be out for four to six weeks with an ankle injury he suffered in the win over St Helens.
Wigan beat Leeds at Magic Weekend and outplayed the Rhinos to win 27-12. Matty Bowen was one of Wigan's best on the day scoring two of his sides tries. 
When you cross reference and compare players like for like they are two very similar sides. Up front both are powerful and have invaluable experience, both have excellent kicking games and halves that are willing to take on the line. It's the centres battle that could be the key. Dan Sarginson and Anthony Gelling are two great centres with an abundance of skill, but in my opinion Leeds have the hottest property in that position, Kallum Watkins (a genuine marquee player) and Joel Moon are unbelievable players who are genuine athletes. They look like they are running at fast forward and look so effortless when they move, they also make everything look easy, I'm sure Ash Handley and Ryan Hall would agree. 
With the loss of Hardaker will Leeds be forced into moving the impressive Watkins to full-back, with Jimmy Keinhorst taking over at centre?
For Wigan, Sean O'Loughlin, Tony Clubb, Josh Charnley and John Bateman are back in the 19-man squad that was named on Tuesday. I think that's a big plus for the Warriors who will want to prove a point at home in front of the cherry and white faithful. 
Prediction: A game that always wets the appetite and leaves you wanting more but I think Wigan will clinch it by six points.
Barrie says: If you look back over the years these games have always been special. For Tez and I they are personal too – I spent a short time at Wigan at the start of my career before moving over the Pennines to Leeds. Tez spent 12 years at Wigan so we both have vested interest in this fixture. Leeds were the team of the week last weekend – the performance against St Helens was just superb. The way young Ash Handley has played in the absence of Tom Briscoe deserves special mention. Scoring a hat-trick against Saints both home and away has never been done before and  shows the confidence Handley and Leeds are in. They are finding a very nice rhythm which I think will carry them through at least one of the major trophies.
Wigan have built their success on defence and they have always been about clinical well executed plays that catch you out. I don't think Wigan will feel that they are at their best yet - however this fixture tends to bring out the best of them.
Prediction: If both teams play to their full potential then we are in for an absolute cracker, I don't think there will be much to split them but I have to go for Leeds by four points. 
St Helens v Huddersfield: 7.30pm, Fri, Sky Sports 1
Terry says: I cannot remember a champion side like Saints playing so sloppy at the start of a big game last weekend against Leeds. The first 20 minutes in particular was ridiculous, so many unforced errors and it was the start that they failed to recover from. I loved the honesty from Kieron Cunningham and Jon Wilkin in the post-match interviews, two proud men who will want to put in a grade A performance on Friday. Adam Quinlan will make his debut and if he starts will be the seventh full-back used this season, that is a plus but a big minus is the fact that they are missing the outstanding Jon Wilkin with a leg injury. 
If Huddersfield win by more than three points and Leeds win against Wigan then the Giants will be in second place. It's fabulous that the league table is so close for those top places and Paul Anderson has just bobbed along doing his job quietly whilst we've all talked about Wigan, Leeds and St Helens.
Danny Brough last week was described by Hull KR coach Chris Chester as "the best kicking half-back in the competition by a mile."  He also scored his 100th career try in Huddersfield's 32-14 victory over the Robins on Sunday.
Brough also created two tries and kicked four goals as Huddersfield strengthened their grip on a top-four spot with a third straight win and ended Hull KR's four-game winning run in the process.
Prediction: The best defensive side in Huddersfield will have to be on the ball and expect a backlash from the red V. The senior pros will lead by example and leave no stone unturned in this game and I'm backing Saints to win by eight points.
Barrie says: Huddersfield last weekend faced a tough opposition in Hull KR and played well in torrential rain. The Giants are very good at doing the right things at the right time. In Danny Brough they have a great general who really controls the game for them.
St Helens share that responsibility – at times it is Roby, at times it is Walsh and at times it can be Burns. If and when all three of those have an equal, bearing on the game then they are formidable. The trouble for St Helens has been their injuries and no sooner do they get one back then they lose another one. It has been a season of adversity but let's not forget that their Grand Final triumph in 2014 was built on overcoming adversity.
Prediction: I am going for a shock - Huddersfield to win by six points.
Hull v Castleford
Terry: Hull by 8
Barrie: Castleford by 10
Salford v Hull KR
Terry: Salford by 10
Barrie: Salford by 6
Wakefield v Warrington 
Terry: Warrington by 16
Barrie: Warrington by 22
Widnes v Catalan
Terry: Widnes by 8
Barrie: Catalans by 8