NRL star Angus Crichton finds extreme way to deal with troublesome finger injury
By Andy Charles
Last Updated: 21/12/17 11:35am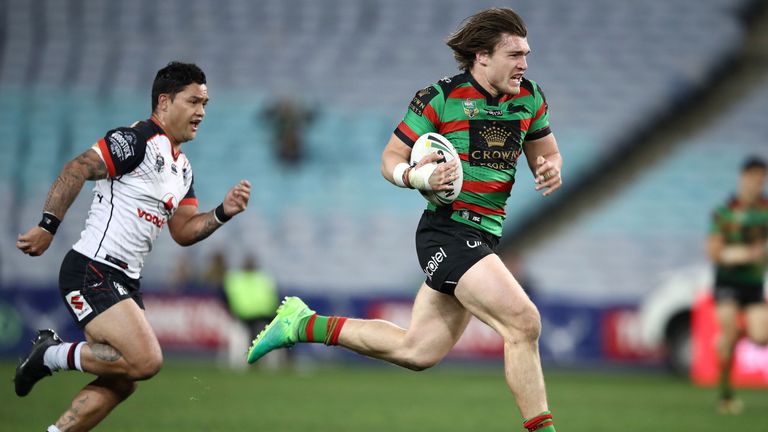 NRL star Angus Crichton has had a finger amputated to ensure he is ready for the start of his final season with the South Sydney Rabbitohs.
Crichton has suffered problems with his left middle finger for a number of years and was recently told he would need further surgery, ruling him out for another three months.
But the 21-year-old instead opted to have the digit amputated, his manager David Rawlings confirmed to Fox Sports Australia.
Crichton had been left with no knuckle on the finger, which made it susceptible to being broken, something that had happened on multiple occasions over the last two years.
Writing earlier this month after another round of surgery, Crichton explained: "My finger has been an ongoing injury I've had since I was playing in the U20s. Originally, I ruptured the tendon and this is the sixth surgery I've had on it.
"It's the middle finger in my left hand and, a while back, I got it fused. I've got no knuckle in it. The doctor said I could either cut it off halfway or fuse it. I've had it fused several times now because I keep breaking it.
"I can't bend the finger, so it's like I'm constantly giving people the bird. If I clench my fist, my middle finger sticks out.
"One time, a while back, I accidentally cut someone off while I was driving and I put my hand up to wave at them to say sorry. The guy followed me all the way into a dead-end street. We each got out of our cars and he asked me if I'd stuck my finger up at him. I explained to him that I'd had it fused and it stuck out naturally. He understood after that.
"I've decided this is the last time I'm getting it fused. It's the fourth fusion that's broken and if it happens again I'm going to have it cut it in half, because I'm just over it."
Crichton is heading into his final year with the Rabbitohs as he has signed a three-year deal with their arch rivals, the Sydney Roosters, which will start ahead of the 2019 season.