Quillan Isidore is fit again and fully fired up to take on the planet's top BMX riders at this weekend's World Cup opener in Manchester .
The career-threatening injury that kept the U-16 world champion in 2012 off the track for eight months and a broken collarbone last summer are thankfully fading memories.
It seems the dreams of cycling stardom and Olympic glory in Rio have been reignited for the 18-year-old from south London and now the Sky Academy Sports Scholar will test his skills against the world's biggest BMX stars at the National Cycling Centre in the first of the World Cup's five legs.
Here's Quillan's latest blog....
I've been competing in the first two rounds of the European Cup in Zolder, Belgium and this was the same track we will race on at the World Championships later on this year so it was very worthwhile.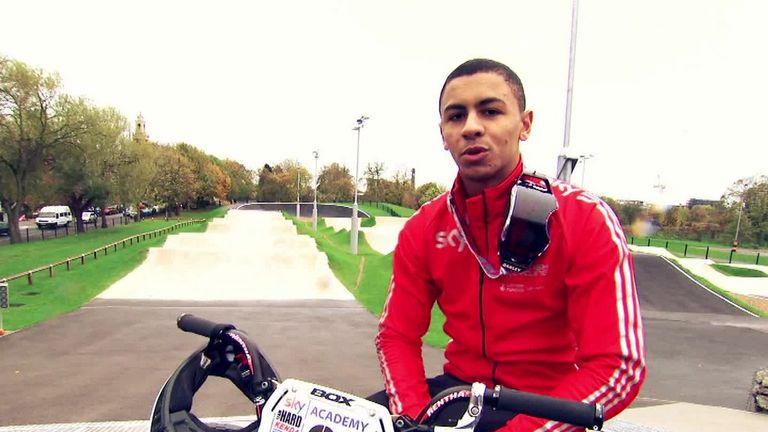 Training's been going really well. I've been training at PB form which led me into the race at Belgium with plenty of confidence. And what gave me even more confidence is knowing that I'm 100% fit now and I can go into competitions without having to overcome any injuries.

My target going into the race in Belgium was set at a semi-final but I knew that would be a big challenge with the depth of talent that I was up against.
Day one on the Friday night was a late one! Racing was going on past midnight so that was a bit mad. My day ended with a fifth in the semi-final and emotions were mixed. I was happy I met my target  but disappointed I was only one place away from a final. That gave me more fire in the belly to make the final for the second day.
Preparation for racing on day two could have gone better! It's never great getting back to your hotel at 1 in the morning and falling asleep at half three! It was the same for everyone though.
Racing was very successful though. I felt a lot more confident and a lot quicker around the track. I made my first final in Europe and was over the moon and finished fourth.
This really boosted my confidence and I now know what needs working on which is the important factor.
This race counted towards Olympic qualification points so making the final has given the British team some vital points. We are currently fifth in the world rankings and that allows us to send two athletes to the Rio Games.
We did have three spots when we were rankled fourth, but as a squad we aren't worried too much as we've got until next year June for the process to come to an end. So every World Cup, World Championship, European or C1 event counts towards these points.
Away from the BMX scene I've been cracking on with college as I've got my A level exam in PE in June. So I don't really have time to do much else apart from the occasional cinema trip!
Onto this weekend....It's the World Cup Manchester. The team have been focusing on this for a while as it's at home and of course looks good to do well there.
I'm not going into the race with a target on my back as I'm one for focusing on the process itself. The results will hopefully take care of themselves.
---
Quillan Isidore is one of 12 athletes being supported through the Sky Academy Sports Scholarships scheme.
The Scholarships offer a programme of support tailored to each athletes specific requirements covering areas such as funding, media coaching, mentoring and wider developmental support.