Competing on the sport's biggest stage isn't all about winning medals, soaking up the media attention and screaming fans.
It's a tough business and scrapping it out for qualification points towards an Olympics means taking a few knocks, dusting yourself down and bouncing back. Just ask Sky Scholar and rising BMX star Qullian Isidore.
The 18-year-old from south London is still hurting - inside and out - after facing the best riders on the planet at the World Cup opener in Manchester in April as part of the qualifying for next year's Rio Games. Quillan reveals all....
The first event in the World Cup got off to a great start! I went into the weekend feeling confident with a goal to enjoy the event. Straight away in practice on the Friday I smashed my PB to the bottom of the starting hill which took me by surprise.
Saturday Qualification:
There were over 150 competitors in the men's event and the top 16 in the world from last year's rankings were automatically qualified for racing. This meant there were only 48 spots left to fight for!
I got off to a great start finishing first and the crowd really got behind me which felt good! Unfortunately on my second heat I clipped out of my pedals coming out of the starting gate. I had to pull out of the first jump so that led to me finishing last. This left me on nine points so I had to win my last qualification heat to make the big racing on the final day on the Sunday.
I executed my start well and went on to win and also set a couple of PBs around the track!
Sunday Race Day:
The second day got off to an even better start with more PBs in practice. I got times that I didn't think possible for another year or so! That gave me loads more confidence but perhaps I wasn't really ready for it!
It's all about the process not the outcome and instead of that I was chasing the outcome.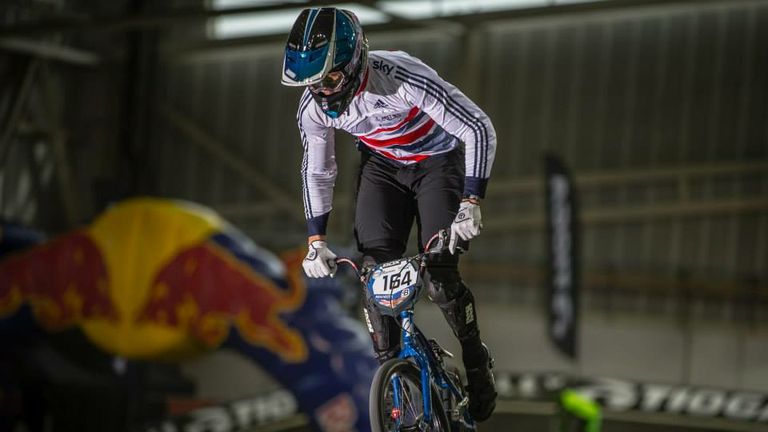 In the first 1/8th race I started from an outside lane and I knew a good gate was needed. A good start I got, but being to eager I started to move over on my competitors a little too soon causing us to collide and I came unclipped out of my pedals.
In the second 1/8th I was on the inside and I was fairly relaxed. Maybe I was too relaxed! I got a bad start causing me to get boxed in and I took a big crash into the first corner as I got hit mid-air. That one really hurt!
I already knew I was out ahead of the third 1/8th and I couldn't qualify to the quarter-finals so I just wanted to play it safe and ride a smooth lap to finish off a not so good day. But the luck wasn't on my side!
I got a bad start leaving me at the back of the pack and the race got very close and packed so I backed off a bit because it wasn't worth going for dangerous moves. As I took off on the pro section another rider lost control and jumped into me which put me off balance. I went down for the third time!
This was probably the worst day of racing I've ever had and I was very disappointed. Although I was cut and bruised pretty badly I reckon I was lucky to walk away without any broken bones.
It wasn't my day and my luck had run out, but that's the nature of this sport. So on to the next one! I'm preparing for the second round of the World Cup series in Holland on May 9 and 10. Then it's Sweden, Argentina and the United States. I can't wait.
---
Quillan Isidore is one of 12 athletes being supported through the Sky Academy Sports Scholarships scheme.
The Scholarships offer a programme of support tailored to each athletes specific requirements covering areas such as funding, media coaching, mentoring and wider developmental support.