GB's Andrew Pozzi pipped American Jarret Eaton on the line to be crowned world 60m hurdles indoors champion in Birmingham.
The Sky Sports Scholar overcame his recent struggles out of the blocks to clock a season's best of 7.46 seconds in a dazzling final to edge past Eaton by one-hundredth of a second.
"I could see I was behind Jarret, I was just fixated on the line and it looks like I timed my dip perfectly," GB's co-captain said after also dealing with hitting hurdles at the start of the race.
"My heart stopped at the end there. I knew the fifth hurdle I was behind. I can't describe how much I wanted it.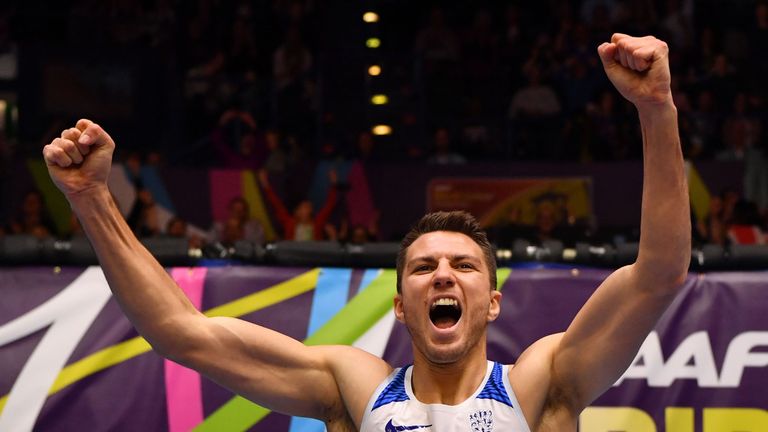 "I was throwing my body at the line. To be voted co-captain for the championships is the biggest honour of my life. Every member of the team has been perfect."
Shelayna Oskan-Clarke, also co-skipper for Britain, won bronze in the women's 800m, while the 4x400m women's relay squad secured bronze after they were promoted to the podium.
Jamaica, who came second, were disqualified for changing positions on the changeover allowing Britain to win a medal.
Meghan Beesley, Hannah Williams, Amy Allcock and Zoey Clark ran a time of three minutes 29.38 seconds, a season's best.
Oskan-Clarke said: "I'm happy to have got a medal. I really had to dig deep for that one.
"It was a scrappy start to the race. The first 100m was fast but then it slowed out which was the problem. I was expecting them to go off faster but it became a bit of a 200m race.
"You just have to be careful not to surge too much and tire yourself out. But the other girls did that so I did get a bit detached at one stage. I've put a lot of work in so I knew it was in there."