World Championship: Former winner Graeme Dott fails to come through qualifying
Last Updated: 16/04/14 10:31pm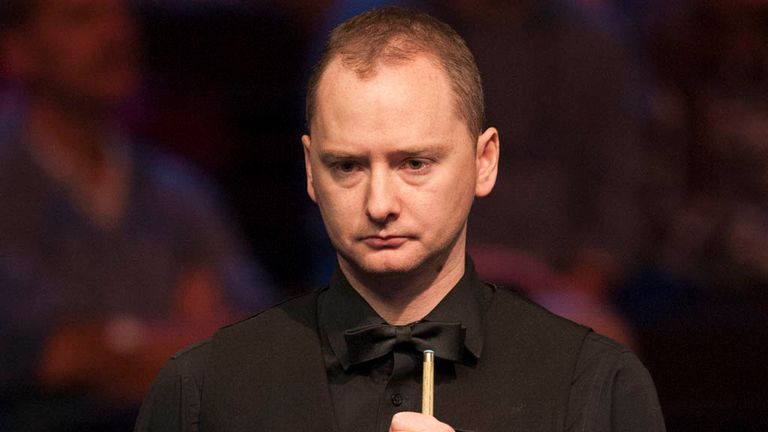 Former Crucible winner Graeme Dott will not play in the Dafabet World Championship after losing 10-7 to Kyren Wilson in qualifying.
Wilson admitted even his relatives doubted whether he could earn a World Championship debut by toppling the Scot, who landed world title glory in 2006.
But the 22-year-old pulled off the upset at Ponds Forge in Sheffield and has now set his sights on a clash with Ronnie O'Sullivan in the first round.
"A lot of people wrote me off against Graeme, even family," said Kettering cueman Wilson, who lies 89th in the world rankings.
I want Ronnie. I'm young, it's my first time, he brings in the crowd and everyone wants to watch him on TV.
Kyren Wilson
"I just wanted to enjoy it because he's such a class player. I'm glad I held my nerve. I can't wait, it's a dream come true.
"I'm going to have a drive past the Crucible now and have a look at it. I've been there to watch my friend Peter Ebdon in the past but it's going to be a bit different playing there."
Asked who he would want to be pitched against in Thursday's draw for the tournament, which starts on Saturday, Wilson was quick to pick out five-time champion O'Sullivan.
Ronnie wish
"I want Ronnie. I'm young, it's my first time, he brings in the crowd and everyone wants to watch him on TV," Wilson said.
"I want to play him before he retires and you never know when he's going to retire. He could absolutely batter me but at least I'll enjoy watching him."
Dott added of Wilson: "If he plays to that standard he can beat anybody. I don't feel I played that badly. I'm sure when the tournament starts on Saturday I will be devastated."
While Dott missed out, 1997 world champion Ken Doherty secured the 19th Crucible appearance of his career with a 10-5 success over Dechawat Poomjaeng.
The 44-year-old Dubliner missed out 12 months ago and regularly acts as a broadcaster at the tournament but still wants to remain active at the highest level as a player.
"When you've had success at the Crucible you know what it means," Doherty said.
"You want to be part of the tournament and not sitting on the couch talking about it. That's all right when you're not in the tournament. Getting through means so much. I'm over the moon."
Williams beaten
Former semi-finalist Alan McManus claimed a fine 10-8 victory over two-time champion Mark Williams.
The 43-year-old Scot said after his win against the Welsh left-hander: "I actually went to the Crucible yesterday and sat in the arena for five minutes. As a more senior player you do take it in more because every year is a bonus.
"I would actually like to draw one of the two Scots in the top 16, John Higgins or Stephen Maguire. For me that would be a special match and occasion, they are both friends and it would be something for Scotland to enjoy."
Leicester's Tom Ford beat two-time runner-up Matthew Stevens 10-8 while Stoke's Jamie Cope, who has struggled in recent seasons with a tremor in his cue arm, claimed a welcome 10-7 win against Mark King.
Elsewhere in qualifying, Nottingham's Michael Holt made it through to the Crucible for a seventh time, Welshman Dominic Dale earned a ninth appearance and Tamworth's David Gilbert will play his third World Championship.