UK Championship snooker: Ali Carter reveals battle with Crohn's disease
Snooker star Ali Carter has revealed that he is still having a constant battle with the effects of Crohn's disease.
Last Updated: 04/12/12 6:34pm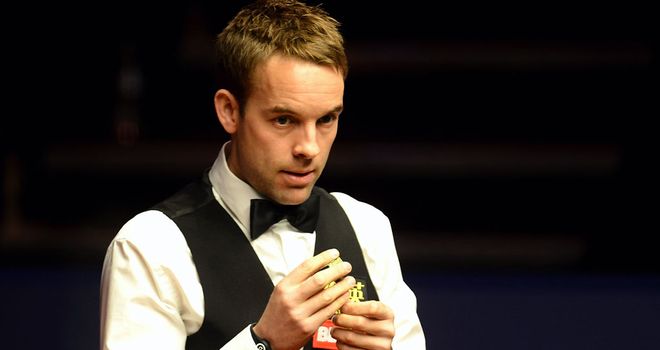 The 33-year-old almost quit snooker last year when the effects of what can be a crippling bowel disease made it too hard for him to focus on snooker, but he is now fighting back.
Carter has ditched medication and turned to controlling his diet to try and stay on top of his health problems - which are similar to the ones that hit Manchester United midfielder Darren Fletcher.
After making the quarter-finals of the UK Championship in York, Carter admitted: "I don't feel that well presently. I'm controlling things with my diet, which is working and it isn't working. What's the alternative?
"I'm looking forward to better days to come with my stomach, but at the moment I can't seem to live normally and feel normal on a day-to-day basis.
"I've eliminated a lot of stuff from my diet which is absolute brain damage and hard to stick to, especially when you're on the road travelling like we are all the time. I've stopped taking the medication that I've been taking for 10 years because that has long-term effects on your liver and stuff like that.
"I'm swapping one problem for another really. It's a balancing act of spinning all the plates and trying to keep them all going and play a bit of snooker in between. My stomach is on my mind all the time, even more than my snooker really."
Hit and miss
Although it may be hit-and-miss, Carter is still managing to put in some great displays in the big events, but he admits travelling and eating in restaurants a lot do his condition no good whatsoever.
Inspired by Peter Ebdon's strict vegan diet, Carter has tried something similar and feels that it helps him at least stay on top of his Crohn's.
"I've stopped red meat, which I like, dairy, wheat and gluten," he added. "When I'm at home I eat well, salads and fish. I eat curries if they're not too spicy and not too much cream, but it's just a nightmare.
"A curry and a lager, yeah. But I try to get in the gym and keep myself trim. I don't live on curry and lager, believe it or not."