Fed's Top 10
Andy Schooler takes a look back at some of the Swiss great's most memorable victories
By Andy Schooler (Twitter: @NetTalkTennis)
Last Updated: 24/01/12 6:31pm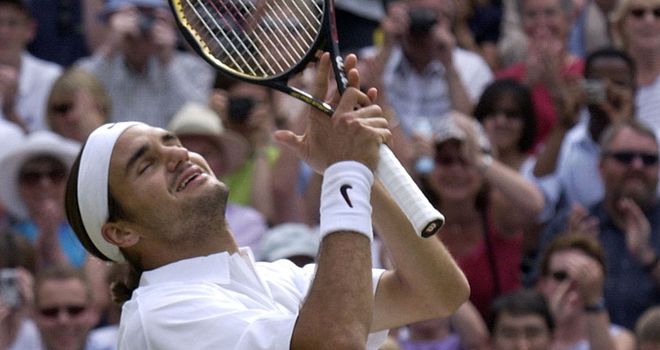 Roger Federer played his 1,000th tour-level match on Tuesday, beating Juan Martin Del Potro at the Australian Open.
It has been an incredible career - with a record 16 Grand Slam titles so far and every chance of more to come. Here we take a look back at 10 of his most memorable wins...
Lleyton Hewitt, 6-0 7-6 6-0, US Open final, 2004
A match that has long stuck in my mind. Masterclass is a word often found in the same sentence as Federer's name but it was particularly relevant in this contest. Hewitt, a former champion at Flushing Meadows, came into it as world number five but left it a crushed man. Federer was already top dog by this stage but the manner of his victory suggested Hewitt would never again truly challenge at the top of the game. Winning two love sets in a Grand Slam final is virtually unheard of - this was the first time it had happened since 1977 - and the way Federer pulled his opponent around the court was a sight to behold. This surely has to go down as one of his greatest ever performances.
Novak Djokovic, 7-6 6-3 3-6 7-6, French Open semi-final, 2011
A sensational Federer display brought an end to Djokovic's incredible unbeaten start to the season, which by the time the pair met in early June had reached 41 matches. Few gave the Swiss a chance but he responded in style, out-rallying Djokovic from the back of the court on many an occasion and showing his full variety of shots in the forecourt too. The Serb tried to fight back but Federer was not to be denied, clinching victory in the Paris gloom before raising his finger for a now-famous celebration.
Tommy Haas, 6-7 5-7 6-4 6-0 6-2, French Open, fourth round, 2009
Federer's legacy is now assured but were it not for this win back in 2009, he would in all likelihood still have an asterisk next to his name in the record books. The French Open was the one Grand Slam title he had yet to win and when hot favourite Rafael Nadal suffered a shock defeat the previous day, suddenly Fed had his chance. Yet the pressure appeared to be getting to him when he went two sets down. It was situation critical when Haas moved to break point when leading 4-3 in the third but then came one of the most important shots of Federer's career, an off-forehand which fell just inside the sideline. That proved the turning point, a shot undoubtedly one the Swiss will reflect upon long after he calls it a day.
Juan Martin Del Potro, 3-6 7-6 2-6 6-1 6-4, French Open semi-final, 2009
Again the career Grand Slam dream appeared to be dying in this classic contest with Del Potro producing some brutal hitting. In particular his serve was awesome with the delivery producing many service winners, even coming off the slow Parisien clay. Federer hung in there by claiming the second set on a tie-break but as the fourth began he still had not broken Del Potro's serve. Yet panic he did not and finally he found a way to break. Roared on by a Court Philippe Chatrier crowd desperate to see him clinch that elusive title, Federer pushed on to win in five.
Andy Roddick, 5-7 7-6 7-6 3-6 16-14, Wimbledon final, 2009
An epic yes but not for me a true classic. It still has to make this Federer career list simply because of its importance in tennis history. For this was the victory which earned Federer a record 15th career Grand Slam title, taking him past Pete Sampras' tally. Fittingly, Sampras was in the crowd to watch Federer claim what was expected to be a fairly comfortable win. Yet he was forced to do it the hard way as Roddick simply refused to bend. The American's serve was the main problem for Federer, usually so good at getting a read on it. But Roddick was left to reflect on missing four set points in the second-set breaker. It took Federer until the very last game of the match to break, but when he did, history was made.
Pete Sampras, 7-6 5-7 6-4 6-7 7-5, Wimbledon fourth round, 2001
The match which announced Federer's name to the wider sporting world. Sampras was the king of Wimbledon in an era when it seemed he never lost on the lawns of the All England Club. In fact he had - just the once mind - in racking up seven titles between 1993 and 2000. With hindsight Sampras was on the wane but Federer's victory - not just the result but also the style in which it came - certainly raised eyebrows. Strangely it was to be the pair's only meeting. With Sampras retiring next year and Federer's first major title two years away, the baton was being passed between the two best players of the last 20 years.
Robin Soderling, 6-1 7-6 6-4, French Open final, 2009
The third match from Federer's 2009 run at Roland Garrros on this list, but again its importance cannot be understated. It was this victory which saw Federer complete the career Grand Slam - only the sixth man in history to do so. The result was rarely in doubt. Federer started like a train and never looked back. He served superbly, a point summed up by him serving four aces from his four service points in the second-set tie-break. The Swiss did not face a break point until the third set but he saved them both and duly completed an historic triumph.
Mark Philippoussis, 7-6 6-3 7-6, Wimbledon final, 2003
Without the first there would not have been 16 Grand Slam titles and Federer struck in his first final at this level. Philippoussis was the man known as 'Scud' for his missile-like serve and had you said beforehand that he would get 68 per cent of first serves in and still lose, few would have believed you. But the match stats from this one show it was the Swiss' better-placed delivery which really held sway. Federer, complete with headband and pony tail, did not have to face a single break point as he won in straight sets.
Rafael Nadal, 6-3 6-0, ATP World Tour Finals group stage, 2011
There's well-supported theory that Federer is a better player today than he was when he was dominating the game in the mid-noughties and those who subscribe to it could do worse than use this match to back up their case. Federer was in awesome form at London's O2 Arena and showed off his shot-making skills to the max. Winner after winner flowed from the Federer racquet and he was never troubled on serve. Nadal was not at his best, that cannot be denied, but his Swiss foe shone as bright as ever on this night.
Alejandro Falla, 5-7 4-6 6-4 7-6 6-0, Wimbledon first round, 2010
The greats find a way to win when they are not playing well and that's what happened in this match. Falla was inspired for the first two sets and even served for the match in the fourth. But Federer, knowing he could be on the wrong end of one of the biggest upsets of all time, stood up to the pressure.