Tomas Berdych defeat to Novak Djokovic proves he's too brittle, says Boris Becker
Boris Becker says Tomas Berdych must learn to close out games against the best in the world.
Last Updated: 09/11/12 5:03pm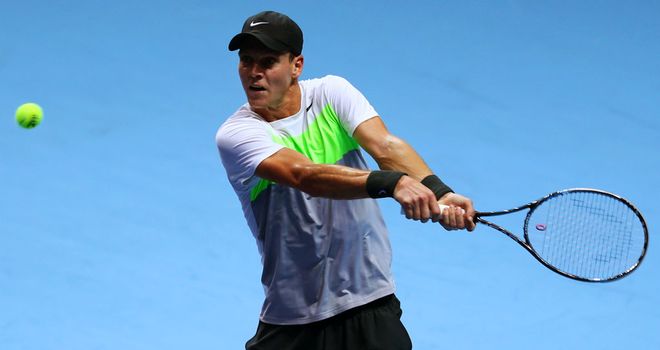 Berdych lost his ninth match in a row to the current world No 1, going down 6-2 7-6 in Group A at the ATP World Tour Finals, at London's O2.
Djokovic breezed through the first set - qualifying for the semi-finals in doing so - but ran into trouble in the second as Berdych went 5-4 up and then led 5-1 in the tie-break, only for his opponent to power back and win it 8-6.
Had Berdych won the second set he might still have qualified, even if he had lost the match, depending on the scoreline in Friday evening's contest between Andy Murray and Jo-Wilfried Tsonga.
But Becker told Sky Sports that the World number six simply didn't have what it takes.
Unfortunate
"That's been the story of his career so far," said Becker. "He is so talented and so powerful that he's got close so many times, but something happens between his ears when he is about to go to that next stage.
"It's unfortunate because he is such a fascinating player to watch and he produced a good effort to come back in the second set from a break down, but he can't quite close it out."
Djokovic's victory was his third in as many matches and Greg Rusedski said the Serb is looking in imperious form.
"You've got to give credit to Djokovic - that return at 5-6 in the tie-breaker after being down 5-1 was a sensational way to set point," he reflected.
"Then to go on and push on and close out that set shows you why he is the best player in the world at the moment."