Laura Robson targets Australian Open in January as she recovers from wrist surgery
Last Updated: 20/06/14 1:04pm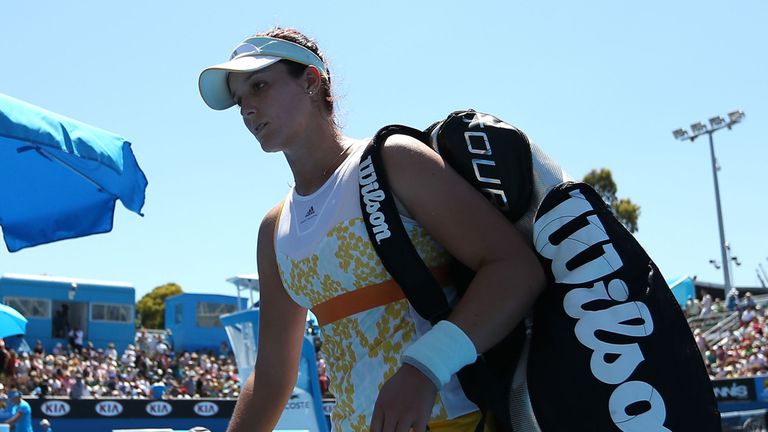 Laura Robson admits she will have to start her career all over again after she recovers from major wrist surgery.
The Briton's sole match in 2014 was a one-sided defeat to Kirsten Flipkens in the Australian Open in January, as she battled her wrist injury.
Robson will next target the first major of next year in Melbourne after going under the knife in April on her injured left wrist, which she initially damaged in December 2013.
The 20-year-old expects to compete in UK challenger tournaments in a bid for fitness, form and raking points once she completes her protracted recovery.
Robson said she "felt like a child again" in the aftermath of her operation, struggling to dress herself and cut her own food.
Itching to return to action, Robson said she has been reduced to tears, at times frustrated with rehabilitation while her peers train and compete.
"I don't actually know my recovery timescale," said the British No 2.
"The most important thing is not to rush it.
"I kept trying to come back too soon, and that kept making it worse.
Starting from scratch
"In a way it's like starting from scratch, starting all over again - but I do have the experience of four or five years behind me which is a big help.
"It's a challenge - I get to play all my favourite challengers in England again.
"It's all part of the recovery process, I'll have a protected ranking, so will be able to choose some tournaments and come up with a smart schedule, and see how it goes.
"You can't go into a slam without having played a fair few matches beforehand; you need to build confidence but also to see how the wrist is going.
"Hopefully by the end of this year I'll be playing some tournaments: as long as I get some matches in I don't really care where I play.
In a way it's like starting from scratch, starting all over again - but I do have the experience of four or five years behind me which is a big help.
Laura Robson
"It is going to be a new start because I'll virtually have no ranking by that point, but I'm looking forward to it, it should be a good experience.
"It was only after the surgery I realised how much I rely on my left hand: I had to have help to cut my food and tie my hair, I felt like a child again."
Tears
Robson, who reached the fourth round at Wimbledon last year, revealed she shed tears in what has been an emotional time for her.
"It is a bit depressing, because everyone's out there enjoying themselves, hitting the ball hard, competing, while I'm off to move my wrist a centimetre each way.
"There have definitely been tears, especially when I spoke to the surgeon on Skype and I told him I was going to fly out there and 99 per cent sure I was going to do the surgery.
"It hits how long you won't be playing and how useless you're going to be.
"Sometimes I can't do anything and it hits you.
"I had to walk to the National Tennis Centre for six weeks because I wasn't allowed to drive, and that's a 40-minute walk each way.
"It got a bit emotional when you're doing that wishing you could drive."