Raz Mirza
Interviews, Comment & Analysis @RazMirza
Roger Federer has been surprised by the success of the Laver Cup. Have you?
The success of the Laver Cup has come from out of the blue...
Last Updated: 25/09/18 6:53pm
Following the second edition of the Laver Cup at the weekend even the great Roger Federer believes the tournament has gone beyond his "wildest expectations".
With the competition still very much in its infancy, the glitz, glamour, and razzamatazz infused with the world's best players, high-quality tennis, high drama, capacity crowds, a unique black court, and a social media frenzy, makes you think that Federer's concept of the Laver Cup has caught the imagination of the next generation.
Team Europe successfully defended the title won in Prague last year as Alexander Zverev defeated Kevin Anderson to complete a 13-8 win at the United Center in Chicago.
Team World captain John McEnroe summed up his feelings, by saying: "We have got great camaraderie and dammit, we're going to win this one next year."
The next Laver Cup will be staged in Geneva where the men in red will get their chance, but the consensus from the players who have taken part in the competition is that it is here to stay.
Where else would you get Novak Djokovic and Federer - 34 Grand Slam titles between them - playing doubles together?
Its success has gone beyond even the Swiss maestro's wildest dreams, who wanted to honour the legacy of Rod Laver. So did Federer expect to build the momentum so quickly after two years?
"No, not at all. The first year you're not sure how ticket sales are going to go and you don't know how every player is going to play, how they're going to embrace the format, but I thought was that they wouldn't have to work that hard," said the 20-time Grand Slam champion.
"I know it's super intense but it's just three days and it's once a year so I just thought that could be a concept that could really resonate with everybody but that everybody would get so into it and be so pumped up and pleased about it. I mean, that is beyond my wildest expectations to be honest."
The Laver Cup offers behind-the-scenes access unlike any other tournament with microphones picking up Federer offering coaching tips to Djokovic and Zverev, vintage McEnroe losing his cool with the chair umpire, while players celebrated wildly with swan dives and push-ups.
Federer, who has been on the ATP Tour since 1998, had a vision and it has come to fruition in the shape of the Laver Cup.
He's done it his way, without restrictions, with players in a relaxed state of mind. Even the great Bjorn Borg, who has been away from the tennis limelight for so many years, admitted: "this is my favourite week of the year".
Reigning Wimbledon and US Open champion, Djokovic, described his first experience of the competition as "a perfect tennis dream".
"I think having a legend, Bjorn Borg, sitting on the bench and having Roger and the other guys supporting you after every single point, standing up and cheering you on, and having John McEnroe on the opposite bench, you know, it's quite unique," said the 14-time major winner.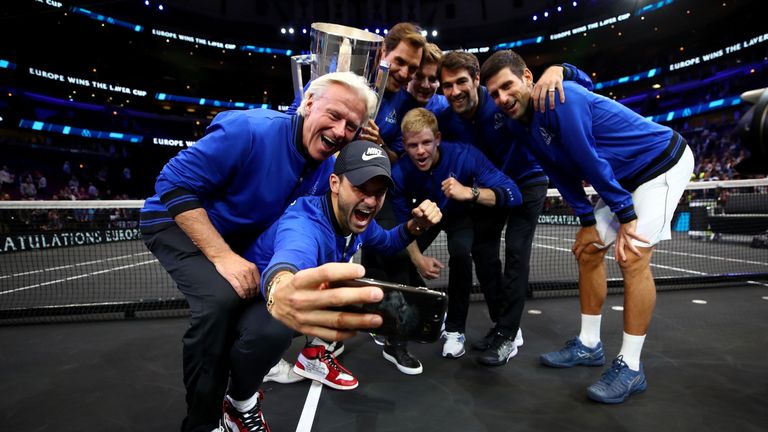 I really hope that we can have another chance to get together
Novak Djokovic
"I have experienced a lot and I have been really blessed to play this sport in high levels for so many years.
"But to talk with Roger about different things related to tennis, life, family, football, and the other guys just joking around and dancing to Grigor's music, enjoying Kyle's singing and following Jeremy everywhere he goes, yeah, it was a lot of fun.
"I really hope that we can have another chance to get together."
If Djokovic gets his wish and should every player be fit and healthy, then imagine this time next year, we could be in line for a European team consisting of Federer, Djokovic, Rafael Nadal, and Andy Murray making up the core of Borg's side.
They would be strong favourites to make it a hat-trick of titles when the beautiful lakeside city of Geneva will host the next Laver Cup from September 20-22, 2019. We can only dream!
We have every major tennis event covered from all angles via our website skysports.com/tennis. On the move? Head to our app for mobile devices and iPad, or follow our Twitter account @SkySportsTennis to join in the conversation.
Tennis is back on Sky Sports screens with the Japan Open & China Open in October while we will also have coverage of the ATP Finals in November with every match live on Sky Sports.