Lleyton Hewitt has no plans to retire from tennis next year
Australian Lleyton Hewitt has announced he has no plans to retire next year.
Last Updated: 13/11/12 12:53pm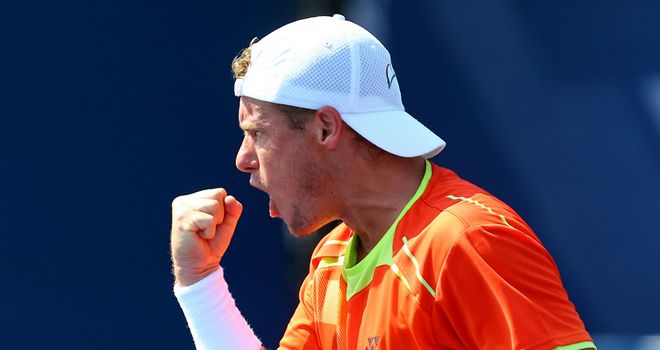 After overcoming a foot injury that threatened to end his career, the former world number one said he felt fresh both physically and mentally.
When he was asked whether his appearance at the Australian Open in January would be his last, the 31-year-old said: "I seriously doubt it.
"I'd say I'll be back again. I'm playing all next year. I can't see myself getting to the Paris indoors and not the Australian Open a month later."
The 2005 Australian Open finalist was speaking at a promotion for the AAMI Classic. He plans to use this as part of his preparation for the opening grand slam of 2013 at Melbourne Park.
Hewitt said he was hopeful of a favourable draw but had not set any targets for the tournament.
The world number 78 added: "I'm not putting results on the table or goals to get to certain rounds.
"I've had some rough draws in the past. Hopefully I can ease myself back into the Australian Open.
"Brisbane, I'm playing at for the first time, and then coming here to Kooyong, where I've always played well whether it's the AAMI Classic or the Davis Cup."
Lifting spirits
Having gone down to eventual champion Novak Djokovic in the fourth round at Melbourne Park this year, Hewitt battled through a Davis Cup tie against China two weeks later before undergoing surgery on a troublesome toe.
At the French Open in May, he returned to action and said a recent victory at the Valencia Open over Argentinian world number 12 Juan Monaco had lifted his spirits.
Hewitt said: "I didn't know exactly how I was going to bounce back from the surgery.
"It was such a major surgery that no other athlete has had it and tried to come back and play competitive sport again. There were a lot of unknowns for me.
"By the end of the year I played some really good tennis and knocked off a couple of top 30 players. That gave me a lot of confidence that I can still go out and match it with the best players in the world."
Hewitt explained that he felt no pain in his foot, yet was at a loss to explain what motivates him to continue playing.
He said: "I don't know. Maybe I just love punishment.
"Davis Cup and grand slams are still the priority for me. In terms of grand slams, the Australian Open and Wimbledon are the two that I love playing and mean the most to me.
"When I finally do stop they're the two tournaments I'll miss for sure, but at the moment I'm still hungry to go out there and do the hard work. I enjoy it.
"I guess when you bounce back from five surgeries in the last four years, I feel ready to go out there and compete."