Novak Djokovic feels Andy Murray can cope with Wimbledon pressure
Novak Djokovic believes Andy Murray can take the pressure that will be put on him by the British public at Wimbledon.
Last Updated: 20/06/13 9:33pm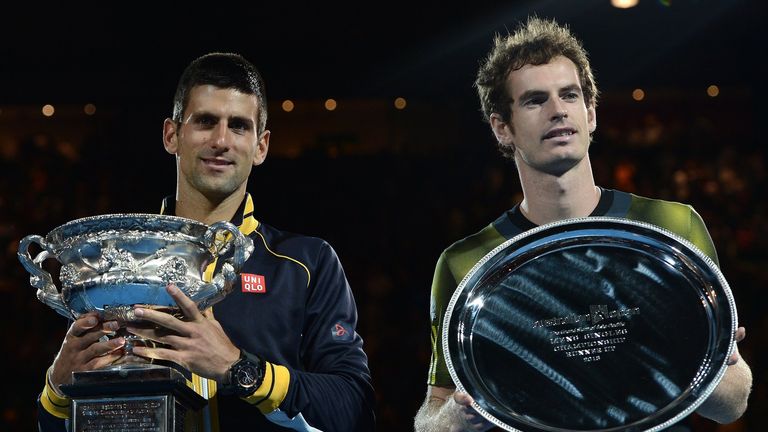 Murray lost to Roger Federer in the final last year but proved he was up to winning big tournaments when he took the Olympic and US Open titles before the end of 2012.
Although his preparation for Wimbledon has not been aided by injury, he won at Queen's last weekend and Djokovic feels he will be one of his main rivals over the next couple of weeks.
"The Olympic Games in London were as strong as any grand slam, everyone played except Rafa [Nadal]," said Djokovic.
"It was a very strong tournament and was very intense, there was that extra pressure on everybody because we were not playing for ourselves we were playing for our country and that was something special - no other tournament can match that sensation.
"Murray and myself grew up together and we started to play more against each other in the big tournaments and I think that is one of the rivalries that can develop over the years.
"I think he dealt with the pressure really well over the last few years, especially last year.
"He has always had pressure playing at Wimbledon from media and from the people. Obviously Great Britain looks for a champion for many years at Wimbledon and he is the biggest hope.
"He got very close last year and I think he likes it, he has learned to play under pressure - it is a part of our sport."
The world No 1 is looking to bounce back from defeat in the final of the French Open, where he was beaten by a resurgent Nadal.
Of his own chances, he added: "The consolation is that I have Wimbledon coming up and there is no bigger motivation than playing in the most prestigious tournament in the world in our sport.
"It is the one I always dreamed of winning and it was the highlight of my career. I love playing in Wimbledon - the grass is the most special surface in our sport.
"Hopefully I can bounce back from that defeat to Nadal in Paris that was a thrilling match to be a part of. Life goes and it and won't be the first or last time I lose.
"I lost to him at the French three or four times before this year. A loss is a loss and of course it hurts, but the next day you wake up to a new day and you have to stand up and work and get stronger."