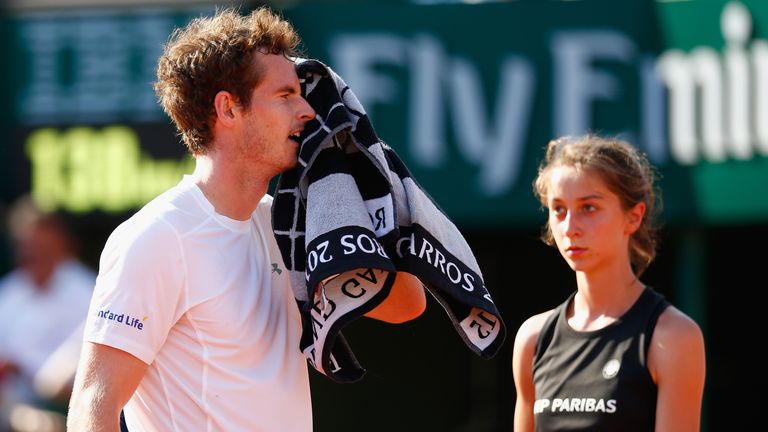 Andy Murray has revealed he was ill during his run to the French Open semi-finals, but is confident he is over the bug as he prepares for next week's Aegeon Championships at Queen's.
The British No 1, who lost in five sets to Novak Djokovic at Roland Garros, begins his quest for a fourth Queen's Club title on Monday after taking time off to recover from the illness.
"I took three and a half days off after Paris and then practised the last couple of days at Wimbledon then came here today; this is the first day I've practised here," Murray said.
"They were three full days off any training or anything. I needed to rest and recover. I was actually sick for about a week, really, so I needed to recover from that too.
"To be honest, I actually felt okay, but the day I played (David) Ferrer (in the quarter-finals) I didn't feel great.
"When I got on the court and started running around it was fine, but when I got back my left eye closed up, and I had a bad cough for a couple of days.
"I don't know whether I was just run down or tired, but it had been a long few weeks - but I feel fine now."
The players will be given an extra week's break between the end of the French Open and Wimbledon next year.
"Often when you start to feel a little bit sick, once you get out there you feel fine, but you feel fine and tired and not so great in the morning.
"But once you get going you feel fine, so I would definitely have still played this week."
Murray confirmed coach Amelie Mauresmo will not join his back-room staff next week's, but will be on hand for Wimbledon.
New back-room recruit Jonas Bjorkman will be at Queen's before pairing up with former French Open champion Mauresmo at the All England Club.
"Amelie will be at Wimbledon but we'd never planned on her coming here this year," added Murray.
"It's good, I like having her (Mauresmo) around the tournaments. It's been for me a very good start to the year.
"And I think it's good as well that before she is away for a few months from the team that her and Jonas can spend some time together as well.
"I'd imagine during Wimbledon that Amelie can take the lead and Jonas can see how we operate a bit more as a team.
"We know each other a lot better than we did this time last year, so she should be able to help a lot more this year."