Juan Martin Del Potro beats Federer and Djokovic but can he break top four?
Paul Higham considers whether a resurgent Juan Martin Del Potro has what it takes to gatecrash the Big Four and start winning Grand Slams again
Last Updated: 20/03/13 9:35am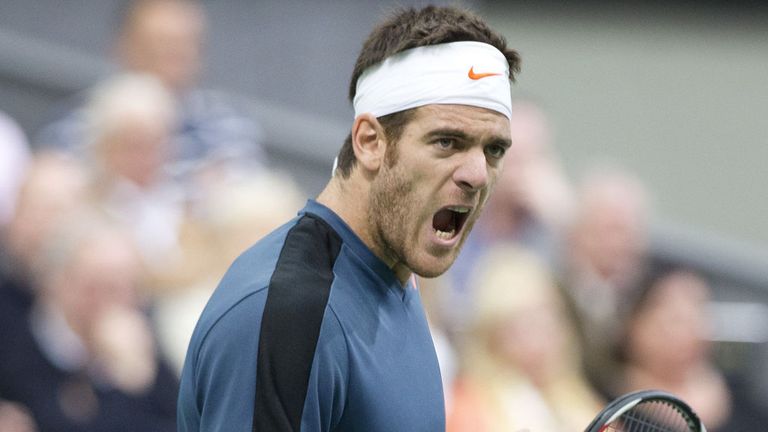 Perhaps the forgotten man of tennis, the giant Argentine showed all the signs in California of being able to get right back to his very best - and at his very best he could well muscle his way into the 'Big Four' of the men's game and expand it into a 'Big Five'.
Del Potro looked to be striding towards a permanent sitting at tennis' top table when he beat Roger Federer in an epic five-setter to win the US Open back in 2009.
Just days short of his 21st birthday at the time - Del Potro was the fifth-youngest winner of the tournament and did it in the hardest way possible as he became the first player to beat both Rafa Nadal and Federer in the same grand slam event.
He shot up to world No 4 at the time and as he displayed at Flushing Meadows that fortnight he had all the tools to grapple with the big guns on a regular basis - a tall, rangy baseline presence with a thunderous forehand as big as anyone, but also most importantly, as he demonstrated against Federer, he had the heart and confidence to really take the game to the big players.
A wrist injury cost him nine months on the sidelines, and almost saw him hang up his racket for good, such was his frustration at not being able to shake off the lingering problem, but his march to Sunday's Indian Wells final demonstrated that he has almost completed that long road back to the top.
The fact Del Potro remains the only player other than the big four of Nadal, Federer, Novak Djokovic and Andy Murray to have won a grand slam since 2005 shows that he is truly the only one who can break their stranglehold on men's tennis.
Plenty have had upset results and promised to be the 'next big thing' but such is the quality in this golden age of tennis that to win one of the four biggest prizes you most probably have to beat two of these fearsome tennis giants to have a shot.
That is something which is beyond the likes of a David Ferrer or Tomas Berdych - but not Del Potro.
He showed he had the guts for a fight when he tumbled down to world No 485 after his lengthy lay-off but dug deep and battled all the way back to No 18 in just seven months, in the process earning the 2011 ATP Comeback Player of the Year award.
Big return
His impact on return has not been as seemless as Nadal's, who already looks capable of winning a grand slam, but his injury was more serious and lay-off more substantial so we can forgive him if he takes longer to find that consistency.
But consistency is there in his game. He showed that at the start of his career when he made ATP Tour history by winning his first four career titles all in successive tournaments - and his 23-match winning streak as a teenager in 2008 is second only to Nadal's in the record books.
2012 also saw more improvement as he began to find his feet more in the slams - Del Potro reached the fourth round of Wimbledon and the quarter-finals of the other three - losing twice to Federer and once to Djokovic.
In between the slams Del Potro also picked up a bronze medal at the London 2012 Olympics, after losing a mammoth semi-final against Federer which clocked in at an amazing four hours and 26 minutes for just three sets - Federer winning out 19-17 in the third.
He responded though by grabbing a first win over Djokovic to scoop the bronze, and with that hurdle overcome he now has no fear of tackling the big boys.
Just last week at Indian Wells he disposed of Murray in the quarters and ended Djokovic's 22-game winning streak in the semis before just coming up short against a resurgent Nadal.
The Spaniard's knees saw him pull out of the following Miami Masters, and those valuable joints will need constant monitoring to keep him on the court in the big ones - so maybe all will not be rosy in the Nadal camp going forward.
Despite being past 30, Federer could still have a grand slam or two left in him, but he too will probably monitor his schedule accordingly to ensure he is fully fit for the big four events.
There is a gap then for Del Potro to force his way into the big time. Already back up to world No 7, he could be knocking on the door of the top four in no time, and if he can continue with the form he showed last week he could well come storming through over that threshold.
There are plenty of experts who have already christened this the most exciting period in men's tennis, with four superstars all battling it out at their best. If Del Potro can stay fit and make that five, then that really would answer any doubts about whether this is the golden age of tennis.