The PFA Players' Player of the Year nominees for the 2018/19 Premier League season have been announced, with Virgil van Dijk and Raheem Sterling the front-runners to collect the award.
Mohamed Salah, who won the prize last season, did not make the shortlist but his Liverpool team-mate Sadio Mane did, joining Van Dijk as the representatives from Anfield, with both men playing a key role in the club's Premier League and Champions League double bid.
Sterling is joined by his City team-mates Bernardo Silva and Sergio Aguero, who is level with Salah in the race for the Golden Boot with 19 league goals. Chelsea's main man Eden Hazard is also included.
We assess the candidates ahead of the ceremony at the end of April.
Raheem Sterling (Manchester City)
Why should he win it?
Sterling has averaged a goal or an assist every 90 minutes in the Premier League this season - only team-mate Aguero (79) has a better average in the competition.
Charlie Nicholas' view: Sterling is my pick for Player of the Year. He has scored stunning goals and he seems to have won people over with his personality at international level as well.
When I watch attacking players that get me interested, then I don't really search for faults, I search for what I am enjoying. He still makes mistakes, as anyone does. His pace, movement and ability is fabulous, however.
His first goal against Tottenham [on Wednesday] was like (Lionel) Messi's against Man Utd, it was so similar in style. He does not seem to get the same plaudits, maybe as City went out, but he has adapted brilliantly to (Pep) Guardiola's style.
When I talked about Man City I used to think of David Silva, Aguero and Vincent Kompany, but now he is their main man and who they are talking about, so that is why I vote him as my Player of the Year.
Phil Thompson's view: Sterling since Christmas has been quite incredible. Prior to that, he was having a good season but since then he has been vital to City's season, especially with Aguero's injury concerns now and again throughout the campaign.
Even coping with the other aspects going on in his life, it has been incredible how he has handled himself and maintained his performances at such a high level.
I can see why people are making it between Sterling and Van Dijk for the PFA Player of the Year.
Matt Le Tissier's view: He has had an amazing season. To be only a few goals behind Aguero is amazing - he chips in with a fair amount of assists too.
He has had a great season and will go very close to winning this award.
Sky Bet odds: 5/2
Virgil van Dijk (Liverpool)
Why should he win it?
Van Dijk has won 77 per cent of his aerial duels in the Premier League this term (153/200); the highest percentage among all defenders at the top six clubs.
Charlie Nicholas' view: He is a class act. The real Rolls Royce of defending. I am a guy who is more interested in forward players than defending, but I am totally respectful that defending is an art and he certainly makes it look a fine piece of art when defending.
He makes 50-60 yard passes effortlessly and his adjustment in dangerous situations is brilliant, which is why I can see the reason people are raving about his defending. He has become a leader within the group.
When I watched him at Celtic I thought he was far too good for the league. He was moving well at Southampton in terms of recruitment and direction on how to play with style and skill - he reminds me of Alan Hansen.
He can win tackles without diving in and hurting people. I totally understand why people want him to win it and why he could very well win.
Phil Thompson's view: I really do think Van Dijk has been the player of the season, and the word season is very important because he has done it from the first game of the season. From day one, his level of performance has been nothing short of sensational.
The ability is second-to-none, and what he showed when (James) Milner and (Jordan) Henderson were not playing - as captain - was great. He has lead by example and his calmness is personified in his play. The class was really illustrated in the two-on-one with Moussa Sissoko and Heung-Min Son against Tottenham.
I thought that was a moment of pure brilliance. It was like someone scoring. It was out of the real top drawer of defending, and that is why I would consider him as my choice. From the back end of August until now, his performances have been nine out of 10.
Matt Le Tissier's view: Having watched him at Southampton and seeing him first-hand how good he was, it surprised me that Southampton were the only team that took a chance on him at Celtic for £12m, and it was no surprise that he moved on.
He is one of only very few players who makes it look so easy and can look like he is playing as an adult in a kids' game. He should be the favourite for this and rightly so.
Sky Bet odds: 1/3
Eden Hazard (Chelsea)
Why should he win it?
Hazard has been directly involved in 28 goals in the Premier League in 2018/19 (16 goals and 12 assists); the most of any player.
Charlie Nicholas' view: Hazard is the best player in the country to watch. I am not a Chelsea fan but a Hazard fan. Every time I see Chelsea I just say 'give him the ball'. He is so tight with his play.
Why can't he win the Player of the Year award? He has been carrying Chelsea, but he must win trophies. He might win the Europa League, but when I am looking at form players, we give them more praise than some of the other players.
I think he will go to Madrid and be a superstar but I want him to stay in the Premier League. He is magnificent.
Phil Thompson's view: When he is on his game, there are fewer greater sights in football. People talk about Messi and his runs, overall play, but this guy is up there. His balance, movement and vision is just incredible, and it is world class which is why we are talking about this man.
If Chelsea slump, it is because most of the time Hazard has lowered his standards, and that is why I don't think he is on a par with Sterling. He has had too many highs and too may lows and has dipped in form from time to time.
Matt Le Tissier's view: He is one of my favourite players to watch. I have been impressed when I have been and watched him, just by the way he glides around the pitch.
His goal return has been very good and has the joint-top assists in the Premier League. Perhaps other players at Chelsea have not lived up to their standards and it is a shame they have not got into the title race this year.
He is a fantastic player and Chelsea will do well to keep him this summer.
Sky Bet odds: 33/1
Sergio Aguero (Manchester City)
Why should he win it?
Aguero has averaged a goal every 109 minutes in the Premier League this season; the best ratio of any player to have played a minimum of five games in the competition.
Charlie Nicholas' view: His goalscoring record is sensational. This season it has not been as high a level. He has scored some spectacular individual goals and his all-round play has been good, but he has not hit the heights he should have.
I do not think he has been where he has been the past. He has not been the most consistent over the period of time, but especially under Guardiola he should have really kicked on.
It's not quite the Aguero of old so I think he has been quite average - I don't think he is close to the top-six shortlist in my opinion.
Phil Thompson's view: Aguero should always be there or thereabouts. You have to look at how long he has been there and how many goals he has scored.
His value to Manchester City has been phenomenal. You cannot score that many goals and not be world class. I have never seen him go down or try to fake an injury to get decisions, he is a thorough professional.
Matt Le Tissier's view: I think despite what he has done, he is hugely underrated when it comes to awards and the Player of the Year consideration.
His consistency levels are unbelievable and his goals-to-minutes ratio is much better in comparison to any other player. He is a truly phenomenal player.
Sky Bet odds: 12/1
Sadio Mane (Liverpool)
Why should he win it?
Excluding penalties, Mane has scored the most goals of any player in the Premier League this season (19).
Charlie Nicholas' view: He has been the best of Liverpool's front three this season. (Roberto) Firmino is more an all-round player and creates things for them.
Salah stole the headlines last season and Firmino chips in with double figures for goals and assists. Mane was red hot while the other two were cold and that got them through the grind that has put them in the position they are in now.
He has got more of a killer instinct compared to other years and he has been the best Liverpool striker this season.
Phil Thompson's view: His goal tally has really upped this season. It speaks volumes for how good a season he has had. On league goals there is less of a total for Salah, where Mane has upped his.
When Salah was on his scoring drought, Mane has carried the front three at times. He is full of energy and full of running, as well as playing most of the games this season.
Matt Le Tissier's view: He has got them so many important goals. Mane has scored first in many games to get them up and running.
He has been more important than Salah and has not got the plaudits that Salah gets, but for me this season he has been the 'Mane man' and the stand-out player for Liverpool.
It is great that he has added the consistency to his game as I saw flashes of it at Southampton and I am happy he has done that. He rightly should be involved in conversations about the PFA Player of the Year.
Sky Bet odds: 28/1
Bernardo Silva (Manchester City)
Why should he win it?
Bernardo Silva has ended on the winning side in 25 Premier League games this season; the most of any outfield player for Manchester City.
Charlie Nicholas' view: He has had a superb season. He has fit into the machine that is Man City. He puts in a hell of amount of work both with and without the ball. I enjoy watching him get the ball and you know he is not going to give it away.
This man puts it in as soon as he loses it and the strikers have never really done that. He is composed and has the ability and mentality to work hard and get the ball back and do something with it too.
At Man City there is no such thing as a must-play. He is way ahead of (Riyad) Mahrez for me but Guardiola thinks differently and sometimes leaves him out. They paid £70m for Mahrez so what could Bernardo Silva be worth?
Phil Thompson's view: Bernardo Silva is going to be a star if he isn't already because of David Silva, Aguero and Sterling. He doesn't get the plaudits. You are looking at the age of David Silva and Bernardo is looking to become that player - the go-to player for assists for City.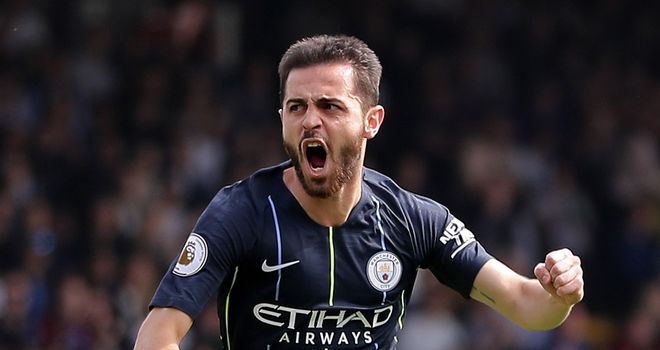 David Silva has been one of the all-time greats of the Premier League and Bernardo Silva is an unsung hero. He is creative, he has an eye for goal and produces time and time again which is why he should be up there.
Matt Le Tissier's view: Again, he has had a terrific season. He is underrated because of all the players who score around him, on top of when you see the respective season's that Aguero and Sterling are having.
His ability is great but he is like a Duracell bunny, he never stops moving or running.
It is a tough task to make sure you are one of the first names on the team sheet but Bernardo Silva has really stepped up to the plate this year and has been outstanding.
Sky Bet odds: 20/1