Scott Higginbotham led the Rebels with distinction, said Michael Lynagh
Michael Lynagh praises Scott Higginbotham who led the Rebels to victory over the Cheetahs.
Last Updated: 06/03/14 8:52am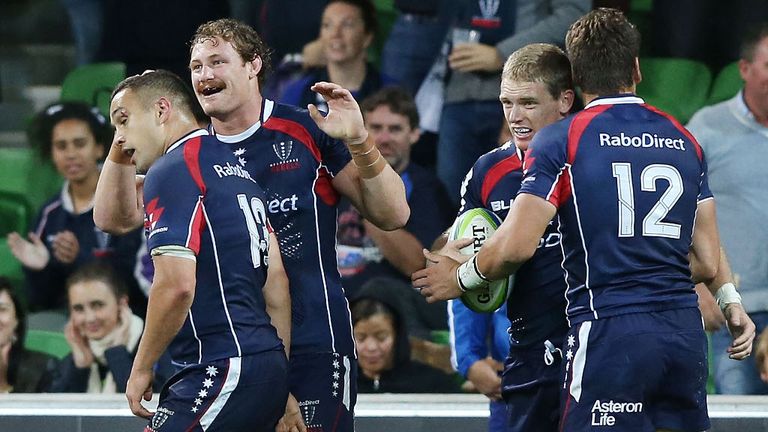 Lachlan Mitchell, Jason Woodward, Luke Burgess, Bryce Hegarty and Scott Higginbotham all ran in tries for the bonus-point victory to give the Rebels the best possible start.
"It was a great start for the Rebels," said Michael Lynagh. "They had a very good pre-season but you always wonder how that is going to transcribe in a real competitive game. They started so well - four minutes into the game they scored an almost length of the field try to get things going.
"The whole team was involved and it really got the momentum going. A really impressive start and what impressed me is that they finished the same way they started. Scott Higginbotham's try was excellent. He really got stuck in and inspired his players - they never let up and even when the Cheetahs came back in the second half, he rallied his players to close them down. A great performance from him. He made a lot of good decisions with and without the ball and I though Luke Burgess at No.9 had a good game too. He was driving the side and making the decision to go wide or go short.
"Over the last few years the Rebels have not had much cause for celebration but this opening game is a good start - yes it is a long season but the Melbourne people will see them playing this brand of rugby and will turn out and support them. My big concern about the Rebels is that while they may start the competition well and get a few wins; their squad may be a little thin. Injuries may cause them to struggle, but they have got a great win today.
"Last year the rebels defence was really poor - they could score tires but their defence always let them down. To nil the Cheetahs for 40 minutes was really impressive. The change in coach has helped and also they have worked it out that defence is a key part. Someone like Tamati Ellison coming in at 13 which is a crucial position in defence has really helped galvanise the team a bit."
Improved performance
Sean Fitzpatrick agrees and says that Higginbotham played a crucial role in the win: "We have not seen this in year gone by, they looked really well organised and patient. Higginbotham was quite outstanding in terms of how he was so instrumental in terms of leading by example.
"I think they have gone away and looked at what they have done in previous seasons and have had to change a few things. We have spoken about their defence in the past and they have really improved that and they were turning over the ball as well - not only that but they used that turnover ball well, they made the right decisions. Higginbotham has been crucial in terms of the team culture and what it takes to be successful.
"They have had a massive off-season under new coach who has really got them fit. They have assessed what is needed and have stiffened up their front row and their lineout has worked really well. They have brought in players like Burgess and Ellison and they have told Woodward that he needs to get bigger and stronger - he has gone away and done that and had a good game today.
"We keep on coming back to it though and that is leadership - all the teams that are successful in this competition are teams that have leadership in certain number - at 10 they have Bryce Hegarty and at 8 Higginbotham. Hegarty scored a very nice try and has that leadership to navigate the team around the park like Michael used to do. I like the intent the Rebels played with today, it is obviously going to be a long season and injuries will play their part but they really rounded the whole game up in terms of defence and attack."