Scott Quinnell: Wales need to control the pace of the game if they want to beat the boks
By Julian Crabtree
Last Updated: 13/06/14 1:30pm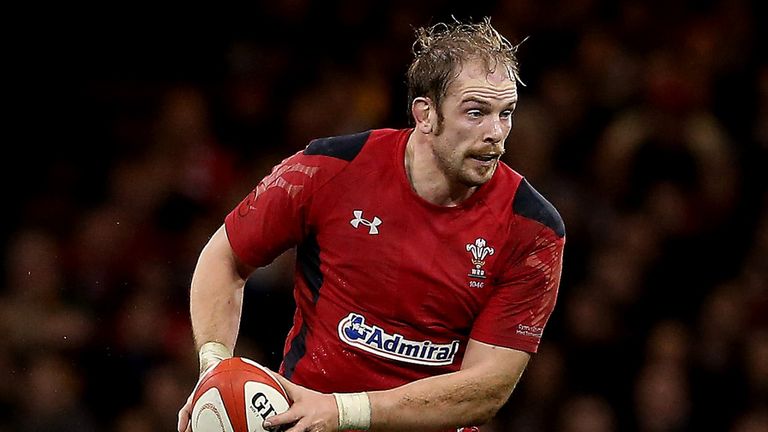 One win and one draw in 27 games against South Africa makes for somber reading for Wales ahead of their first Test in Durban on Saturday.
However Warren Gatland's men will be looking to make history as the first Wales team to beat the Springboks in South Africa and Wales legend Scott Quinnell says matching the boks' power with PACE and power is the key to viictory.
"I am looking forward to this game and Warren Gatland has picked a really strong front five who I think can really mix it up with the boks," said Quinnell
"Alun Wyn Jones will lead Wales from the front and will be looking to get stuck into the Springboks from the first whistle. You cannot allow South Africa to get into their stride, but have to try and fluster them from the get go. Aaron Shingler has played well for the Scarlets and deserves his chance. As well as doing all the basics well, he is a genuine lineout threat, especially defensively – I would not have thought that they had seen too much of Aaron and I imagine he can really put pressure on Bakkies Botha and Victor Matfield."
The withdrawal of Frans Steyn from the Springboks squad has left a massive hole in midfield –  a hole that Quinnell is expecting Jonatahn Davies and jamie Roberts to really exploit – and  if their forwards can provide the platform.
"South Africa will miss Frans Steyn – he is a wonderful player and it is a shame he is not going to be on show – however, with the two Test matches coming up I am quite happy that he is missing," added the Lions legend.
Botha has been in superb form for Toulon and Matfield is back too – but they are not exactly young men anymore and Wales need to move them around the field as much as possible.
Scott Quinnell
"Steyn was South Africa's go to man – not only because of his huge boot, but also because of his size – he is very similar to Jamie Roberts in that regard as he takes the pressure off the team when things are not quite going quite right. He would take the ball up and allow the team to get back into formation and set their lines. I really think Roberts and Jonathan Davies are going to attack this new bok centre pairing.
"But the first thing Wales need to do is set the platform up in the forwards. South Africa did not have everything their own way in the scrum against the World XV and that would have caused some concerns. However their lineout was good and in that second half they were hitting the rucks and mauls very well indeed. Wales will need to counter that and make sure these Springboks do not build up a head of steam. They are very physical with the likes of Willem Alberts, Francois Louw – big and powerful men who like to go through and over you. Wales need to compete with them up front and take their lineout away from them – especially their driving lineout which is so effective.
Wales need to look to build phases and be patient but they need to be more physical than the boks. Easier said than done because you know what is coming – they are the most physical side in world rugby and you have to be prepared for that," added Quinnell.
"So the key for Wales is matching that physicality and playing with tempo – get these big men moving around a lot. New Zealand have shown that you can go to South Africa and beat them by playing a high tempo physical game. Botha has been in superb form for Toulon and Matfield is back too – but they are not exactly young men anymore and Wales need to move them around the field as much as possible. What they don't want to do is allow them to have the ball and control the pace of the game."
Impact players
Quinnell is also pleased with the Wales bench which could have a impact on the result when they are introduced into the game.
" I think we have a lot of creativity there [on the bench], we have James Hook and Matthew Morgan. Morgan, surprisingly, came through the trial game, if it was not for that Possibles v Probables game I don't think he would have been on the plane, let alone on the bench for the first test against the Springboks.
"He is a very exciting prospect and when it comes to 20 minutes to go and everyone is tired, Morgan has the ability to do something that no one else can do. He is in the mould of Shane Williams or Rob Burrows of Leeds Rhinos rugby league team – not the biggest of men but has the ability to duck, dive and skip through the toughest of defences.
"When you go to South Africa you have to go with a huge amount of respect and a huge amount of desire. For me it is the toughest place to go and tour and after these two Tests we will have a very good idea of where we are in terms of the 2015 World Cup."