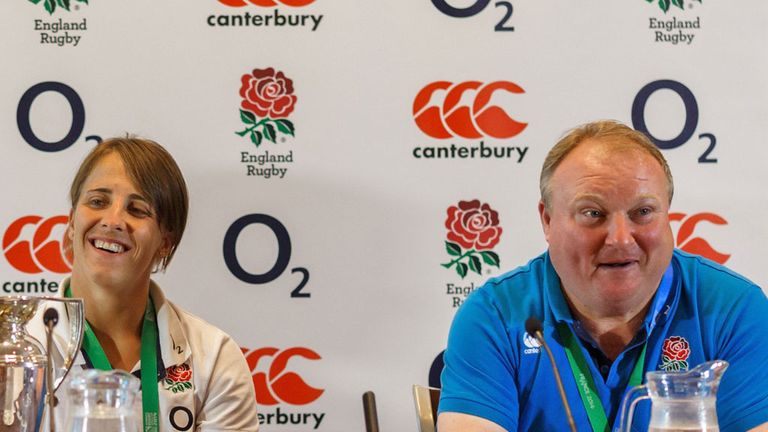 Triumphant England coach Gary Street hopes the women's rugby World Cup can prove the catalyst for a move into professionalism.
Street quit his job as a quantity surveyor seven years ago to kick-start his coaching career, and on Sunday led England's women to a 21-9 victory over Canada in the World Cup final in Paris.
The England supremo admitted the majority of his senior squad will have to return to their days jobs later this week after conquering the world for only the second time - 20 years after their first success.
"At the moment everyone's going back to work this week," said Street, admitting he remains hopeful of a first-ever move into professionalism.
"I know some people have got work in the morning, so they are going to get their car keys now and drive straight home.
"We're hoping something's going to happen in the near future and it's moving towards that. It's something we aspire to, but this week brings a bit of normality.
"This changed the sport immeasurably I think, and since the last World Cup, there's a lot more support for programmes internationally. The support we've had from the RFU has been absolutely staggering, and from Sport England, so that team behind the team has been huge and to have a bigger programme has meant we can do more work with the players.
"And just the level of competition has been fantastic. This was definitely a tipping-point for women's rugby.
"The audiences in France, sold-out stadiums with two million people watching, it just shows there's a market when the product is as good as that."
England's women's cricket team have recently taken the leap into professionalism, and the rugby team's first World Cup victory since 1994 has started a groundswell of support for a similar move.
England captain and Sunderland schoolteacher Katy Mclean said the time has come for the women's game to move into the professional ranks.
"I should have been in a meeting at 10 o'clock today - but things come up don't they?" she said.
"Ideally we want that opportunity to be professional athletes, and hopefully something like this, winning the World Cup, on this stage and in this manner, gives us the opportunity to do that."