Our rugby experts share their views on the Rebels v Lions
Find out what our experts thought as the Lions beat the Rebels 35-0 in Melbourne.
Last Updated: 25/06/13 3:16pm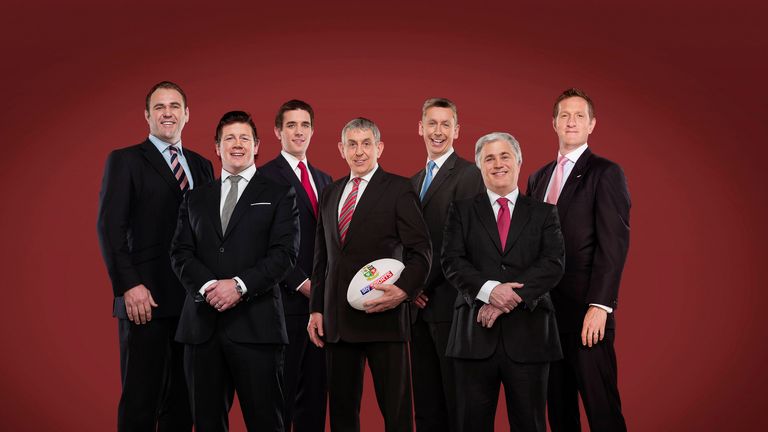 For some players it was their last game on tour and they came out strongly to finish on a high and keep the momentum going for Saturday's second Test.
It was also a final chance for the likes of Sean O'Brien, Toby Faletau, Ian Evans and Richie Gray to fight their way into Warren Gatland's thoughts as he fine tunes his bench for Saturday.
Our pundits, including Scott Quinnell, Sir Ian McGeechan and Paul Wallace gave their expert views on performance and who stuck their hands up for Test team consideration...
Sir Ian McGeechan
The management will be very pleased with that group of players. They came out and showed a lot of energy and a lot of accuracy. They built up a really good team performance. It was built on speed of reaction, speed of regrouping and speed of defence. They worked really hard for one another and created some really good opportunities.
I have always believed that it is the midweek team that makes the tour. The environment of any Lions tour is about the players who don't play in the Test side. They set the environment and the test team can come out of that environment. Stuart Hogg and Sean Maitland have all been outstanding in what they have done and tonight they have really shown what a Lions jersey means. They have kept the momentum in the group. Everything is about putting it into the second Test match here in Melbourne.
On who caught the eye: The two second rowers ( Ian Evans and Richie Gray) worked really hard and I think it will be tactical decision from the coaches as to which way they will want to go. Do they want to go with the dynamic Richie Gray who gets into the outside spaces a little bit earlier? Or the power of Ian Evans? I thought Sean O'Brien was outstanding too. He was everywhere with good offloads and good carries. Toby Faletau has had an outstanding tour. He has a tremendous engine and does not drop off the game. He gets across the gain line early which means you can play off him.
On Owen Farrell: If you are talking about a man whose game has improved - moved forward both tactically and technically - then Owen Farrell has come out of this tour in really great shape. I think the coaches will be really pleased with the way he is bringing players into the game really early. He's holding defences and giving space to the outside. His kicking to touch has been excellent and his goal kicking has been superb. If you want a team to have confidence then you want a ten playing like that. The coaches will be really pleased that they have him on the bench ready to follow Sexton.
On the second Test: Gatland has two tactical decisions. Does he start with Ryan Grant, who is technically the best loosehead, or does he go with Vunipola? Manu Tuialgi in the centre would also get them back to the sort of pattern they were playing earlier in the tour where they get across the gainline with a big ball carrier at the gainline. They struggled there in the first 30 minutes where they were unable to do that. It means that people like Mike Phillips, who is good once you have that gainline break, can run off it.
Paul Wallace
From a coaching perspective Gatland will be saying that they did not conceded a try and got rid of all the big issues they have had like the line out. The spirit and mindset that was not there in Canberra was there tonight. They played with a lot of confidence and I think they will take a lot more out of that then they will if they won 80-0. They were ups against a good defensive side and they fought their way around it. They played some beautiful rugby at times but the most important thing is that they went back to basics.
It was a peel around the front, a bring it down and drive or a quick ball off the tail. They varied their game and found the space. Very good finishing against a strong defence.
On Sean O'Brien: Why he was not in the backrow for last weekend bamboozled me a bit - for me he has been the best backrower on tour but it has come down to balance. I think he has fought his way in now but that depends on the way Warren Gatland wants to play. The fact that he came off so early may mean he has done it. I will be very disappointed if he doesn't get to play at some stage in the Test series.
For Toby, well again it comes down to balance. Jamie Heaslip's work at the breakdown gives you a little more getting you out to the wider channels. But if you want someone who can pick and drive and go then Faletau is your man. There are rumblings that maybe Tom Croft can cover the second row - don't have a second row cover on the bench and have Faletau and O'Brien on the bench to give you a bit more dynamism if you need it.
On the second Test: If there is no Alex Corbisiero then they must go for Ryan Grant. You have to go with your scrum and make sure it is secure. When Vunipola came on he did not have a brilliant scrimmaging game - he is an impact player, that is what we want him here for. I thought Ryan Grant had a superb game today. You have to look at what he is up against today - but it was a formidable scrummaging performance. He is aggressive and really proved a point. There is nothing worse as a loosehead than going down against a aggressive loosehead who just wants to go at you all day and scrum, scrum, and scrum.
There is a seismic momentum change with Horwill getting out of jail and Paul O'Connell getting injured. They are two big leaders, two No 5's and I think it has slightly swayed in Australia's favour now. The big issue is what backline will they come up with - do they stick with James O'Connor? If they do then I think the Lions are in the driving seat.
Scott Quinnell
On setpiece: You want a setpiece to play-off. Tonight the setpiece went particularly well: two lineouts that didn't function early on, but apart from that the lineout was good and the scrum was good. So they got ball they could go forward to; the backrow can come on to and then Manu Tuilagi can go all over the park with his rampaging runs. You just felt on Saturday that they didn't get that, they didn't get that part of the game quite right. They played off three lineouts off the front so it allowed the backrow of Australia to come up and hit them on the gain line. That way you can't get momentum going. It doesn't matter how big or how strong you are, if you are hit by one, two or three players from all angles then it is going to be a difficult afternoon. For me you need a setpiece that you can play off back lineout or off the back of the scrum. That way you can get across the gainline and get the go forward that we need.
On Hibbard: There were a couple of lineouts that went early but Hibbard really did show composure to come back into the game. His all round ability is good. He is a big man; he goes forward; he enjoys carrying the ball. I think it is important to enjoy carrying and wanting to run over the top of people and have the ability to do that. He has confidence in his lineout and he went to the back. He is big, he is abrasive and he is a bit like Will (Greenwood) in 2001 when he liked to dye his hair.
Brendan Cannon
On Australia team: I think Sekope Kepu, a bigger tight-head, will be more solid in the opening exchanges. I think Ben Alexander is very good in the versatile loose-head/tight-head option but Kepu should start for me. I'd keep the second row the same - James Horwill is quite lucky to be there after being let off at the judiciary. Ben Mowen on debut was outstanding. Michael Hooper will appreciate playing at seven consistently this week and not playing in the outside centres.
In the backs there are a few wild cards. I have got Kurtley Beale, the man who was the villain on Saturday night, is in at No 10 because I think he will be a more lively connection with the outside backs. We have Christian Leali'ifano, who has recovered from that terrible head knock in the opening minute of the Test last week. Then Ben Tapuai comes in. He is a really creative outside centre, which makes a good ball playing centre combination with him and Leali'ifano, and I have James O'Connor at fullback. I think that is O'Connor's preferred position. Whilst he was earmarked early by Robbie Deans, O'Connor just did not have that connection with his backs on Saturday. However Robbie Dean has proven in the past that he is enormously stubborn - he never wants to admit that he has made a mistake - so James O'Connor will be No.10 on Saturday.
On George Smith: Georgie Smith has that aura about him. Not just with the guys he plays against but the guys who get the chance to play with him. Michael Hooper would have been a young boy, just probably going into secondary school when Smith started his Wallaby career. To play with a guy like him will have a calming influence on the playing group.
On Farrell: I think that he has a lot of confidence that his Dad is on tour. I would have loved to have my Mum and Dad come on tour. He is looking like a very different player; a lot more composed and more of a threat. You don't expect an England fly-half to attack as a first preference but Owen Farrell has got that within him instinctively.
On Hibbard and Tom Youngs: He (Tom Youngs) was composed for the test of his life in Brisbane and I don't think Warren Gatland and the coaching staff will have any hesitation in putting him back in there for Saturday night against the Wallabies at the Etihad. But what Hibbard did tonight was put some pressure on Youngs to make sure that he plays again at that level that he showed last week. Youngs is an exceptional player. After four years in the front row, it was outstanding to be as composed as he was but he has to back that up on Saturday night. That is his challenge now but I think he is capable of doing that.
Will Greenwood
On centre partnership: Let's exclude Jamie Roberts from the chat for now, he didn't play tonight, and let's look at what Manu did. He was a bit rusty early on, you could see he was really edgy and wanted to get in the game. He was just forcing himself a bit flat and a couple of he took didn't quite get him going as well as he would like. But as the game wore on he found a little bit more space and the Rebels defence just backed off a bit. There were enough gainlines being broken by him to suggest he can really do a job. The one issue he still has against him is that he still is a more natural outside centre. When he played inside centre in the earlier tour game, he didn't really fit into that inside centre role particularly well. It is a real dilemma. There is no doubt he is the best straight line ball carrier the Lions have got but if you are going to switch him to 12 you have got to be pretty confident that he is going to adjust quickly. Right now I would not change Davies and O'Driscoll unless Roberts is fit. If Roberts is fit then I would put him straight back in the side as a natural 12 who is comfortable in that position. If Tuilagi is fully fit he is a firecracker but he is just not quite mentally fully fit and that is why don't think you can shove out either Davies or O'Driscoll.
On Farrell: What I have watched with Owen Farrell is, for all that kicking and standing flat and so on, that outside of his boot chip five yards out when you have a free play, you can tell he is hanging around players like Simon Zebo and Sean Maitland - clever footballers. He has the confidence to go out and deliver on his skill set. He was much flatter. He was asked to play flatter. We are so used to him a fraction deeper and a little bit more conservative. Tonight he went out and attacked the line. He is just enjoying his experience and actually really enjoying I suspect being the second man.
Michael Owen
The Lions were excellent, they dominated up front and their defence was very strong. The midweek team obviously had a bit of stick last week after losing to the Brumbies but they came back really strong and everyone put in a good performance. I was a great team performance. The Lions look like they are in good shape and will be going into the crucial second test with momentum. This performance showed that there are plenty of players in form who will be ready to step up if there are any injuries heading in to the second and Third tests. It will be interesting to see how the selection goes and if any of the players have forced themselves into the reckoning. The backrow has been a hotly contested area all tour and once again they were good tonight. Sean O'Brien was prominent in both attack and defence as was Toby Faletau and Dan Lydiate put in another strong effort in. The two locks were good as well and Manu Tuilagi showed a bit of sharpness and could be an option on the bench.
The second Test is going to be like the first one and come down to really fine margins. The Lions have Leigh Halfpenny who is the massive difference. The Wallabies need to try and match his kicking display. The Lions need to sort out the breakdown, Australia had the better of that in the first Test and that often decided Test matches. The Lions need to get that area spot on and make it tough for Australia and close down Will Genia.
Watch every Lions game live only on Sky Sports. Click here to sign up or upgrade now.