USA Sevens ace Carlin Isles relishing switch to rugby union
Carlin Isles might have started the HSBC Sevens World Series as an unknown but he has quickly become a worldwide hit.
Last Updated: 31/01/13 10:42am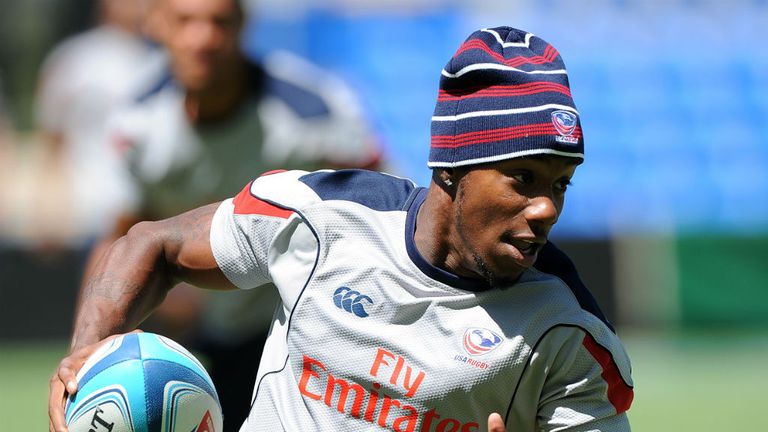 Quick is a fairly apt word to use in association with Isles, whose blistering pace is a large reason why more than 2.6million people have watched his exploits on YouTube.
Isles had begun 2012 with hopes of representing the USA at the Olympic Games - with the 23-year-old clocking a personal best of 10.13seconds over 100m.
That time would have been enough to see him reach semi-finals in London - however a switch of sports means Isles has become a star on the rugby union sevens circuit.
And with the shorter form of the sport having been included in the 2016 Olympics in Rio, Isles could still achieve his goal.
He opened his try-scoring account against New Zealand - no mean feat given he had only switched to rugby 12 weeks prior and was 46 seconds into his debut - while his efforts against France, Tonga and South Africa all caught the eye.
"I wanted to go to the Olympics and be one of the top sprinters in the world," said Isles, who will be part of the US squad at the Wellington Sevens. "But I had a vision.
"God switched my plan and my heart and my decision. I had a vision of rugby and I wanted other people to see that vision.
Vision
"I was getting ready for the Olympic trials after qualifying for it and I don't know, I just decided I wanted to play rugby.
"I was watching it and I thought, 'I don't want to wait another four years in case I don't make (the Olympics). I want to be known'.
"I had a vision. I didn't want to be a back-seat guy for another four years. I thought I had too much talent. My mind is always open to let God direct me, so I just went with it. So far it's paying off."
Given his blistering turn of pace, it is perhaps unsurprising that Isles had also attracted the attention of the NFL clubs.
However it was rugby that caught his eye - and Isles is confident he has the pace to overcome his lack of size.
"The NFL scouts they loved me because I had a 4.1 second 40m and that drew a lot of attention," Isles said.
"I never thought I was too small, I always believed in myself. Anything that I choose I have to prove myself.
"One thing you can't teach is speed and everyone is looking for speed. I could play so I wasn't worried about my size because I have heart. But I decided to do track and go professional and pursue that instead."