Northampton Saints say they have broken no rules in releasing George North
Northampton Saints have defended their decision to allow George North to play for Wales this weekend.
Last Updated: 27/11/13 1:06pm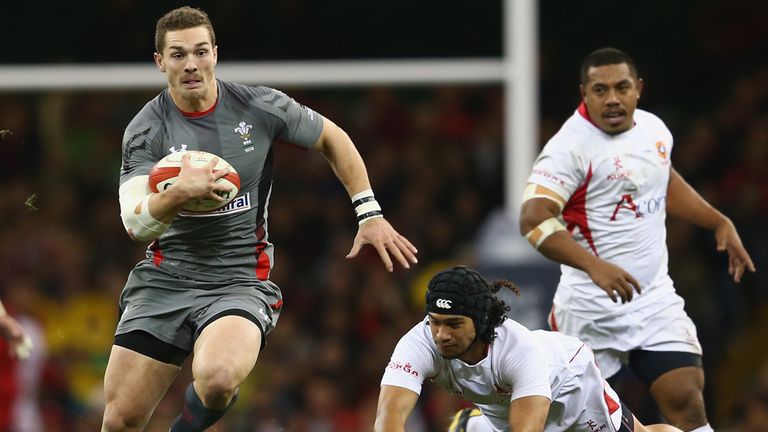 Saturday's Test between Wales and Australia falls outside the IRB international window, and Premiership Rugby's policy states than non-English players should not be released.
Saints are likely to be fined for releasing North but they revealed an agreement was made with the wing when he moved to Franklin's Gardens last summer.
A club statement said: "George is a world-class player who in his short time at Franklin's Gardens has brought a great deal of excitement and quality, not just to the Saints but to the Aviva Premiership as a competition.
"When his signing was announced it was hailed in the media and by the league's hierarchy as a massive statement of intent by the club and a reflection of the competitive nature and high profile offered by the Aviva Premiership.
Ambition
"Every player asks for specific conditions to be included in their agreements. This is not unusual in professional sport. In order to realise this rare opportunity of bringing a player like George to Franklin's Gardens we agreed to allow him to represent Wales if and when selected.
"The Saints management wants to make it clear that our agreement with George has not contravened any laws, rules or regulations. However when it was finalised the agreement included terms for his release to play international rugby which were outside Premiership Rugby board policy.
"George is a young man who is proud to represent his country. Indeed the club's management wants every player at the club to achieve the highest level they can, and wants every player to have the ambition to wear their respective national shirt.
"The Saints management has sought to build a squad that can compete in every tournament. This involves both establishing a strong production line of local talent and bringing in world class players when they become available.
"Sometimes this requires compromise, and while we appreciate that we are outside Premiership Rugby board policy with this particular agreement we also believe that having George as a Northampton Saints player has benefitted both the club and the league as a whole."